The Lipstick Trick That Kendall Jenner's Makeup Artist Swears By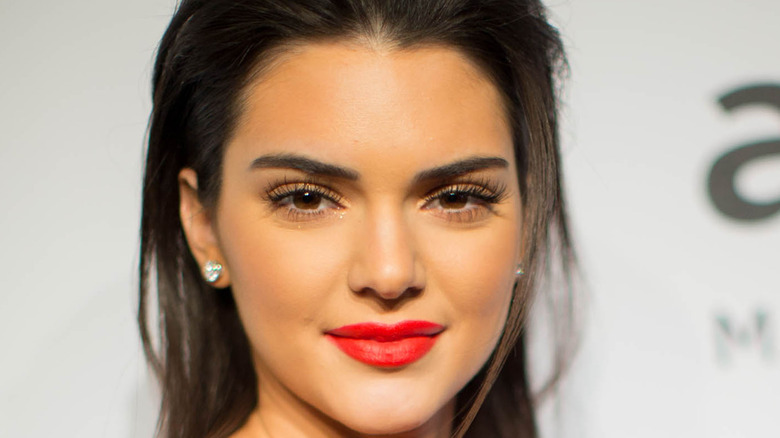 Kevin Tachman/Getty Images
If you enjoy lipstick, chances are you have lots of little tricks for ensuring your pout stays perfect with your favorite color. It is easy to make a lipstick mistake, but you can avoid them with a few simple tips. In the past decade, the dominant lipstick trend has been long-lasting color with a smudge-proof matte finish, instead of the glossy pink that dominated the 2000s, according to Byrdie. Sir John, Beyoncé's makeup artist, told the publication, "I would also credit the 2000s to when matte lips really took flight again. Liquid lipsticks offer an intense color payoff that doesn't budge, so you can swipe it on in the morning and leave it all day." 
However, Kendall Jenner's makeup artist Aidan Keogh, of Honey Artists, told Byrdie that the ultra-matte look has a slight update for the 2020s, and it could help with some of the dryness caused by typical matte long-wear lipstick formulations. The model prefers a red lip with minimal makeup for the rest of her face, leaving the bold color to make a statement. A new velvet finish creates a less-dry version with staying power, and you can create the look at home. 
Here's how to get Kendall Jenner's velvet red lip look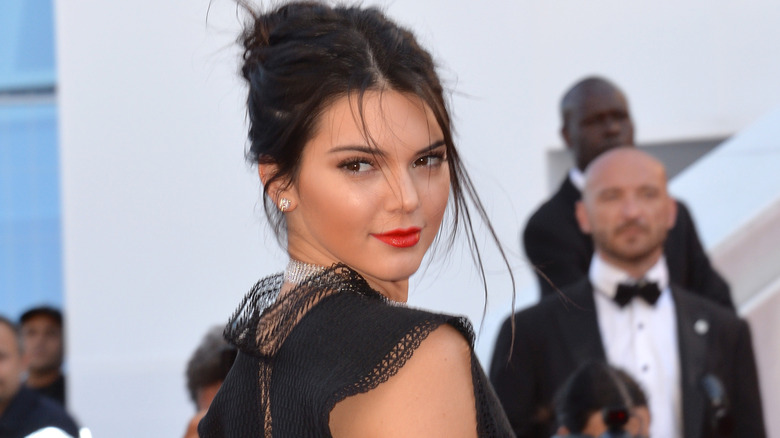 Shutterstock
Aidan Keogh, Kendall Jenner's makeup artist, told Byrdie that a more modern version of the long-wear matte lipstick is one with a velvet finish, which he creates for Jenner using an interesting technique. "Kendall's go-to look is a red lip, or as she described when I first worked with her, 'a saturated, bright red lip,'" the makeup artist said. Keogh creates this look by tapping a hint of loose powder over the first layer of red lipstick to give it a slightly matte look. "This creates a super-velvet finish and allows the cooler tone to pop against the skin," he explained. Plus, the technique helps you avoid the dreaded transfer of lipstick to your teeth or smearing outside your lip line. 
Another trick for a perfect pout that Jenner uses is outlining her own lips. "Kendall actually likes to line her own lips and is really good at it, too," Keogh revealed. "A lip pencil that is close to the lip color ... is a great way to create a balanced lip, but it also allows you to cheat a little outside of the line on the upper and lower lips." This lip liner trick allows the model to have slightly fuller lips, while keeping her lip color from bleeding. Both of these simple lipstick tips can help you achieve a gorgeous, modern, velvet-finish red lip with minimal downside.