Comforter Vs. Quilt: Which Is Best For You?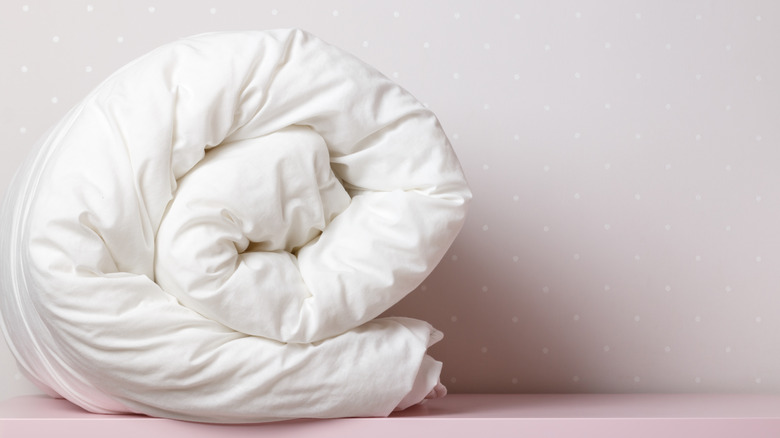 Shutterstock
When the seasons change, so does your bedding. While this may not be the rule of thumb for everyone, choosing a top blanket for your bed can be quite specific. Depending on how hot or cold you run while you sleep, different options can work better for different people. Before you spend hundreds of dollars on your bed topper, it's wise to do your research and find the material and type you like.
"Traditionally, quilts are flatter and often have a more condensed filling, whereas comforters are loftier," Allison Spampanato, Senior Vice President of Product Development at Pottery Barn Kids, tells My Domaine. The outlet compares them to blankets with a small amount of filling inside, offering a much lighter option than traditional comforters or duvets. With various colors and designs, quilts are often a decorative piece that people add onto their beds.
On the other hand, comforters are a much warmer option that are great for people who sleep on the colder side. "As down and down alternatives are efficient at trapping heat, comforters are great for a fluffier, warmer sleep experience," Katie Elks notes. Functionality wise, the difference has to do with temperature and style. Of course, when it comes to design, it's a different ballgame.
Comforters and quilts can create different looks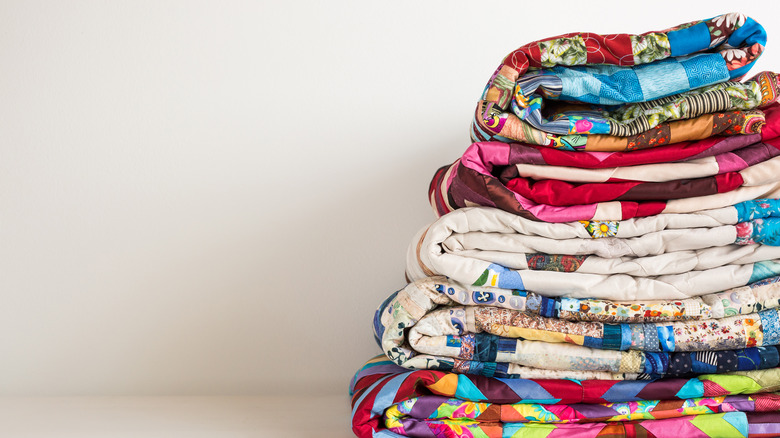 Shutterstock
Layering with heavy blankets and comforters can get pretty hot, especially during the summer months. That's why quilts and plush blankets are usually a go-to during those times. According to Cosmopolitan, you can layer your quilt during cold weather periods for a more stylish accent. But, these thin blankets don't offer the soft, plush look and feel that many people like to experience on their beds. So, if that works for you and your style, a quilt can be your next option.
For people who run cold or love to turn on the air conditioning while they snooze, a cushy comforter can be a welcome addition to an otherwise cold bed. Since these are essentially duvet inserts, you can also change things up with different covers — adding patterns, prints or just different colors to your bedroom. With a quilt, you're somewhat tied to that design, unless you have another one in your closet. My Domaine also notes that comforters take up a lot of space when not in use, so if you plan to switch it out in the summertime, make sure you have a place to store it. On the other hand, quilts are pretty easy to transport, wash and store.
If you're unsure, you can try out both options and see which works best for you. Of course, you can always use them together for a warm, stylish bed set as well.