Inside Zoe Saldana's Marriage To Artist Marco Perego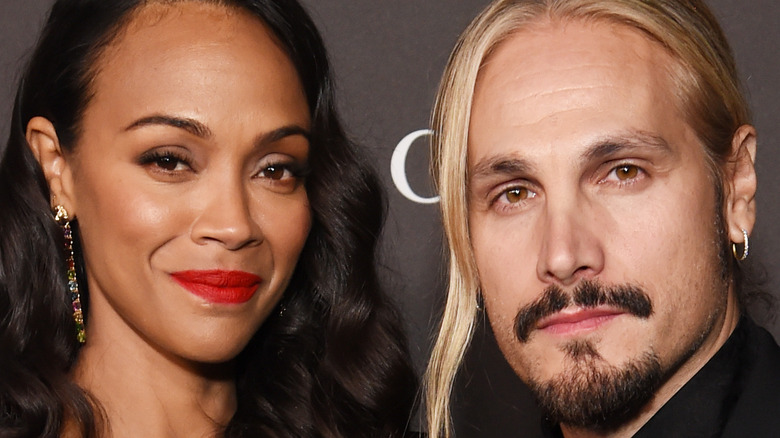 Michael Kovac/Getty Images
Following her relationships with actors Keith Britton and Bradley Cooper, actress Zoe Saldana started dating Marco Perego in May 2013 (via Oprah Daily). Perego is an Italian artist and sculptor, as well as an ex-soccer player for Venice (via Bustle). The couple was first seen together at the premiere for Saldana's film, "Star Trek: Into the Darkness", where they were spotted kissing at the afterparty (via People). It was only a few months later in July that Saldana and Perego were married in a private ceremony according to People.
But, as Saldana disclosed to The Hollywood Reporter, the pair had known each other longer than a few months. "I've known my partner for five years," she told the magazine in 2014. "I knew of his work. I knew of him. Then we met."  Saldana continued, "And months later, we both made the decision to do what we both individually vowed never to do –- to get married." 
The actress was initially against tying the knot as it didn't feel "natural" to her, but falling for Perego changed her mind. "As soon as we decided we were going to get married, we didn't wait," she said. "We did it three weeks later. That part was very, very quick."
Zoe and Marco are 'super hands on and very meticulous' as parents to their three boys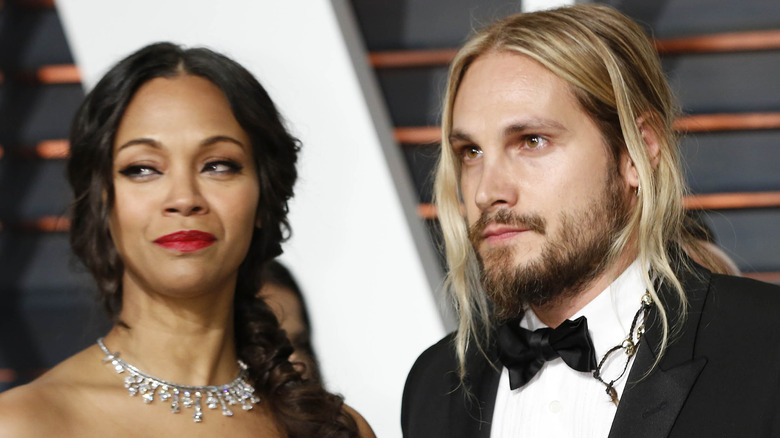 Shutterstock
And the secret to their success as a couple? Learning not to settle. "If you're not happy with a person, leave," Zoe Saldana told Marie Claire. "And wait until you find that one person who makes you feel good about yourself every single day and is not expecting you to change, but to grow."
She's certainly found that person in Marco Perego, with whom she now shares three boys: Zen Anton Hilario, and twins Bowie Ezio and Cy Aridio. "Of all the things that I have going on right now, my children are my most important priority," she told People. "And I know that my husband can say the same."
As parents, Saldana and Perego are "super hands on and very meticulous," and are raising their kids to speak English, Italian, and Spanish (via Bustle). The actress also shared that she's teaching her boys not to conform to gender norms and stereotypes. "You immediately see how they click, and I think that's how we're going to change the course of history when it comes to the way women have been perceived," she explained in an interview with People.