Who's The Past Contestant Returning To The Bachelorette To Win Katie Thurston's Heart?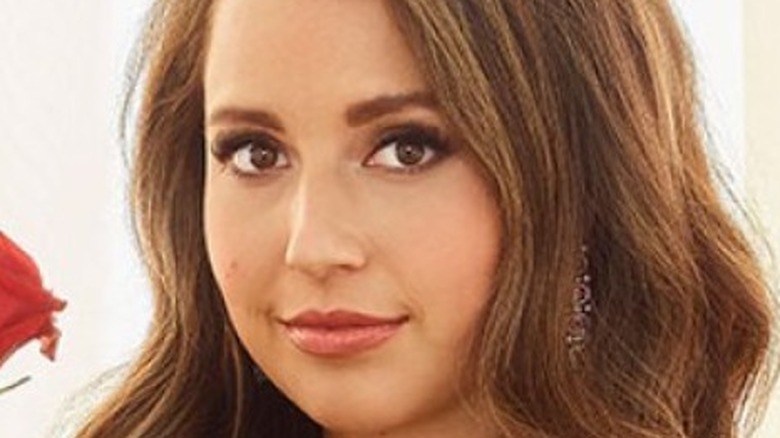 ABC/Andrew Eccles
Katie Thurston's season of "The Bachelorette" kicked off with a bang. 30 men showed up to meet Katie and throw their hat in the ring in the hopes of becoming the Washington native's future husband. During the premiere, there were plenty of memorable moments, such as the man who stayed in a large gift box for most of the night, a teacher who dressed up like a cat, and more (via Us Weekly).
During the 2-hour premiere episode, Katie gave out her first impression rose to Greg, who was adorably nervous during the couple's first one-on-one conversation together. It seemed to help his case that he also resembled Katie's ex-boyfriend, so she found him very attractive. Unfortunately, the first rose ceremony is also a bummer for the guys who didn't create a quick connection, and Katie was forced to send seven men home on night one with little drama. However, it seems that the drama is yet to come. During a sneak peek for the rest of the season, fans noticed a very familiar face in some of the clips.
Tayshia's ex-boyfriend shakes things up on Katie's season
In the latest "Bachelorette" preview, Blake Moynes surprisingly shows up during the season in hopes of winning Katie Thurston's heart. The clip shows Blake holding a large boombox above his head and confessing that he wants to try to sweep Katie off of her feet (via People). "I'm a little bit late to this, but Katie is the one, so I just had to show up. I know that s- is gonna get crazy," Blake says in a confessional interview. Fans will remember Blake from Tayshia Adams' season of "The Bachelorette." Although things didn't work out between Blake and Tayshia, they'll reunite when Blake looks to join Season 17 as Tayshia is currently co-hosting the show.
"I definitely knew who he was, which [is] also Tayshia's ex-boyfriend! So that's weird," Katie told Us Weekly about Blake's sudden appearance on her season. Katie also admitted that she and Blake had "chatted" before she was chosen as "The Bachelorette." The reality star says what "usually happens is, like, the guys will reach out to the women once they're eliminated and be like, 'Good luck, you did great.' Like very generic, you know? And so to see him, I was like, 'Why is he here?' Like, 'What's happening?'" she stated. "I mean, we have to see if that's even why he's there," Katie teased. It looks like viewers will have to tune in to see what Blake has up his sleeve when "The Bachelorette" airs Monday nights at 8 p.m. on ABC.