Ashley Tisdale Gets Real About Her Post-Baby Body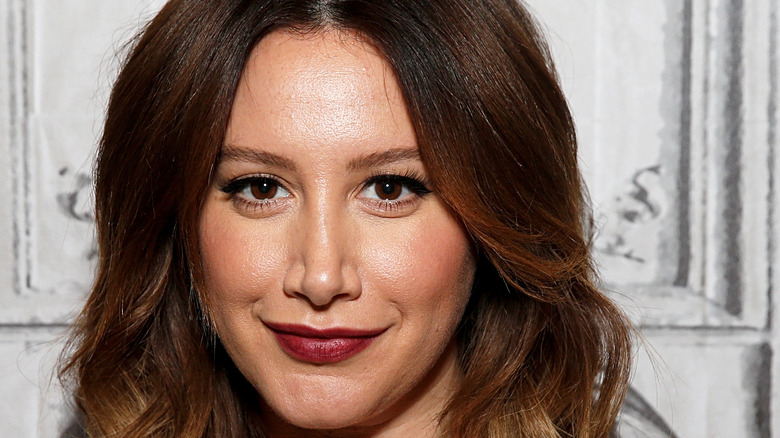 Dominik Bindl/Getty Images
Ashley Tisdale is an actress and singer known best for playing Sharpay Evans in the "High School Musical" films. In 2014, she tied the knot with musician Christopher French, and on March 23, 2021, the two welcomed a daughter, Jupiter Iris French, into the world (via People).
Since then, Tisdale has given some behind-the-scenes glimpses into her new role as a mother. "I don't think I've ever felt more exhausted. But it is SO worth it," she said on Instagram. "This little lady made me a momma! I knew @cmfrench and I would have a cute baby, but I wasn't expecting how beautiful she would be," she wrote in another social media post.
She even opened up about her post-baby body on her blog, Frenshe, which is all about living "your best non-toxic life," the "benefits of healthy living on a budget," and, in general, leading "a more fulfilling life."
'It's important to not communicate negative feelings towards our own bodies,' says Ashley Tisdale
In the Frenshe blog post from June 3, Tisdale wrote about comparing herself to models and influencers. "I've worked my butt off. Whether it's hiking, pilates, riding on my Peloton, and yet, I still don't feel comfortable in my body."
She said that she has been told it will take time to bounce back, just as it took time to grow the baby. "And you know what? That's the truth."
A key she has learned in this new adventure of her life is loving oneself, no matter what. "Everyone is going to have a different journey, and it's important to not communicate negative feelings towards our own bodies. Thoughts like 'you're not good enough, you could look better' have to stop! And they especially need to stop when realizing that your body just created and gave life to another human being" ... a human being like the adorable little Jupiter!