Ashley Tisdale Just Gave Fans Their First Glimpse Of Her Adorable Baby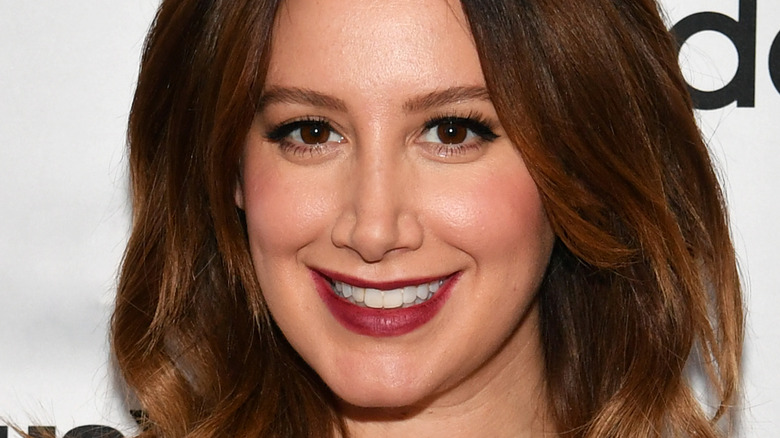 Slaven Vlasic/Getty Images
Many people remember Ashley Tisdale from her breakout role in the 2006 Disney Channel movie "High School Musical." Since then, she's regularly worked in Hollywood as an actress, producer, singer-songwriter, and more. Tisdale also recently added a brand new title to her resume: that of mom!
Tisdale gave birth to her first child in March 2021. She and her husband celebrated the arrival of their daughter Jupiter Iris after six years of marriage, and Tisdale told People that waiting that long was intentional. "I wasn't ready for that step yet and I wanted to be selfish and have Chris all to myself for a while. Honestly, I wouldn't have had it any other way." She added, "I'm not naive about how a baby changes everything as I have a niece and plenty of friends with kids. I'm glad I worked on myself before we decided to make this decision."
Tisdale didn't share any photos of her daughter's face right away, but finally decided to in honor of Mother's Day this year. Predictably, fans were thrilled.
Ashley Tisdale waited two months to share a photo of her baby
Ashley Tisdale chose Mother's Day to debut photos of her daughter on Instagram, and the series of images are truly adorable. She also wrote a sweet caption about motherhood in all of its highs and lows. Like a lot of parents, she couldn't help but celebrate just how adorable her daughter is. "This little lady made me a momma! I knew @cmfrench and I would have a cute baby but I wasn't expecting how beautiful she would be. To be a mom You don't know how hard it is until you become one. Mothers you are truly goddesses and single moms you are my superheroes. The past 6 weeks have been such a blessing. Jupiter you are everything and more."
Tisdale has also previously shared that the experience of laboring and delivering her daughter went really well, which isn't something everyone can say. "When they say it takes a village it truly does. I had an amazing labor experience, of course there was pain but I set my intentions that morning and it was exactly how I wanted Jupiter to enter the world. Calm, peaceful, letting go of fear and being super present" (via Instagram).