Mama June And Her Daughters Just Reunited For This Important Event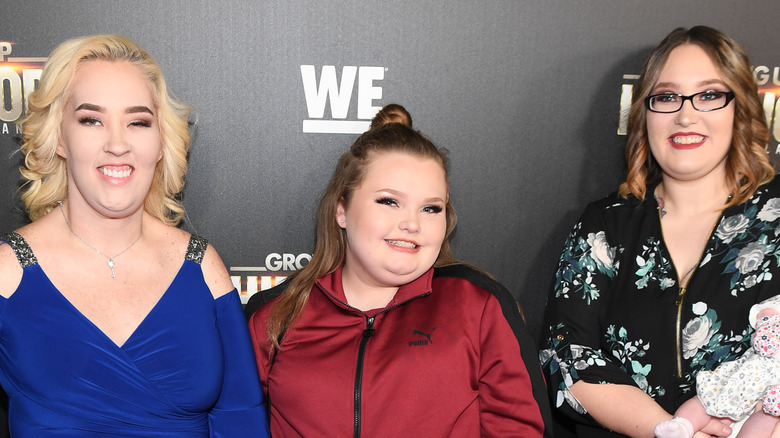 Paras Griffin/Getty Images
June Shannon has had such a roller-coaster life lately that we're thinking of changing the familiar saying to "Save the drama for Mama June." After rising to fame as a kiddie-pageant mom on "Toddlers & Tiaras," the redneck mom went on to star in "Here Comes Honey Boo Boo" and documented her weight loss journey in "Mama June: From Not to Hot." Then everything collapsed — including her TV fame and her relationship with her family — when Shannon and her boyfriend, Geno Doak, developed a drug addiction that cost them a fortune and landed them in rehab, per Hollywood Life. Her younger daughter, Alana "Honey Boo Boo," ended up in the custody of older sister Lauryn "Pumpkin" Efird while their mother was getting clean.
Now sober and vowing to stay that way, Mama June is slowly mending fences with the children whose lives were upended by her choices. This latest chapter in her life is being documented via her newest reality show, "Mama June: Road to Redemption." The first season featured lots of painful conversations and revelations. Alana felt abandoned and worried about her mom's health. Lauryn, who has a young daughter, was resentful at having to raise another child. June was frustrated that her girls weren't so quick to forgive and forget. 
Things may be looking up for the troubled clan, however — as surprising new photos reveal!
If you or anyone you know is struggling with addiction issues, help is available. Visit the Substance Abuse and Mental Health Services Administration website or contact SAMHSA's National Helpline at 1-800-662-HELP (4357).
Mama June reunited with all four of her daughters
New photos obtained by The Sun reveal that Pumpkin had a shower for the baby boy she's expecting in just a few weeks. The party included not only June and Alana, but also her other two sisters: Jessica Shannon and Anna "Chickadee" Cardwell. Anna has been estranged from her family for a while, so this was the first time June has been with all four of her children in six years. June commented, "I haven't seen all the girls together at once because the relationship with Anna has always been difficult ... I wanted to be in the right frame of mind to be able to deal with Anna as it's always been a touchy subject." 
Anna once accused June of losing weight just for TV fame (via E! News), and took her to court over TV earnings (via AmoMama). Whether or not her feelings have changed, Anna appeared to be enjoying herself as she posed for a smiling family photo. The party itself was a simple backyard affair with a blue-and-yellow Winnie-the-Pooh theme. Instead of a shared cake, the Efirds served iced cookies decorated to look like bees, honey pots, and onesies. Some of the cookies read "Bentley," which hints at the baby's name. (Big sister Ella may be disappointed; her choice of name was "Banana Joe.")
Does this mean that Mama June's "road" will have a truly happy ending? Fans are hoping so.