Lauryn 'Pumpkin' Shannon Efird Announces Exciting Family News
A new "pumpkin" is joining the patch! Lauryn Shannon Efird, aka "Pumpkin" on Here Comes Honey Boo Boo and the various Mama June series, announced on Instagram that she and husband Josh Efird are expecting their second child.
The 21-year-old reality star posted a small gallery of photos confirming the news. The first picture shows four used pregnancy tests, all clearly showing the positive results. "Well the secret is out for everyone to know now!! Baby Efird #2 coming 2021," Lauryn wrote. "After almost 3 years we are finally having another blessing and couldn't be happier."
The second two photos are sonogram shots from January and March, showing the new baby developing nicely. The March 8 image indicates that Lauryn was just over 20 weeks pregnant at the time, which means the new baby should be arriving toward the end of July. The couple's older child, Ella Grace, turned 3 years old last December.
The new baby will be joining a reality-show family that has seen its share of ups and downs over the years.
The new baby will have a live-in aunt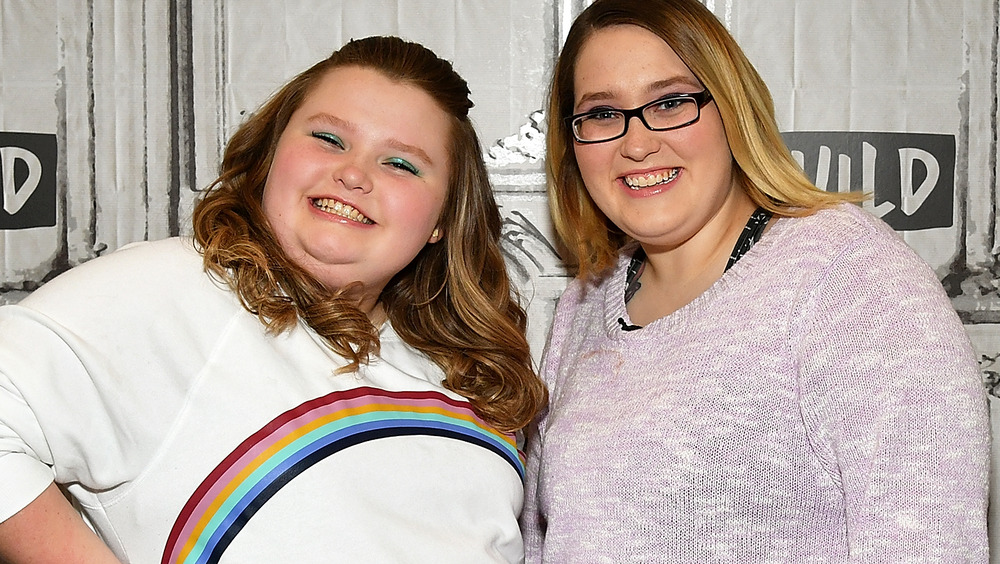 Slaven Vlasic/Getty Images
The Shannon family was once a fun-loving, unabashedly redneck clan whose exploits made for popular reality TV. In recent years, though, Lauryn Shannon has traded mud diving for motherhood. Not only is she raising little Ella, she is also the current guardian of her younger sister, Alana "Honey Boo Boo" Thompson.
When their mother, "Mama" June Shannon, developed a serious drug addiction, Lauryn took Alana into her home to give the young teen a safe and stable life. Alana is happy and doing well in school, but the added responsibilities have been difficult for Lauryn. In recent interviews, she has admitted being a little resentful of her mother for effectively abandoning Alana and not offering money toward her care. 
Now clean, sober, and repentant, June is trying to reconcile with her daughters and other family members; the emotional process is being played out in TLC's new series about the family, Mama June: Road to Redemption. Lauryn has said that she does want her mother to resume a relationship with Alana and Ella, but that she wants to make sure June is truly committed to sobriety before opening that door all the way. Her focus now is on her growing family and on self-care; Lauryn has been working on nutritious eating and increased activity.
Could the arrival of a new grandbaby inspire Mama June to stay clean and be a better role model? Fans will be watching upcoming episodes to find out.