How Guy Fieri Really Acts If You Run Into Him At The Store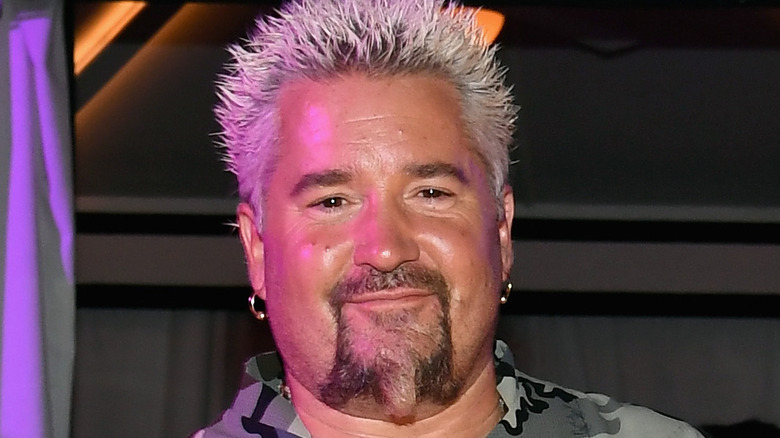 Ethan Miller/Getty Images
Grocery shopping is a love it or hate it kind of activity. Economist Mark Perry reported a cultural shift via Twitter showing that according to census data Americans had for the first time in history begun spending more on eating out than at grocery stores. 
Consumer Reports tried to get to the bottom of why people hate the process of shopping for food and found there are tons of complaints. While Walmart was the biggest loser in their study with 83% of their shoppers having at least one complaint, no store got out without any complaints.
So what could make shopping more fun? Running into your favorite celebrity, right? Well, that depends. For example, one fan was riding his shopping cart around the store (worth noting he was a kid at the time) and he actually ran into Justin Bieber – as in physically hit him with the shopping cart (via Buzzfeed). Maybe not the best celebrity-shopping interaction, especially if you run into a celeb who falls into the food shopping is a chore category. But what about a celebrity who loves grocery shopping?
Guy's love of food extends to grocery shopping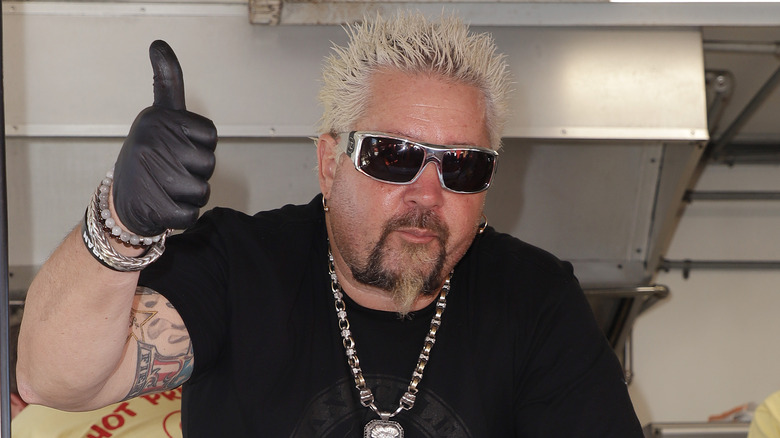 John Parra/Getty Images
Turns out there is such a person and it's not surprisingly the same guy who turned grocery shopping into binge-able reality TV. Guy Fieri's show "Guy's Grocery Games" should have been a clue that he sees a food playground when he opens grocery store doors. How much does the likable food lover enjoy buying food? 
He told Food Network, "Going to the grocery store is one of my favorite things to do." That's some serious praise. There is one thing he doesn't love about grocery shopping though, carts with an annoying wobbly wheel. But to be fair who doesn't? In general, though it's still a place he loves to be. Why? "I love to look at food." 
So now that we know he loves shopping how does the uber successful Food Network star feel about fans? After all, some of his fans can be a bit much. Fans of Fieri's show "Diners, Drive-Ins and Dives" show up in mass to restaurants he visits. According to The New York Times, while the business is welcomed it can come at the cost of their regular customers. O'Rourke's Diner owner Brian O'Rourke who once had a personal connection with all his customers, now, due to the Fieri effect, claims, "There's days when there's 40 people in here, 30 people in line. I don't know anybody."
Guy counts on running into fans while grocery shopping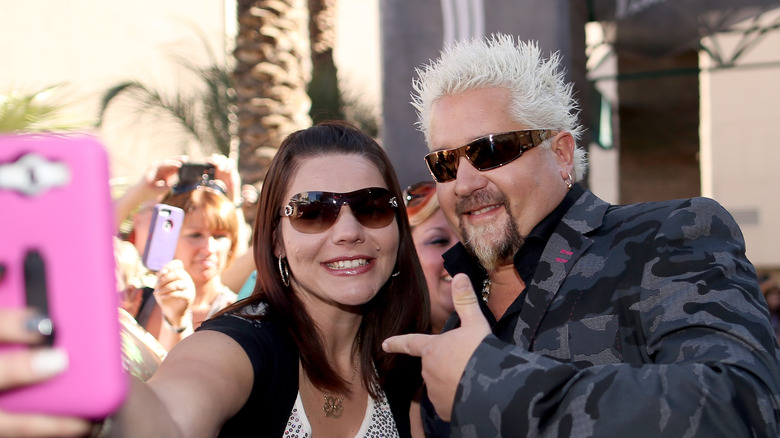 Christopher Polk/acma2014/Getty Images
Guy Fieri's experiences with fans seem to be more positive. One of his famous interactions with fans and food ended up going viral and turning into a meme, as he discussed during his appearance on the show "Hot Ones." 
Following an appearance in Michigan, Fieri began signing the leftover packaged food items and throwing them to fans. While most celebrity fan interactions are random, it seems the reality TV star actually plans to meet fans at the grocery store. Not only does he not bother wearing a disguise to avoid them but he said, "I just account for an extra 45 minutes when I go to the store, because I answer more questions and talk about more recipes, but I also love it," (via Food Network).
So if you happen to see that recognizable spiky blonde hair in the grocery store, its a safe bet you can turn your mundane shopping trip into a memorable celebrity encounter and perhaps score a few tips in the process.