Inside Melissa Barrera's Relationship With Musician Paco Zazueta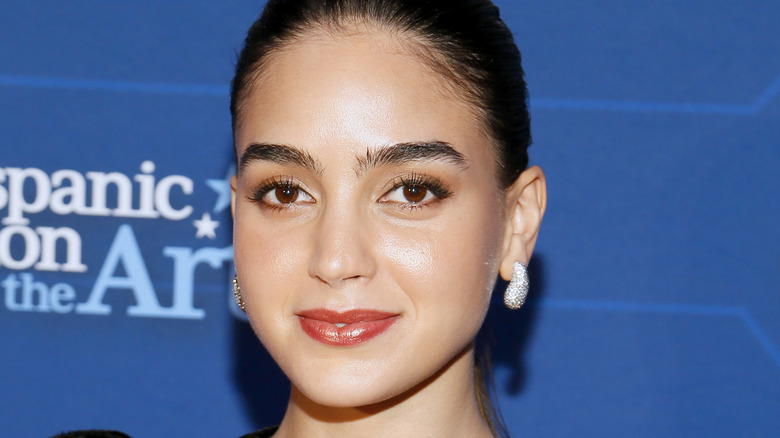 Paul Morigi/Getty Images
Melissa Barrera and Paco Zazueta have been married for over two years and have quite the sweet love story. According to Pop Sugar, Barrera, who rose to fame as the free-spirited Lyn on the series "Vida" and continued her success by landing the role of Vanessa in Lin-Manuel Miranda's new film, "In the Heights," which is based off the Broadway show of the same name, actually met her now-husband on the set of a Mexican reality show years ago. As the outlet explained, Barrera and Zazueta fell for one another while filming a musical talent show called "La Academia" in 2011.
Years later, during a June 2019 interview with Variety, Barrera reflected on her time on reality television before admitting that it was Zazueta who kept her from checking out of the competition. "Reality TV is like a snake pit. You think the entertainment industry can be hard, but reality TV? That's the epitome of whether you're ready for this or not," Barrera noted.
Melissa Barrera and Paco Zazuata got married in February 2019
Although Barrera said that she contemplated making an early exit from "La Academia" more than once, she went on to reveal that Zazueta continuously encouraged her to remain on the show and keep going after her musical dreams as she did the same thing for him. "We would take turns telling each other we had what it takes to stick it out," Barrera told Variety. "When I left that show I didn't want to sing ever again. They made me believe I was no good at it. It was a weird technique they used."
Following her trying experience on "La Academia," Barrera continued on with her relationship with Zazueta and in February 2019, the couple solidified their relationship by saying "I do." According to TV Overmind, Barrera and Zazueta, who share two dogs, as seen on their social media pages, have three homes together, including one in Mexico, one in New York, and one in Los Angeles.
Don't miss Barrera in "In the Heights," which hits theaters and HBO Max on June 10.