What You Don't Know About Anthony Ramos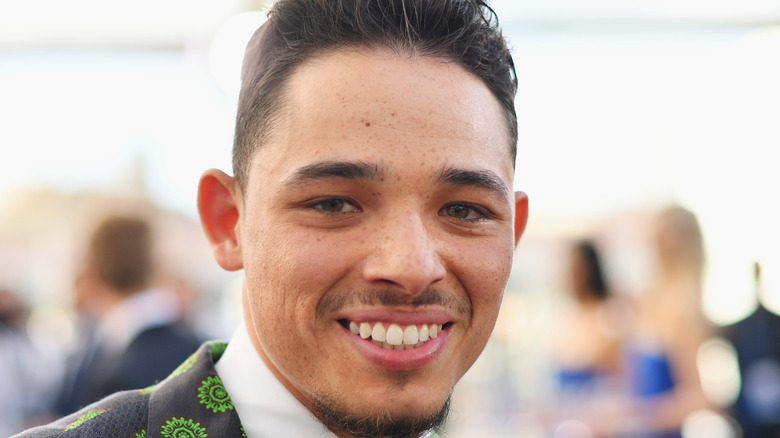 Mike Coppola/Getty Images
Anthony Ramos is a name that Broadway enthusiasts know well. The actor and singer has an impressive resume that spans from the stage to the screen. He's appeared in films such as "A Star Is Born" and "Godzilla: King of the Monsters," as well as on television shows like "Will & Grace" and "Younger" (via IMDb). Of course, he's best known for his roles in the 2015 smash hit Broadway musical "Hamilton" where he starred alongside Lin-Manuel Miranda and played the parts of John Laurens and Philip Hamilton, per NY Gal. The roles also landed him a Grammy win with his co-stars for Best Musical Theater Album in 2016. 
The actor is originally from Brooklyn, New York. According to Broadway.com, Ramos has also appeared on a national tour of "Damn Yankees," as well as starred in stage productions of "Grease." In 2012 he portrayed Sonny de la Vega in the production of "In the Heights." In 2021, he returned to the story for Miranda's film adaptation of the musical, in which he plays lead character Usnavi de la Vega (via The Latch). As he continues to rise to fame, there is so much to know about the young actor making waves with his triple-threat talent.
Anthony Ramos worked with the Rockettes before landing his breakout role in Hamilton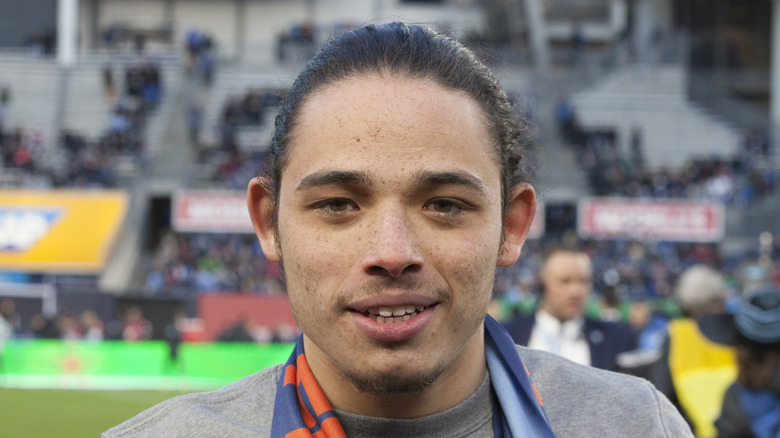 Shutterstock
Anthony Ramos found his love of the performing arts at a young age. While in high school he performed in school plays and at assemblies. It was his drama teacher who helped him realize his potential and eventually land a spot at the American Musical and Dramatic Academy, where he earned a full scholarship and graduated in 2011, per NY Gal. After leaving school he took different jobs as she looked for his breakout role. In 2014, he won a spot with the Rockettes for a show titled "Heart and Lights."
While rehearsing with the Rockettes, he attended an audition for "Hamilton," which he later received. For Ramos, there was no conflict of interest as his show with the Rockettes was later canceled in its early stages. It appears that his dual roles in "Hamilton" were meant to be, and Ramos went on to become a huge hit alongside Lin-Manuel Miranda.
Anthony Ramos is engaged to his Hamilton co-star Jasmine Cephas-Jones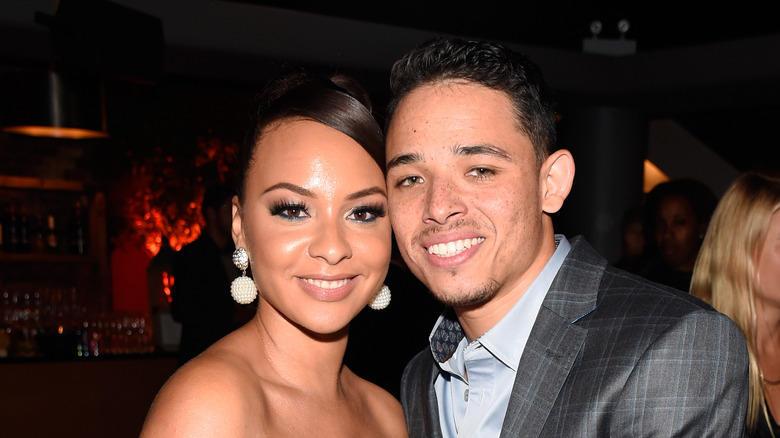 Kevin Mazur/Getty Images
Anthony Ramos' parts in "Hamilton" not only brought him plenty of fame and success, but they also brought him love. While working on the production, Ramos met and fell in love with his co-star Jasmine Cephas-Jones (via Cinema Blend). Like Ramos, Cephas-Jones also portrayed dual roles in the 2015 Broadway hit, playing both Schuyler sister Peggy and Maria Reynolds in the production, per IMDb. The couple are still going strong, and got engaged in 2018, per Cheat Sheet.
In 2020 after "Hamilton" was released on Disney+, Ramos told James Corden about the emotional experience of watching it back with his co-stars and girlfriend. "I mean it was wild, man. It was a blast from the past. Jasmine and I watched it at our apartment ... We just sat there man and the movie ended ... We just got emotional. We just circled up and we held each other for at least like 3-5 minutes man. You know? We couldn't believe we made that. Five years later, watching something on the screen like, 'Yo, this is immortalized,'" Ramos admitted.
His life once revolved around baseball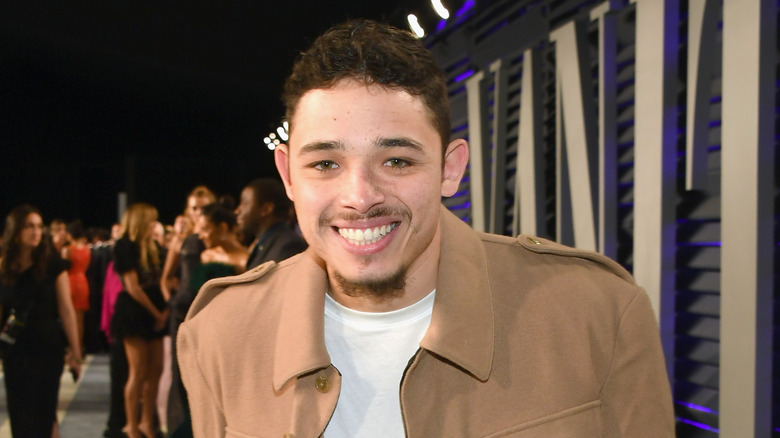 Mike Coppola/vf19/Getty Images
While it's hard to picture Anthony Ramos doing anything else but being an entertainer, the Broadway star's first dream was actually to be a baseball player. Ramos previously told Theater Mania that he was a talented baseball player in high school and knew he could make it at the college level, although he didn't fancy himself quite good enough to make it to the big leagues. Instead, he planned to graduate from college and pursue a career as a coach.
"In high school baseball was life. My senior year I had the highest batting average on the team. I was one of the starting pitchers. I wanted to play Division III ball and eventually coach. I knew that I was good enough to play college ball, but not professionally. My plan was to compete in college, get some money for school, and then coach after graduation — maybe at my old high school. I was planning my life around that vision," Ramos admitted. However, things worked out much differently for the "In The Heights" actor, and fans are sure happy that they did.
He loved working with Lady Gaga and Bradley Cooper in A Star is Born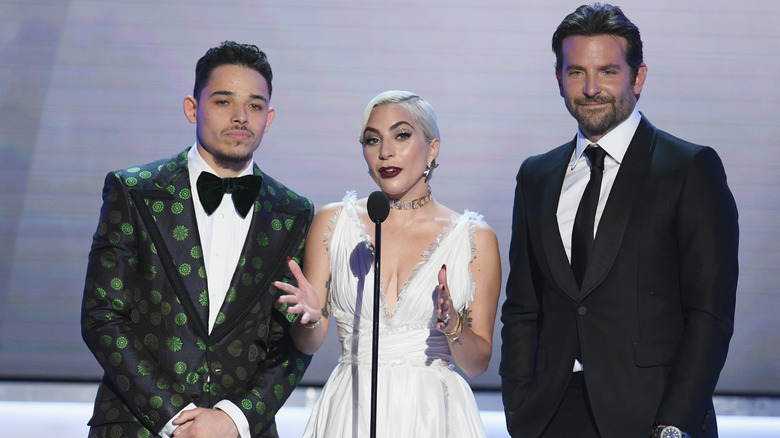 Kevin Winter/Getty Images
While Anthony Ramos' name has become synonymous with Broadway, he's also appeared in multiple films. One of his most recent roles was in "A Star is Born," starring alongside Lady Gaga and Bradley Cooper. Ramos played the character of Ramon, best friend to Gaga's character Ally. Ramos previously told USA Today that he had a blast working with Gaga. "It's always amazing when you can do work you care about and that you love, and if it just happens to blow up, that's just icing on the cake," the actor said of his time on the set.
In addition, Ramos admitted that it was a true privilege and learning experience to also work with Cooper, who both starred and directed the film. Ramos revealed that Cooper is "probably one of the greatest directors of all time. That dude is one of the best teachers I have ever had the honor and privilege to learn under," he stated, per TV Overmind.
Anthony Ramos' music career is taking off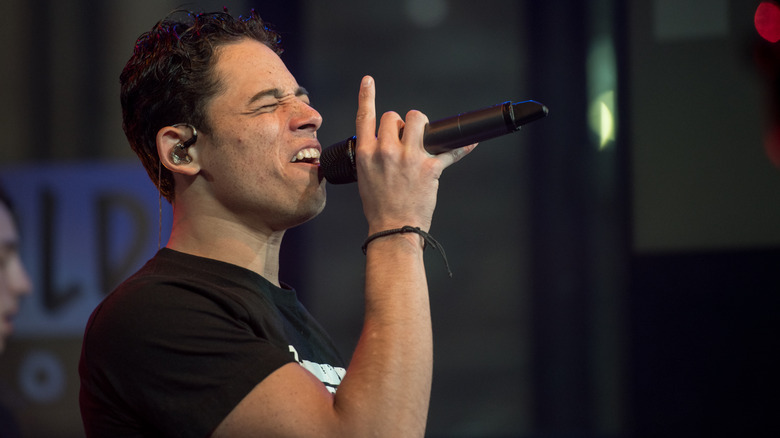 Roy Rochlin/Getty Images
We all know that Anthony Ramos is a talented singer, but he took his music career to the next level when he released his debut album titled "The Good & The Bad" in October 2019. The record was released by Republic Records and enjoyed success by debuting at number 21 on the US Billboard Heatseekers Album charts, per Cinema Blend. In addition to making the album, Ramos also documented the process of creating the music and shared it on his YouTube channel series, "It Takes A Village," for all of his fans to enjoy.
According to W Magazine, Ramos is currently hard at work on his second studio album, which is called "Love and Lies." It's set to be released this summer, which proves to be a busy one for the actor. In addition to his album release, and the release of "In The Heights," Ramos is also preparing for a lead role in the next installment of the "Transformers" franchise. It looks like Ramos isn't showing any signs of slowing down, and is ready to conquer it all when it comes to his budding career.