Why Is Frank Missing On American Pickers?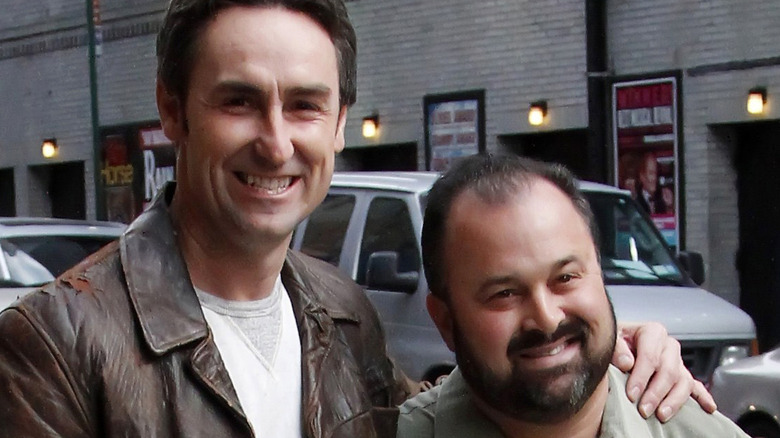 Shutterstock
When "American Pickers" first premiered on the History Channel back in 2010, it starred scavenging partners Frank Fritz and Mike Wolfe along with a new collaborator named Danielle Colby-Cushman (via River Cities' Reader). Over a decade later, the stars have turned their show into a major hit as they hit up garage sales and look through other people's old items for hidden treasure. 
But when "American Pickers" returned to TV for the premiere of its 22nd season in January 2021, Fritz was missing from the show (via The Sun). While the cast has expanded to include more major players, like Jersey Jon, who evolved from a friend of the pickers to a fellow host in Season 22, fans can't help but wonder why Fritz didn't return (via Distractify). The mystery surrounding Frtiz's absence from the show has been amplified by recent reports from The Sun that he sold his Iowa home in June. According to the gossip column, the sale of his house is tightly intertwined with Fritz's relatively recent separation from his fiance, Diann Bankson. The two got engaged in 2017, after going Facebook official in 2014. 
Heartbreak may or may not have to do with Fritz's absence from the show. As it turns out, this isn't actually his first time sitting out a season. According to The Sun, he took a break from filming during Seasons 8 and 9 due to some health concerns, and those may have played a factor in his decision to take a step back from the show once more.
American Pickers star Frank has been open about his health issues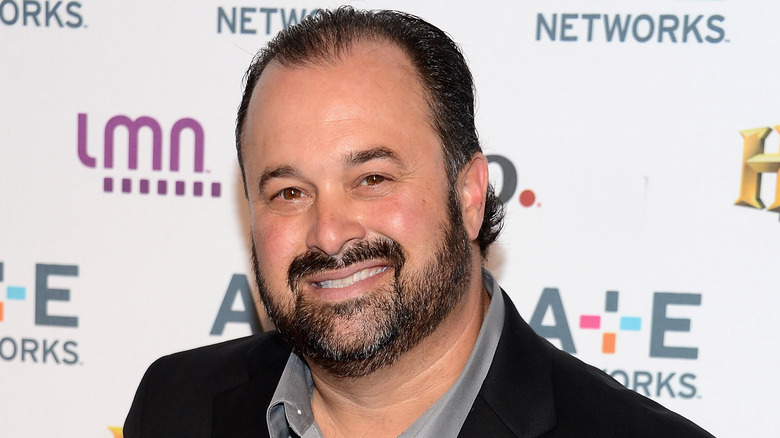 Dimitrios Kambouris/Getty Images
Frank Fritz hasn't been active on his Facebook page since 2018, and it's hard to tell what, exactly, is behind his absence from "American Pickers." Social media posts dating back eight years might, however, give us a clue. In 2013, Fritz opened up to fans following a drastic weight loss transformation. On Facebook, he shared the reason for his startling change in appearance and absence from the show. In a since-deleted post, he revealed that "I have an illness called Crohn's [disease], which at times is difficult to deal with" (via Distractify). Crohn's is a chronic, inflammatory bowel disease that, per Cleveland Clinic, causes a swollen, irritated digestive tract, abdominal pain, diarrhea, weight loss, and stomach cramps.
Back in 2013, Fritz told his followers that he was using the momentum from his Crohn's-related weight loss to start "exercising and eating good." But for Fritz managing the chronic disease hasn't, always, been easy.  To "Crohn's Advocate," Fritz described his life with the Crohn's this way: "Crohn's is like a duck. Ducks look calm, floating quietly on the surface of the water, but underneath they are paddling like crazy" (via Fox News). Fritz continued, "It's the same for people with Crohn's—on the outside you can't really tell, but I'm working really hard to stay in control as much as I can."  
After taking a break from filming during Season 8 and Season 9 of "American Pickers," Fritz continued filming as usual. Now, it seems as if his health issues may have forced him to step off-camera once more.
Did Frank Fritz undergo surgery?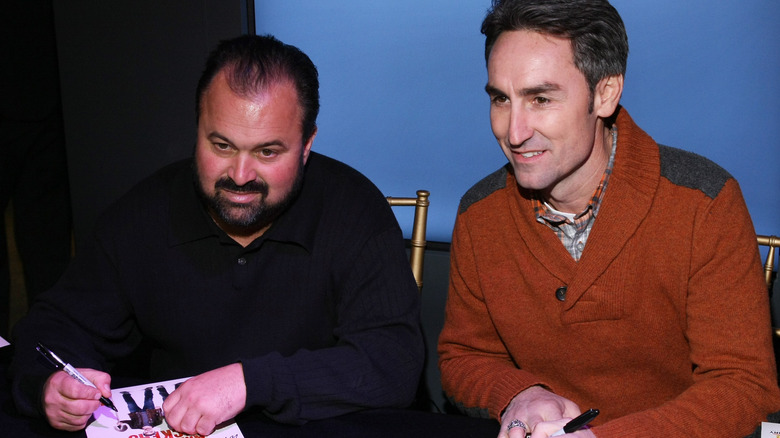 Neilson Barnard/Getty Images
While Season 21 aired through most of 2020, it's likely that the bulk of filming took place in 2019, and the same probably can't be said for Season 22 (via IMDb). Given Fritz's diagnosis, he may have needed to quarantine more carefully than the rest of the cast and crew. While he isn't active on social media and hasn't spoken out publicly about his absence from the show, The Sun reported that co-host Mike Wolfe said Fritz was undergoing back surgery, which may have further impacted his ability to film. The gossip column was unable to reveal the reason for Fritz's alleged back operation. Meanwhile, according to Reality Titbit, "American Pickers" has been hinting since March 2021 that Fritz would rejoin Wolfe. 
He hasn't so far. And, it's also possible that Fritz wants to take a break. In 2011, the "American Pickers" star described just how hard it is to film with Crohn's disease. In an interview with Quad-City Times, Fritz explained that, especially when filming, he had to carefully plan his nutritional intake to remain safe and healthy. On the road for "American Pickers," the show's producers ensure that Fritz has a recreational vehicle at his disposal at all times for his frequent needs to use a restroom. Fritz, himself, has to shift his eating schedule dramatically. He'll eat mostly at night to ensure minimal disruption to filming.
Whatever the reason for his absence, hopefully, Fritz will be well enough to return to the show soon.