Here's How To Make Your Makeup Survive The Gym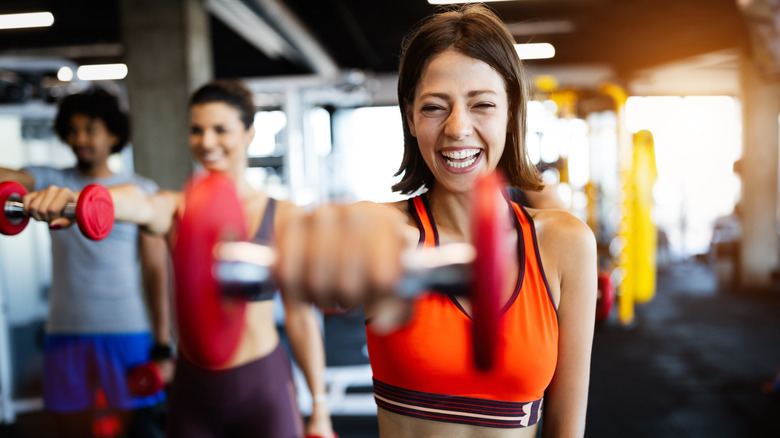 Shutterstock
Finding the motivation to get yourself to the gym can be one of the most challenging decisions of your day, not to mention that there are a ton of workout mistakes you can make once you're there. But did you know that some people wear makeup during their workout as motivation to get themselves to go, even making it an essential part of their daily routine? According to Gina Florio at PopSugar, she wears makeup as a way to feel more confident while exercising, which helps her feel more "invested" in her workout and more likely to "socialize with people at the gym." 
But while wearing makeup to the gym can kick your confidence up those few extra notches, the fear of sweating it all off can end up backfiring. So first and foremost, never feel pressure to wear makeup at any point in your life — especially not the sweaty gym. But if you do opt for a face of makeup before getting your sweat on, here are some of the best tips to keep it looking just as fresh after those squats as it looked before them.
Sweating your makeup off can be detrimental to your skin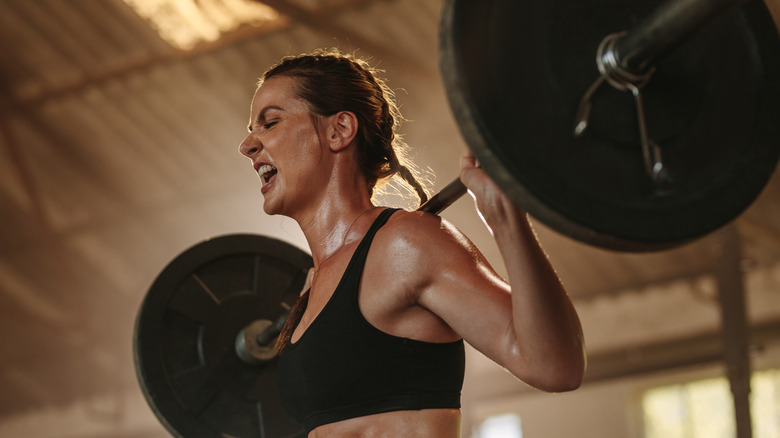 Shutterstock
Sure, having your makeup melt off your face during a hard workout isn't the best look you've ever rocked. But as it turns out, there might actually be more to it than purely aesthetics. Indeed, sweating off your makeup can actually be pretty bad for your skin — not to mention that most of us are still wearing masks to the gym post-COVID. According to Into the Gloss, when you sweat, the grime and dirt from within your pores and what's on your face can actually settle back into your skin, which can ultimately lead to breakouts, milia, rashes, and irritation. And when you're sweating off your makeup, there's even more toxins to be settled into the skin. 
London-based dermatologist and skin expert Dr. Amiee Vyas suggested not wearing makeup to the gym if you can avoid it. However, if you absolutely need to, she recommended "sticking to just waterproof eyeliner and/or mascara, avoiding formulations containing oils and waxes which can run around the eye area as you sweat and potentially block pores." Vyas added that if you plan on putting makeup on your face, you should always opt for something lightweight that is "mineral based and ideally containing antioxidants to fight damage from free radicals and bacteria," per Elle UK.
Here are some of the essential items that will keep your makeup put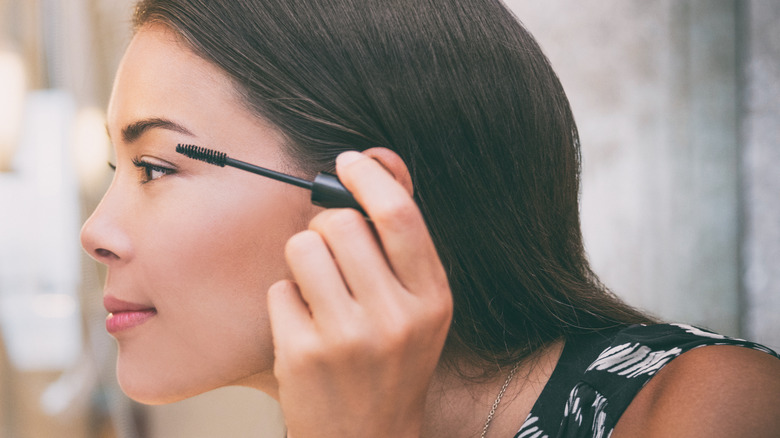 Shutterstock
Waterproof makeup will always be your friend at the gym. There's a bunch of different brands, both high-end and drugstore, with waterproof products that claim to be gym-safe, so whatever your budget is, there's an option for you. Priming your skin is an essential step in the process to getting your makeup to stay on. According to Jackie Gomez, head of the Make Up For Ever Academy, "Mattifying or smoothing primers are always your best bet, especially for those sweaty days," per Self. In addition, sources recommend skipping powder if you're about to break a sweat, as the powder can appear caked on as it rests in the lines and crevices of your face. Instead, replace powder products with cream products, and make sure to carry around blotting papers so you can quickly remove any extra oil from your face (via Bustle).
Oprah Daily noted that a makeup spray is one of the most important products to use if you want your look to stay put. The outlet suggested the Final Seal Matte Makeup Sealer by Ben Nye, which they call a "game-changer" that confidently stands up to "heavy perspiration, weather, a long day of work, a workout class at the gym, or dancing."
So if you want to wear makeup to the gym, just make sure that you use the right products, and then thoroughly wash your face when you get home.