Here's How To Sunglasses-Proof Your Makeup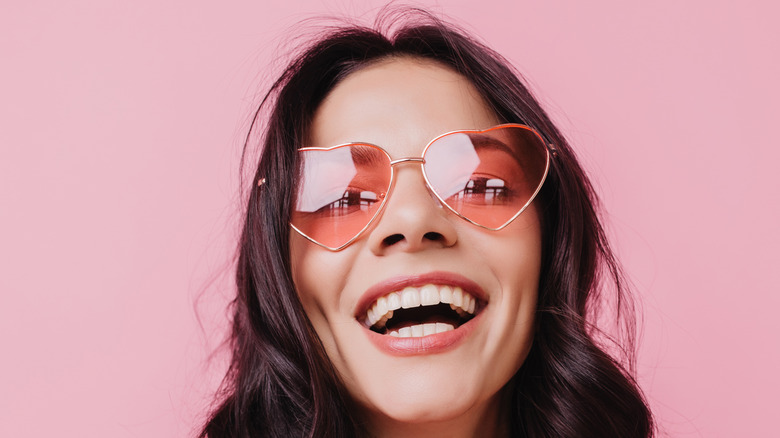 Shutterstock
We've all been there: after working on a super-glam full face of makeup, you put on your sunglasses, and your look is ruined. Sunglasses are notorious for leaving marks on the nose area, particularly after applying high-coverage foundation. Plus, in summer, the heat and humidity only amplify the problem. But not to fret: there are tons of expert-approved tips to lock in makeup even when wearing sunglasses, used by makeup artists and celebrities alike. That way, you'll have a perfect face at your next sunglasses-ready brunch, even without having to touch up!
As celeb makeup artist Billie Gene explained to Makeup, preventing makeup from sliding off with sunglasses is a four-step process. While lengthy, his tricks will prevent any tell-tale nose pad smudges, even in 100-degree weather. As Gene instructs, always start with primer. "The plastic or metal from the frame applies pressure that can cause disruption in your look," so a layer of foundation primer all over your face is crucial. Next, dampen a makeup sponge and soak it directly with setting spray, which "helps the foundation adhere better." Apply a matte foundation on top, steering clear from lighter dewy formulas, and "gently press" setting powder into skin with a sponge. Setting powder "will help fight against humidity," preventing makeup from sliding off with your sunglasses.
While we're loving Gene's tips, there's another TikTok-approved sunglasses-proof makeup hack that caught our eye –- and it's good.
Best tricks for wearing sunglasses with makeup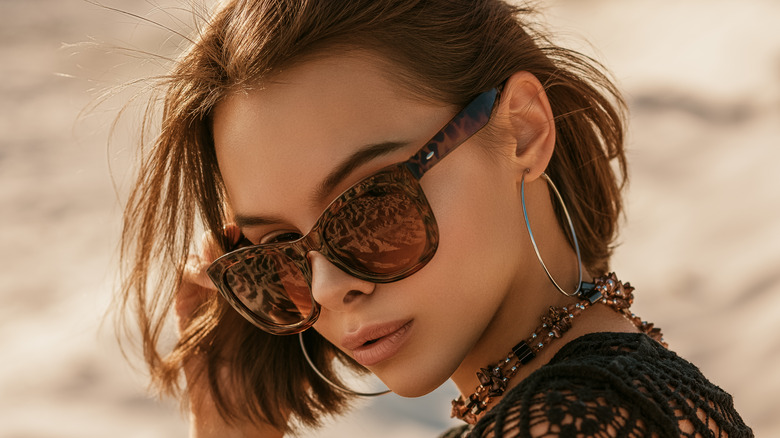 Shutterstock
As reported by Allure, there's a TikTok makeup trick for preventing sunglasses from ruining your look, and it's foolproof. Toronto makeup artist Janine Holmes shared her top tip for prepping shades-loving celebrity clients, describing her hack as "amazing." Holmes explained, "I've come to accept that celebrities will always want to wear their sunglasses, but I don't let it stress me out anymore" after coming up with this total magic trick. This technique will "make sure sunglasses don't ruin the makeup around the nose area," even though it does come with a bit of extra work.
Holmes advises starting with an eye primer (instead of a regular primer) without pigment. Apply it to the sides of the nose where your sunglasses will touch, and blend over your foundation. Next, just as Gene recommended to Makeup, soak your sponge in tons of setting spray. But Holmes' advice is a bit different: after applying the setting spray to your sponge, dip it in loose setting powder. Once that's done, apply the concoction over your foundation and let it "marinate" for a few minutes. A true baking technique, wipe off the extra powder afterward, making sure to use a fluffy brush instead of a sponge.
Feeling a bit extra? You can prep your sunglasses, too. Holmes recommends cleaning up your sunglasses' nose pads with alcohol, and dust setting powder on them. Voila! Your makeup shouldn't move a millimeter, even with sunglasses and heat — no touch-ups required.