Why George Clooney Regrets His Role In Batman & Robin
Shutterstock
George Clooney has been a part of a number of great movies, including "Ocean's Eleven," "Gravity," and "Michael Clayton" (via IMDb), but it is his role as Batman that continues to haunt him decades after the film's 1997 release.
In 2006, nearly 10 years after "Batman & Robin" hit theaters, the 60-year-old actor, who is married to Amal Alamuddin, joked about his portrayal of the iconic character during an interview with Barbara Walters, via Vulture. "I was in a rubber suit and I had rubber nipples. I could have played Batman straight, but I made him gay," he noted.
Many years later, in 2011, Clooney told Total Film magazine that he felt he was "really bad" in the film. "With hindsight it's easy to look back at this and go 'Woah, that was really s*** and I was really bad in it,'" he admitted. "It was a difficult film to be good in," via Business Insider India. Per Deadline, he "kept a photo of himself as Batman prominently displayed on his office wall, as a cautionary reminder of what can happen when you make movies solely for commercial reasons."

George Clooney thought he destroyed the franchise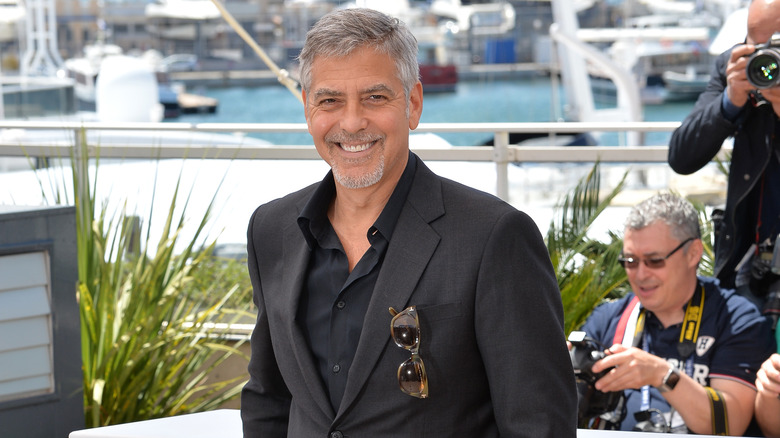 Shutterstock
In 2013, George Clooney continued to poke fun at himself for failing so badly in his portrayal of Batman. "I am the least qualified person to comment on anyone playing the role of Batman since I so terribly destroyed the part," he told Empire, via Vulture. That same year, Clooney told MTV that it was "uncomfortable for all of the world" to watch him in the batsuit in "Batman & Robin."
More recently, in 2015, while appearing on "The Graham Norton Show," Clooney admitted to feeling as though he actually took down the entire "Batman" franchise when he acted as the character nearly 20 years prior.
"Let me just say that I'd actually thought I'd destroyed the franchise until somebody else brought it back years later and changed it," Clooney admitted, according to a report from Marie Claire. "I thought at the time that this was going to be a very good career move. It wasn't."