How To Pull Off A 2000s Zigzag Hair Part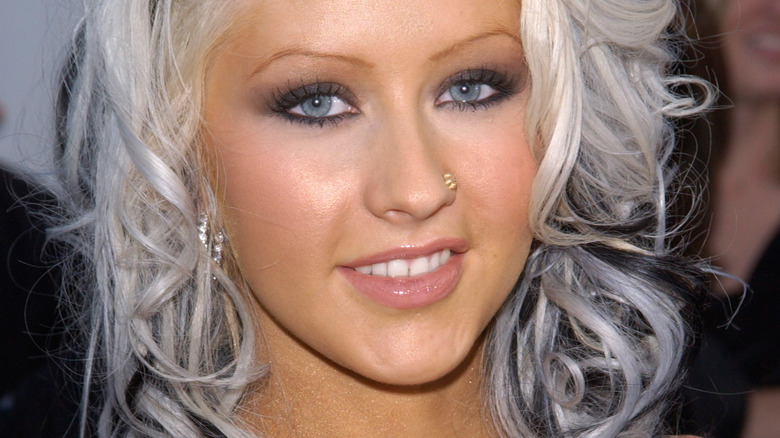 Shutterstock
You've probably noticed that early 2000s fashion trends have returned with a vengeance. From beaded hair clips to baguette bags, you can hardly scroll through Instagram without seeing a young influencer rocking styles from an era they probably only knew as babies — or even not at all. There's even been talk that low-rise jeans are threatening to make a comeback, much to the chagrin of many of us who have formed an unrelenting bond with high-waisted pants.
Amidst the 2000s revival, hair and makeup trends have also re-entered the trend cycle (don't worry, pencil-thin eyebrows have yet to make their way back). One look in particular is so representative of the early 2000s and the pop divas that spearheaded its trends: the zigzag part. Yes, it's true; the hairstyle that was made popular by stars like Christina Aguilera and various members of the Spice Girls is now being seen on modern-day style icons such as Bella Hadid.
Read on to learn more about the re-trending style — plus, how to achieve it on your own.
A hairstylist shared how to create a zigzag part, step by step
If you're itching to try out the zigzag part trend but have no clue where to start, have no fear. Celebrity hairstylist Kevin Murphy recently spoke with Bustle all about the Y2K hair trend and broke down exactly how to achieve it. "It followed the disheveled grunge hair of the '90s as a bit of a cut antidote," Murphy told the publication. "It started out casual and became more graphic and pronounced over time."
Be warned; Murphy noted that this look falls between a seven and a 10 on the difficulty scale, so don't expect it to be a snap. But if you're up for a challenge (and have a tail comb, a steady hand, sectioning clips, and some styling products handy), you'll be just fine. 
First, make sure your hair is ultra-clean and dry or damp hair, which Murphy says will make it easier to work with. Then, clip back pieces of your hair (especially those behind the ears). Now, place a finger where you want your part to end. "Then, using the tail of the comb like a pen, draw the desired direction and size of the zigzag on your scalp," Murphy explains. When the comb reaches your finger, separate the hair to either side and perfect the zigzag until it looks how you want it to. Be careful if you comb or brush out your hair afterwards, Murphy warns, as this can disturb the pattern you just worked so hard to create.