Joe Biden Just Revealed Who The Queen Reminds Him Of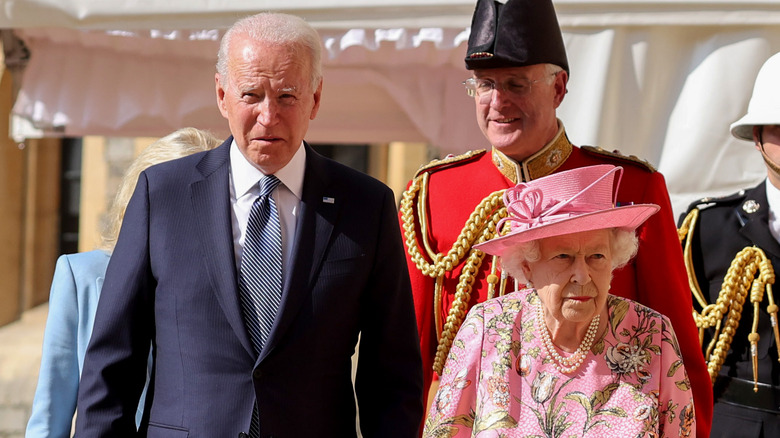 Chris Jackson/Getty Images
Wholesome things happen when you bring America's oldest sitting president with Britain's longest reigning monarch together for tea. As The Telegraph put it, together Queen Elizabeth II and President Joe Biden bring 173 years of experience and wisdom to the table, and Biden had the most heartwarming thing to say to reporters after the encounter: "I don't think she'd be insulted, [but] she reminded me of my mother, the look of her and just the generosity."  The tea was the highlight of the Bidens' first overseas trip as U.S. president and first lady, with Jill Biden noting that the tea was an exciting part of the visit for them (via U.S. News World & Report).
Biden's comparison of Queen Elizabeth to his mom is high praise coming from the president, who was famously close to his mother Catherine "Jean" Finnegan Biden before she passed away in 2010 at the age of 92 — she even campaigned for him in 2008. Even today, Biden invokes her in his speeches, and every now and then, the president is known to begin a comment with: "My mother has a saying..." Joe Biden once described his mom as the one "that runs the show" and when she passed away in 2010, a brood of four children as well as more than a dozen grandchildren, and great grandchildren were left without their matriarch (via ABC News).
Joe Biden's tea with the queen went over the scheduled time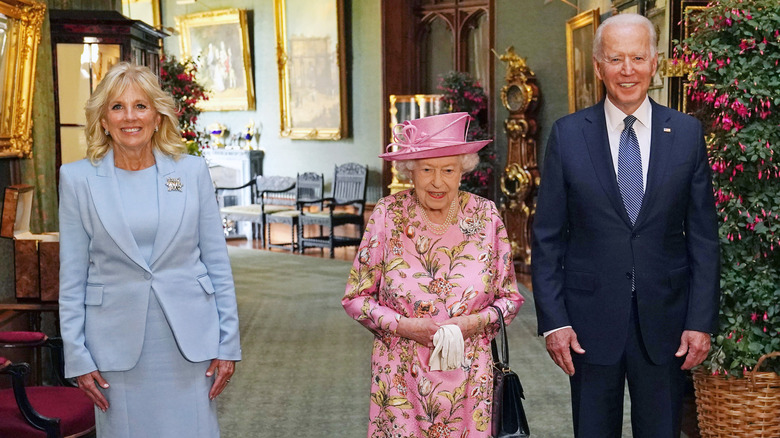 Wpa Pool/Getty Images
President Joe Biden had other words of praise for Her Majesty, saying, "She's (the queen is) extremely gracious, that's not surprising, but we had a great talk. She wanted to know what the two leaders that I — the one I'm about to meet with, Mr. Putin, and she wanted to know about Xi Jinping, and we had a long talk."
Just as it had when former President Donald Trump met the queen in 2018, the visit overran; the Bidens' visit went 10 minutes over, while Trump's went 20 minutes beyond the allotted time. But there was another, more significant change to the ceremony that began before the Bidens' tea, in that the queen had asked Commanding Officer Major James Taylor and Major General Christopher Ghika to accompany Biden as he inspected the Guard of Honour troops. That task once fell on the shoulders of the late Prince Philip (via Yahoo).
Biden's tea with the queen is the fourth such encounter with an American commander in chief. She has entertained other presidents in the past: Donald Trump, Barack Obama, George W. Bush, and Ronald Reagan.