The 'Unusual' Thing The Queen Did That Had Kate Middleton And Camilla Parker Bowles Smiling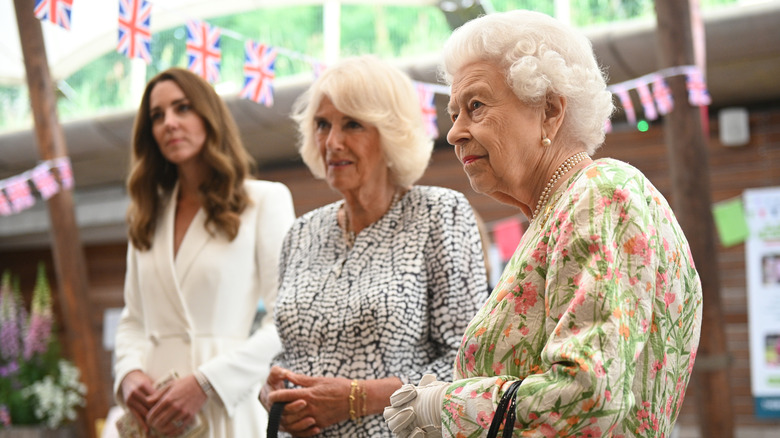 Wpa Pool/Getty Images
Even the world's most famous leaders crack a joke every now and then. During an appearance organized by educational charity organization The Eden Project, Queen Elizabeth II did something so unusual that it made Kate Middleton and Camilla Bowles laugh out loud. The lunch at The Eden Project kicked off the Queen's Jubilee, a weekend set aside to celebrate Queen Elizabeth's birthday, despite the fact that she turned 95 back in April, as reported by Page Six.
The most laughs from the crowd gathered at the event came when Queen Elizabeth II decided to cut into a large sheet cake with a ceremonial sword. When someone nearby reminded the queen that she could cut the cake with a knife, she said, "I know there is," and admitted that she wanted to use a "more unusual" instrument to cut the cake, per Page Six. The cameras were rolling as Queen Elizabeth sliced into the cake with the ceremonial sword alongside Middleton and Bowles. Both women laughed and smiled as Queen Elizabeth cut into the cake (along with a little help from Bowles) and proclaimed, "That looks very good."
The queen also showed a bit of wit earlier on that day while posing for a group photo with world leaders from the G7 summit. "Are you supposed to look as if you're enjoying yourself?" Queen Elizabeth said, according to People magazine. United Kingdom Prime Minister Boris Johnson responded, quipping back to the queen, saying, "Yes, we have been enjoying ourselves in spite of appearances."
Queen Elizabeth II has also been celebrated for her remarkable wit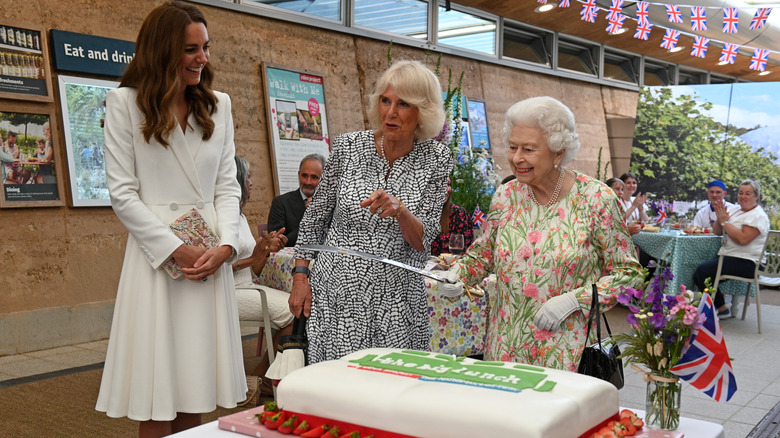 Wpa Pool/Getty Images
Though Queen Elizabeth's rule has been fairly traditional, her remarkable sense of wit has also garnered attention from many over the years. In fact, the queen's sense of humor has become so famous that it even inspired a book by Karen Dolby called "The Wicked Wit of Queen Elizabeth II." The book features just a few examples of the queen's witty one-liners over the years, including a time she paid a visit to Niagara Falls in which she commented, "It looks very damp," per Parade.
Queen Elizabeth also showcased her wit during a chance encounter with American tourists while strolling through the grounds of Balmoral with her protection officer. According to Vogue, the tourists, apparently not recognizing her, asked if she had ever met the queen. Queen Elizabeth responded by saying, "No. But he has," she said, pointing to her protection officer.
Aside from dishing out her famous witty retorts on occasion, royal insiders have also noted that Queen Elizabeth II also enjoys laughing whenever she can. During an interview with People, Bedell Smith, author of "Elizabeth the Queen: The Life of a Modern Monarch," spoke about the queen's loud, joyous laugh that is heard throughout her Sandringham estate. "You can hear her laugh throughout that big house," Smith told People. "She has the ability to laugh at herself."