Why Joe Biden Said He Might Be In Trouble With His Staff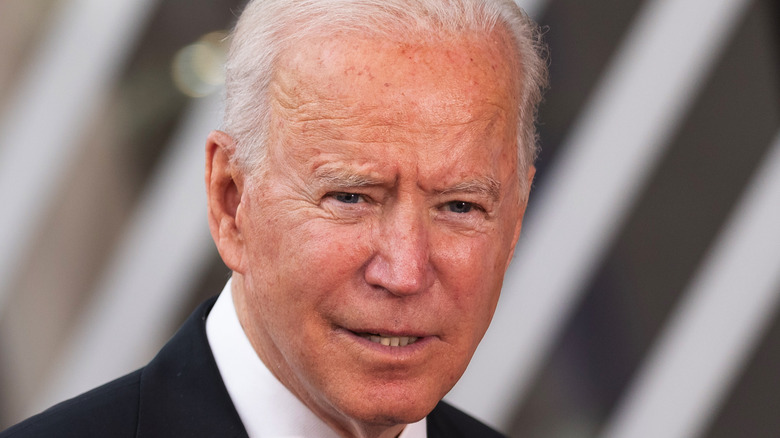 Bloomberg/Getty Images
From the elbow bumps to the socially-distant family photos of world leaders, there was no shortage of lighthearted moments at this year's G7 meeting, which took place in the English region of Cornwall. It was the first face-to-face world leaders have had since the coronavirus pandemic, and they all appeared to relish the fact that they were able to meet in person. Queen Elizabeth II, who was at the G7 for the first time, asked Prime Minister Boris Johnson. "Are you supposed to be looking as if you're enjoying this?" before photographs were taken (via NPR). During an event held on the sidelines, the queen even decided to take a ceremonial sword and use that to cut into a piece of cake, which she succeeded to do with a bit of help from Camilla, Duchess of Cornwall (via Twitter). 
President Joe Biden appeared to take that same lighthearted mood into his post-G7, pre-NATO press conference, when he faced members of the White House Press Corps. After delivering a status report on the conference, he opened a question and answer session, where he joked twice that "I'm going to get in trouble with staff if I don't do this the right way" (via The White House).
There are press protocols that the White House is expected to follow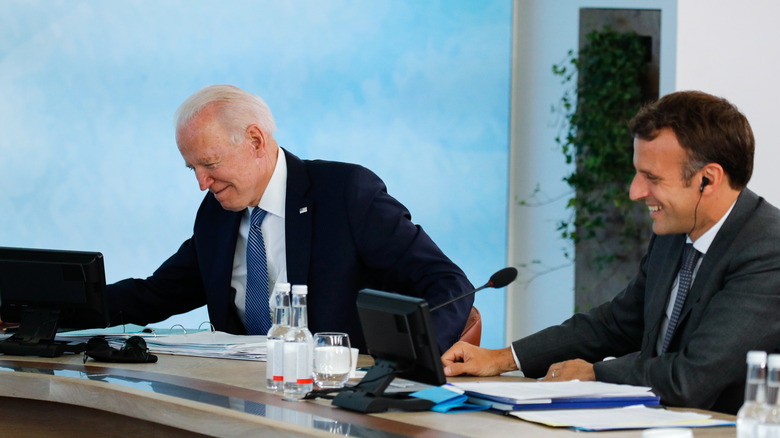 Wpa Pool/Getty Images
By "the right way" we can only imagine the president is likely referring to an old White House tradition, which sees all pressers begin with a question from the well-regarded Associated Press (which the Cornwall presser did); and end with the same Associated Press journalist signaling an end to the encounter, after making sure no other reporters had outstanding questions to ask (via The Washington Post) — although one did in Cornwall.
Joe Biden's comments to the press are largely scrutinized in part because it is such a stark contrast to the approach taken by his predecessor, Donald Trump. According to Politico, the Biden administration adheres to one rule when it comes to the press "do no self-harm," which means public comments are rarely off the cuff and are largely scripted, and that exposure doesn't always work to the president's benefit. 
To then take Biden's comment about "getting into trouble with his staff" seriously is to jump into the icy waters off Cornwall's Carbis Bay when the President joked with reporters, telling them: "Everybody in the water" as he urged them to go swimming (via Reuters).