Lauren Burnham And Arie Luyendyk Jr. Surprise Fans With Exciting Family News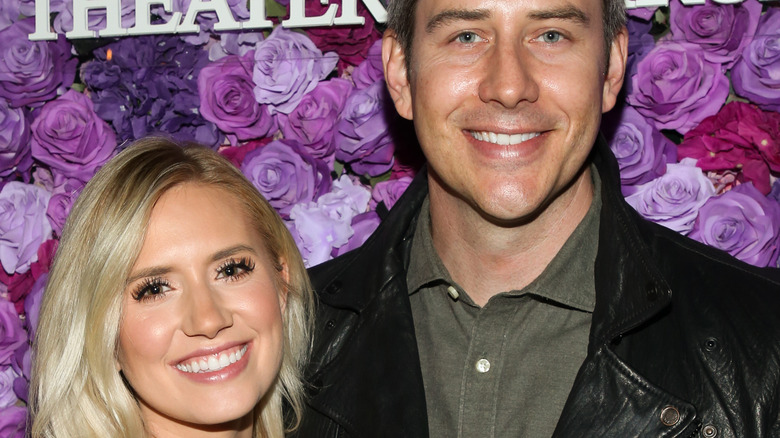 Paul Archuleta/Getty Images
They are finally here! Arie Luyendyk Jr., who was "The Bachelor" in 2018, and his wife Lauren Burnham — remember, he proposed to her after first picking Becca Kufrin to give his final rose to — welcomed twins over the weekend (via Us Weekly and People). The former race car driver shared the couple's big news via his Instagram Story, writing, "@luyendyktwins are here! Momma and babies are doing great and everything went smoothly."
At time of writing, neither Luyendyk nor Burnham had yet shared more details about the births of the twins on Instagram, or photos. But the proud new dad of three — the parents also share 2-year-old daughter Alessi per People — did tell fans about their early time together, adding to his Story, "Spending time cherishing these moments, thank you for all the support."
We can only guess life with three little ones is busy, busy, busy, given that the "Bachelor" couple typically chronicle many details of their parenting journey on their YouTube channel as well.
Lauren Burnham and Arie Luyendyk Jr. miscarried last year
In January, Luyendyk and Burnham, who did let fans in on the first stages of the delivery via Instagram, like the mom-to-be getting hooked up to a fetal heart monitor, announced they were having boy and girl twins. This news came after the expectant parents shared they had miscarried in May of last year (via People).
In a video description about the devastating loss, they said, "We made so many plans. We bought a new house with more space, we planned how we wanted to tell you all and we envisioned our future with Alessi's little brother/sister. We were planning to share our journey through pregnancy with you, but unfortunately we didn't get the happy story we had hoped for."
Now, the new parents are celebrating the safe arrival of their yearned-for babies at last. Here's wishing the Luyendyk family every happiness as they enjoy the early days of their twins' lives.