This Iconic '90s Brand Has A Morphe Makeup Collection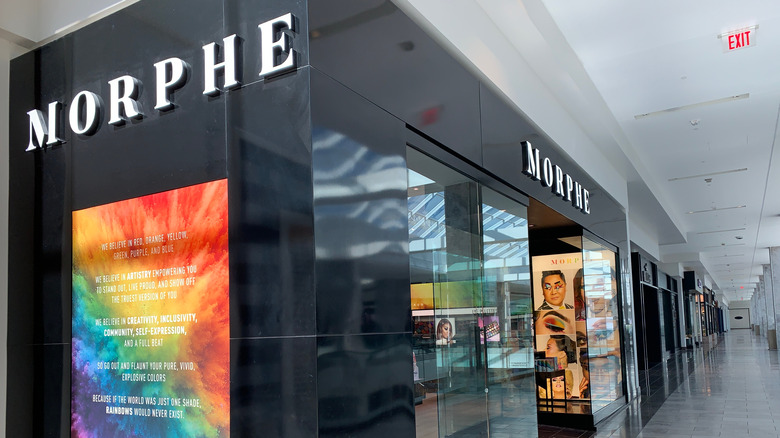 Shutterstock
In November 2020, Morphe debuted their first collaboration with iconic '90s artist Lisa Frank. It sold out pretty quickly, and due to its immense popularity the collection has returned with a new twist. This time around, the set comes with a lip crayons inspired by some of Frank's adorable critters, including the golden retriever duo Casey and Caymus (via Sweety High) as well as Magic Kitty (via Revelist).
The Morphe x Lisa Frank collection also includes the original products released in 2020, including three variations of the brand's 35B palette for $30 each. It's comprised of 35 shades of vibrant colors inspired by some of Frank's most recognizable creations including Forrest the tiger, aliens Zoomer and Zorbit, as well as the Prancing Unis. There's also the Treat Me Sweet beauty blender set for $19, in addition to the Blend Bright eye brush set for $32.
If you're the ultimate Lisa Frank fan and are down to buy the entire collection in one purchase, you can for $99.
This isn't the first Lisa Frank makeup collection
Many fans of Lisa Frank will know that this isn't the first time the artist's work has been transformed into a makeup collection. In 2017, the artist's brand made a resurgence with a possible collaboration with makeup brand Glamour Dolls.
Despite receiving the appropriate funds to make the collection which totaled over $300,000, it never came to be. According to Insider, over 5,000 people backed the project, which included beauty products and accessories inspired by the artist like an eyeshadow palette, lipstick, brushes, and nail polish.
The collection was eventually made available through Ipsy and Hot Topic, but the rewards promised to Kickstarter backers were never sent. According to a statement given to Insider by a representative for Lisa Frank, "Glamour Dolls completely failed to live up to our agreement, which includes their obligations within the Kickstarter campaign, failing to manufacture and deliver the products that our fans rightfully deserved."
They eventually terminated the agreement, saying that they were "excited about the upcoming collection" with Morphe back in 2020.