Here's The Genius Way To Fake Shorter Hair
Shutterstock
As the old adage goes, we always want what we can't have. Curly-haired mavens want stick-straight strands, blue eyes want hazel stunners, and so forth. Same always went for long and short hair — until now. Yes, there are foolproof ways of making your cascading, Rapunzel-like hair look short for a day, no haircut (or commitment!) required. Best part? Many of the methods will only take minutes, and don't require any hair styling expertise. Prepare for everyone to ask if you cut your hair — these tricks are that good.
There are tons of ways to fake short hair with just a few tools you probably already have in your arsenal. For one, you could fake an asymmetrical bob like Allison Williams did at the 2015 Golden Globes, detailed thoroughly by Brit + Co. Simply part your hair to the side, curl it down, clip your pin curls for a few minutes for staying power, then tuck your rolled ends under to fake short hair. Secure your rolled ends with bobby pins, loosening across to get an asymmetrical effect, and ta-da! Short hair.
If the up-down effect isn't your favorite, you can also go for a more traditional lob. The longer, choppier version of the bob, this fake lob is everything you need when you're just feeling a change. As per Marie Claire, just curl large sections all around your head, tie hair into a loose braid, and tuck the braid under with bobby pins, camouflaging the trick with loose curls.
Short hair, no haircut required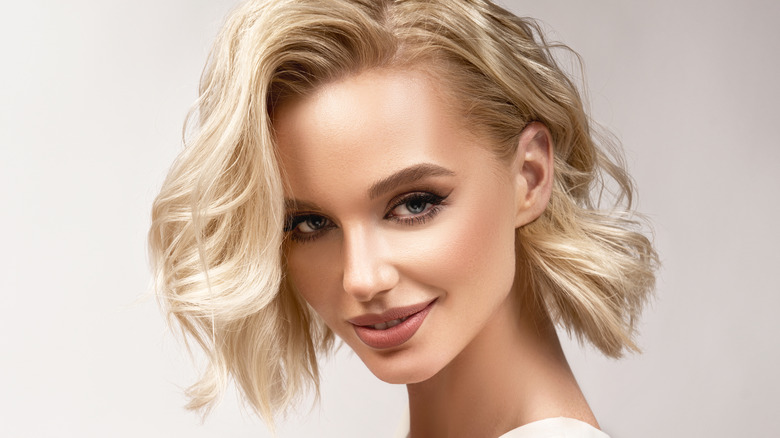 Shutterstock
Although tucking hair under works like magic for asymmetrical bobs and messy lobs, there are a few other tricks for getting you to your short hair dreams. As per Brit + Co, you can dare to go edgier than you ever imagined, trading in classic long tresses for a motorcycle-approved braided faux hawk. Yes, you read that right: simply braid through the middle section of your hair, slicking back each side and tucking the sides under the updo. All the cool-girl-edge you ever wanted, no salon trip required.
Even easier? Grabbing a headband and faking it 'til you make it. According to Hairstyle Camp, all you have to do is tie the bottom ends of the hair with a headband or ribbon. Tuck the ends under at the nape of the neck, and tie the ribbon at the crown of your head. You can also wrap the ribbon back down and tie under your hair if you prefer a clean, simple look.
Similarly, a head scarf works great, as explained by genius Keiko Lynn. Tease your hair at the crown and secure with bobby pins, pinning up the bottom layers of your hair to blend in with the teased portion. Once you have a beehive-like updo, conceal your work with a gorgeous headscarf, and get ready for all the '50s silver-screen drama. You can have the best of both worlds after all!