The Truth About Bob Saget's Friendship With The Olsen Twins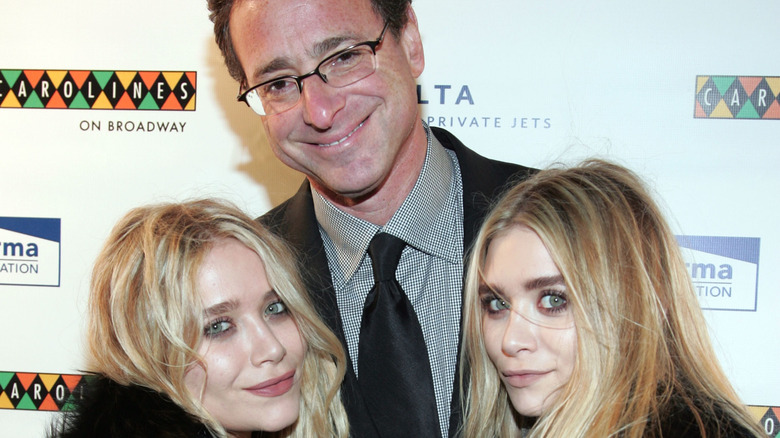 John W. Ferguson/Getty Images
Our favorite TV dad, Danny Tanner, played by Bob Saget, entered our homes each TGIF on ABC thanks to "Full House" and taught most of us at home some valuable lessons like sharing with your siblings and communicating when you are having issues. 
The sitcom father was in the midst of raising three young daughters after his wife passed, and the actor had a great relationship on and off the screen with his pint-size co-stars.
Many viewers may not be aware that Saget was extremely close to Mary-Kate and Ashley Olsen, who played Michelle Tanner. The two were just babies when the show started and switched out playing the role when one was tired or cranky. Sadly, when the show came back as a reboot titled "Fuller House," the Olsen twins were nowhere to be found as they decided they did not want to go down memory lane with the rest of the cast.
Bob thinks of Mary-Kate and Ashley as his kids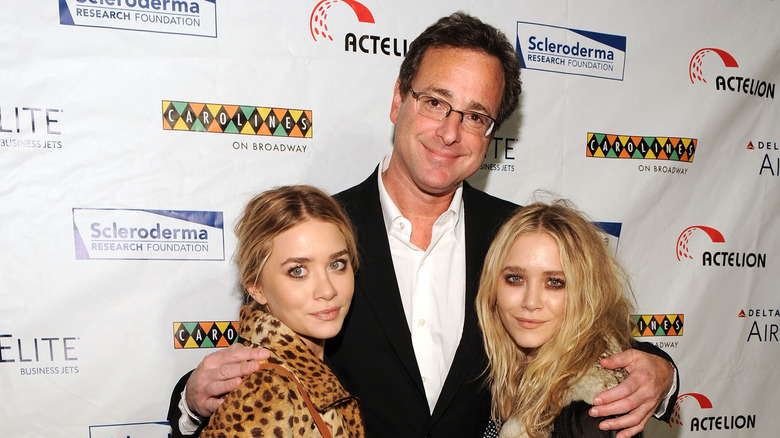 Bryan Bedder/Getty Images
While many of the original cast members made a return to the 2016 reboot, the twins were noticeably absent. But Bob Saget made sure to still speak highly of his TV daughter. 
Not too long ago, Saget appeared on Michael Rosenbaum's "Inside of You" podcast, where he touched on his personal relationship with the Olsen twins. Fans naturally thought that there might have been some bad blood or issues between the rest of the cast and Mary-Kate and Ashley Olsen but, Saget put those rumblings to ease, saying, "Ashley and Mary-Kate, I love so much. When I'm in New York or when they're here, when we can, we see each other. Ashley and Mary-Kate are more like friends because I kind of got the whole thing of everything they're about."
When the host asked who he got along with the best between Jodie Sweetin (Stephanie Tanner), Candace Cameron Bure (DJ Tanner), or the twins, he quipped, "Whoever I was with at the moment, just like my own kids," (via Today). Saget even shared that he is extremely close with Cameron Bure and has been since the pilot episode.
Bob guaranteed the Tanner's will always be family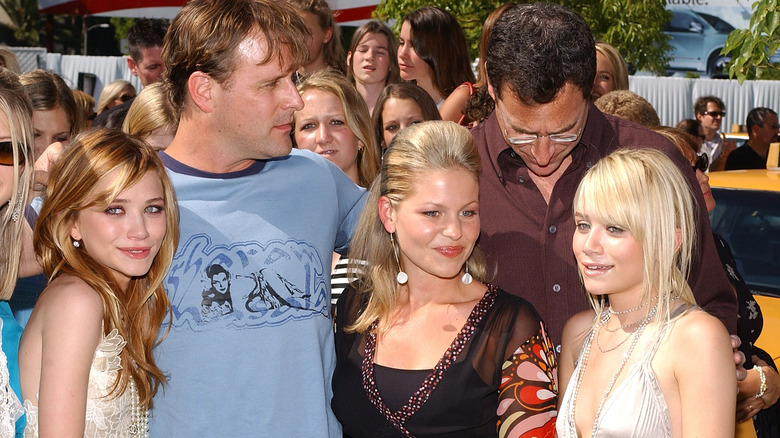 Vince Bucci/Getty Images
According to Newsweek, there was a simple reason why the Olsen twins didn't want to participate in the second coming of the popular show.
Producer Bob Boyett shared that he had a conversation with the two stars explaining, "Ashley said, 'I have not been in front of a camera since I was 17, and I don't feel comfortable acting.' Mary-Kate said, 'It would have to be me because Ash doesn't want to do it. But the timing is so bad for us." Who knew two of the most popular actors of the 90s could have stage fright so late in life?
Despite all the actresses have been through, they are still close to most of their "Full House" family. John Stamos, who played Uncle Jesse, and Dave Coulier, who played Uncle Joey, commented on their absence. Coulier shared, per Vulture, that the Olsen's are "family members. But I think they have a different perspective. When we get together, and we reminisce, they were babies [at the time]. So they don't share those same memories. I can't really speak for them, but I would understand why they don't have the same sentiments that we all do."