H.E.R. Always Wears Sunglasses. Here's Why
Shutterstock
H.E.R., born Gabriella Sarmiento Wilson, has always had an aura of mystery. The R&B singer initially refused to reveal her identity in the early stages of her career (via Oprah Daily). And while she's become more open about parts of her artistic origin story, there's still mystery around her, particularly her sunglasses. 
Maybe you've never noticed, but the four-time award-winning singer has never removed her sunglasses (via Elle). We've seen her face (cue Oscar photos), but she's always wearing her glasses which have reflective lenses that show your face back. 
H.E.R. likes anonymity, but not because she's afraid of fame. Rather, it's her music — not her social life — that matters. "I think it has allowed me to make the music the focus, and for people not to care about the superficial things or who I'm associated with, what clique I belong to — all those things that don't matter," she told Elle. "It's really made people focus on the music, and that's what's special about it."
There's more to H.E.R.'s music than what meets the ear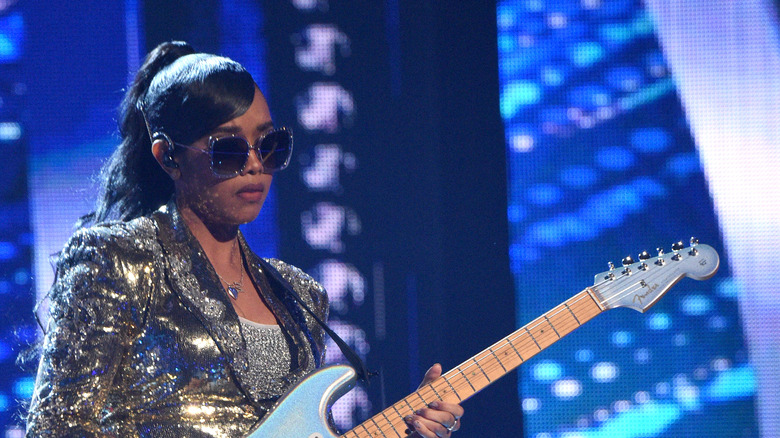 Kevin Mazur/Getty Images
We know that H.E.R is talented. Come on, the songwriter is halfway towards an EGOT (and in case you live under a rock, that means Emmy, Grammy, Oscar, and Tony), per Oprah Daily.
But her goal as a musician is more than just about selling records — it's the meaning behind her songs, the outlet added. It's why she specifically chose her stage name as H.E.R, an acronym for Having Everything Revealed. "I reveal who I am and my stories and my emotions, and music is an outlet for me," she expressed. "But it's all revealed through my music and my message. Even though I don't show my face and I don't tell people who I am or more about me...you get to know who I am in my music," (via 1035 The Beat).
It's no surprise that the R&B singer writes most of her music from her diary (via Elle). She credits her zodiac sign (a cancer) as her reasoning towards making emotionally driven music, songs that give fans a glimpse into her life, noting, "It's all things I think about: All of these thoughts I pull from the deepest, darkest places, and I guess that's why people love it so much — because they're the things that we're afraid to say."