JoJo Opens Up About Her Mental Health Struggles
Rodin Eckenroth/Getty Images
Singer JoJo, born Joanna Noëlle Levesque, is one of many celebrities beginning to share parts of their mental health journey with fans. JoJo recently revealed in an interview that she was diagnosed with clinical depression, or major depressive disorder, when she was 18 years old (via People). Now 30, she has been on antidepressants ever since.
"Because there is a history of mental health issues in my family, I didn't feel any shame seeking help," she said (via People). "Those of us who have a predisposition toward depression or a chemical imbalance — sometimes we just need a little help."
JoJo admits her mental health struggles began after she achieved fame at the age of 13 with her single "Leave (Get Out)." She was balancing that with watching her father struggle with opioid addiction. The addiction put a strain on their relationship, causing them to lose contact. Around that time, she found herself stuck in her career, unable to release new music due to disputes over her contract with her record label (via The Sun). She began drinking to deal with everything going on in her life.
JoJo turned things around when she started taking care of her mental health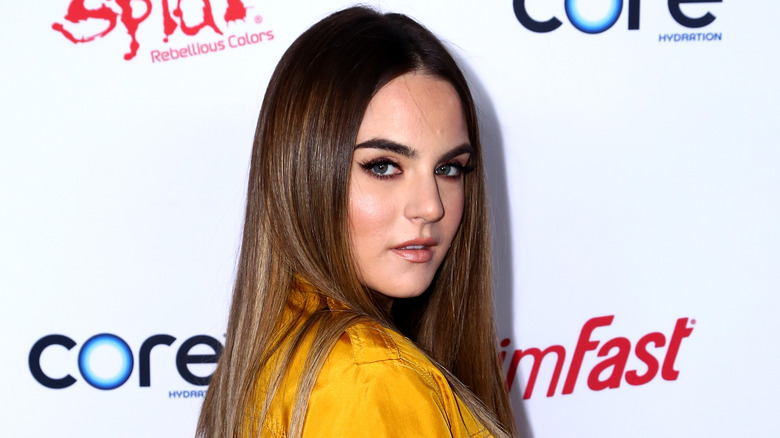 Justin Baker/Getty Images
JoJo knew drinking wasn't the solution to her problems and quickly saw the error in her ways. "I was feeling overwhelmed and found myself wanting to get out of my mind because I was so scared and so sad," she told People, admitting she was regularly blacking out when she was 18. "At the end of the day, I am a product of a family with substance-abuse issues. When I woke up and didn't know how I got home, I was like, 'This is not okay.'"
As JoJo got back to music, she began opening up to her fans about her mental health. It was a major theme in her 2016 album "Mad Love," and again on her following album, "Good To Know." She also spoke about it on her social media accounts, including in a post sharing why she was taking a break from Instagram. 
"Sporadically, for years, depression and anxiety have convinced me I'm unworthy of love, patience, (real) self-care, and forgiveness," she wrote (via Teen Vogue). "Made me question if I'm 'good enough' to do anything consistently. Made it hard to follow through and to have healthy long lasting romantic relationships without sabotaging them."
JoJo is determined to change her family's track record with mental health and addiction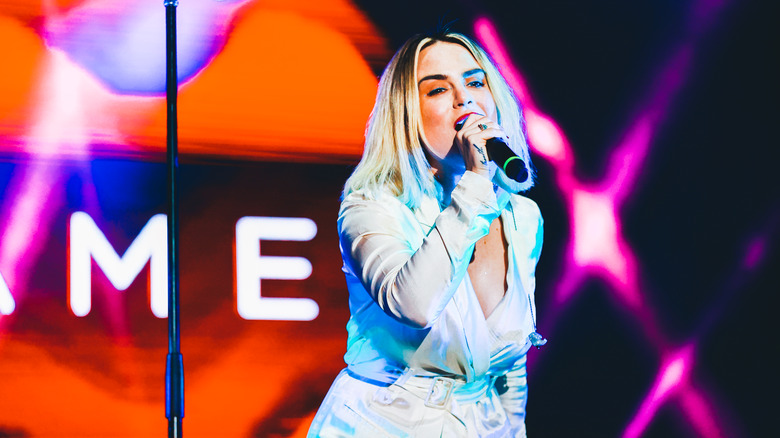 Matt Winkelmeyer/Getty Images
JoJo recalled her father warning her that his addictions would become her own. "When I was younger, my dad came to pick me up from my mom's place. He was slurring his words, and I was scared to get in the car with him," she said (via People). "He was like, 'Just you wait. Addiction is like Arnold Schwarzenegger pumping iron in your backyard just waiting for you.'" 
JoJo was not going to make his past her future. "I remember telling him, 'I don't accept that as my fate. I don't accept that just because this is in my DNA that this has to be my future.' I'll never forget that." As an adult, she has found a way to have a healthy relationship with alcohol today. "My relationship with alcohol is different now. I don't drink to escape," she said.
JoJo, whose self-care regimen includes therapy, working out, yoga, and writing in a journal, is excited about what her 30s will bring. "I'm really excited for 30, because I hear it gets better," she told People. "My 20s were just about seeking approval. Now if I approve of myself, that's all I need. That confidence really reverberates. It's very powerful."
If you or anyone you know is struggling with addiction issues, help is available. Visit the Substance Abuse and Mental Health Services Administration website or contact SAMHSA's National Helpline at 1-800-662-HELP (4357).