Why Fans Think Angelina Jolie And Jonny Lee Miller Are Dating Again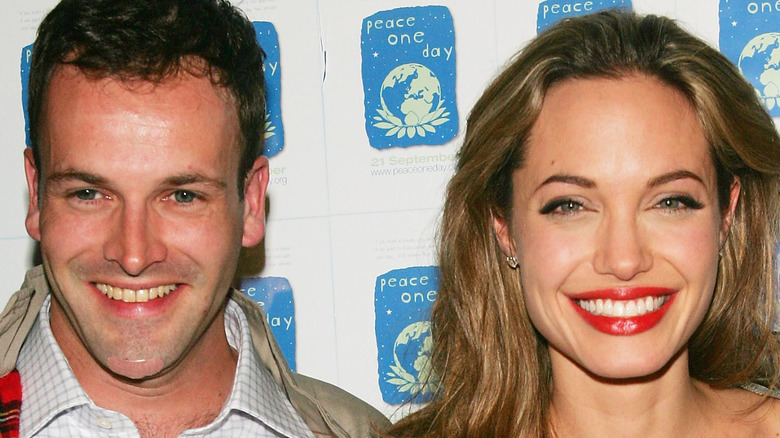 Evan Agostini/Getty Images
Is Angelina Jolie looking to have a "Bennifer" style reunion with her former love? The "Maleficent" actress stunned fans this week when she was spotted visiting her ex-husband Jonny Lee Miller at his New York City home (via Gossip Cop). Fans may remember that Jolie and Miller met on the set of the film "Hackers" back in 1995. The duo were both very young and still trying to make names for themselves in Hollywood. The pair hit it off and after a short romance tied the knot in 1996. The couple divorced three years later in 1999, but have managed to maintain their friendship in the years following their split.
Back in 2014, Jolie looked back at her acting career with Buzzfeed, and revealed that the movie "Hackers" reminded her of "well, oddly, love." The actress admitted that the film will always be linked to her romance with Miller in her mind. "That's where I met Jonny, who is still a great friend. I think of him when I think of that. Although, I'm sure the movie looks so ancient now, but we had a lot of fun making that," she confessed. Now, Jolie and Miller's romance is making headlines again nearly 20 years later.
Angelina Jolie and Jonny Lee Miller spark reunion rumors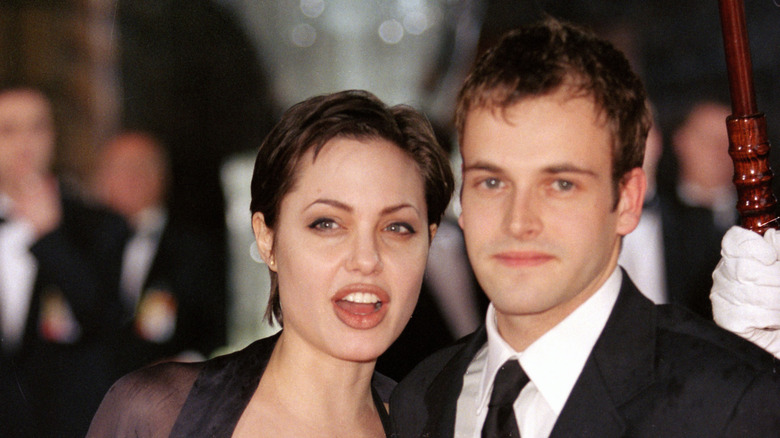 Antony Jones/Getty Images
According to reports by ELLE, Angelina Jolie raised eyebrows when she was seen heading to her ex-husband Jonny Lee Miller's home in New York. The "Girl, Interrupted" star reportedly carried a bottle of wine in her hand for the duo to enjoy during their visit. Of course, some fans immediately began to wonder if Jolie and Miller (who are both currently single) may have rekindled their romances years after their divorce. However, People Magazine sources reveal that the pair are simply good friends who were catching up. In addition, the insider revealed that Jolie's son Knox is friends with Miller's 12-year-old son Buster, and that the children also joined them during their reunion.
While Jolie continues to navigate her divorce from Brad Pitt, the actress has been romantically linked to a number of famous faces in the tabloids. Gossip Cop reports that Jolie has been rumored to have secret flings with Diplo, Johnny Depp, Keanu Reeves, and even a stuntman that she worked with on the set of "Eternals." However, Jolie has not confirmed any big relationship news since her split from Pitt. Instead, she appears to be focusing on her six children, who accompanied her to NYC for a family getaway. "The kids are growing up and are so close. They were out to museums and dinner with each other through the trip and had a nice time," an informant told People of the Jolie-Pitt family vacation.