The Drugstore Beauty Product That Laverne Cox Swears By
Shutterstock
We may receive a commission on purchases made from links.
Laverne Cox is rarely photographed looking anything less than stunningly fierce and fabulous. However, it might surprise you to learn that when it comes to beauty, the "Orange Is the New Black" star is laidback. Her relationship to makeup has evolved with time, with the actress explaining, "As I've developed into my womanhood, this beauty thing is now tied to my work. It's important to distinguish between my work life and home life." Dating or attending auditions makeup-free is no longer as much of an issue as it once was for Cox, either. 
Cox is a refreshingly frank interviewee, proud to share her beauty secrets, especially if it means confessing to being a drugstore queen. While speaking to The New York Times, the LGBTQIA+ activist listed several key items as her go-to's, from a L'Oréal compact that retails for just $16, to a Black Opal foundation stick you can pick up for $15. Cultivating a reputation as a bargain-hunting diva is something Cox is openly doing at this stage, and naturally her top pick is one we can all easily afford. 
The actress and activist uses this drugstore product to achieve baby-smooth skin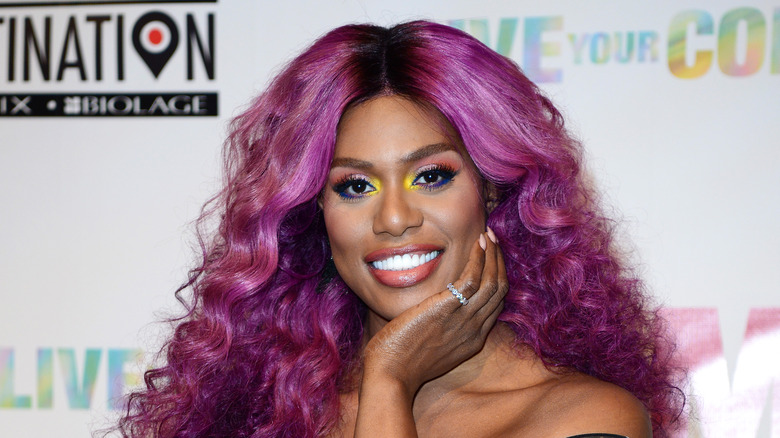 Gerardo Mora/Getty Images
Although it might seem like a bit of a left field choice, considering how unique Laverne Cox is, her go-to drugstore beauty product makes total sense. While speaking to Us Weekly, the "Orange Is the New Black" star pointed to none other than baby shampoo as her number one product to keep skin looking and feeling baby-soft. "If it's gentle enough for a baby, it's gentle enough for your face!" Cox quipped, explaining, "I'll use a wipe to take my makeup off and then I'll use baby shampoo to wash and then moisturize." You can pick up some classic Johnson & Johnson baby shampoo for just $6.51 on Amazon, FYI. Elsewhere, the actress told The New York Times she stays strictly out of the sun to prevent unnecessary skin aging. 
Cox might give off the impression of someone who has her skincare game down to an art, but it's worth noting she's struggled with acne just like everybody else. However, her blemishes cleared up for a surprising reason. As the "Promising Young Woman" star informed Us Weekly, "As soon as I started hormones all the acne went away." Cox acknowledged how ideal the timing was, noting, "It's a great blessing to start hormones and have a lifelong skin problem go away with starting my journey to who I really was." Evidently, shining from within is something the "Orange is the New Black" fan favorite is preternaturally good at. But, for a shockingly reasonable price, we could be too.