These Sous Vide Kits At Costco Are An Absolute Bargain
Costco is a store known for selling a wide range of products at affordable prices, and until June 20, it is offering up a $40 discount on the Anova Sous Vide Precision Cooker Kit.
The stainless steel and Wi-Fi-enabled appliance comes with the sous vide precision cooking device, resealable bags, and a water container, allowing people to evenly cook and happily enjoy everything from meat and vegetables to eggs. Normally, this kit is $199.99, but right now, it is on sale for $159.99, so you might as well grab the sale while it's going on.
Additionally, it is as easy to use as 1, 2, 3. All one has to do is attach the Anova Precision Cooker to the container, add your food in one of the vacuum sealer bags and then in the cooker, use the manual controls or the free Anova App to start preparing the food, and lastly, receive a notification when it is all done and ready to eat.
So, what is sous vide exactly?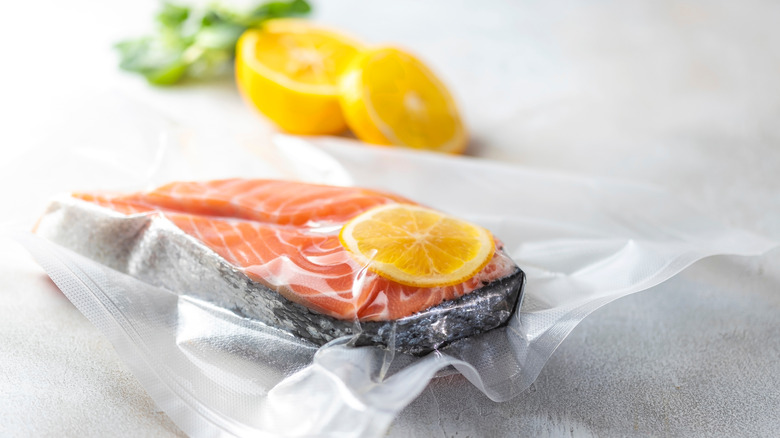 Shutterstock
Some people probably heard about the discount on this sous vide kit and immediately headed off to snag their own. Others out there may not be entirely sure what this form of cooking is all about, though.
With sous vide cooking, food is sealed in an airtight container or bag, and then is prepared in temperature-controlled water. In French, sous vide translates to "under vacuum," which makes sense since foods can be vacuum sealed with sauces and spices.
Something else that makes it so popular is that its a no-fuss option. The food doesn't have to touch any surfaces while being cooked, there is no boiling pot of water to watch, and there are no flames, steams, or smokes, as pointed out by Bon Appétit Magazine. That being said, take a look at the Anova Sous Vide Precision Cooker Kit again, and take advantage of this Costco sale before it ends on June 20!