What Marshmello Looks Like Without The Mask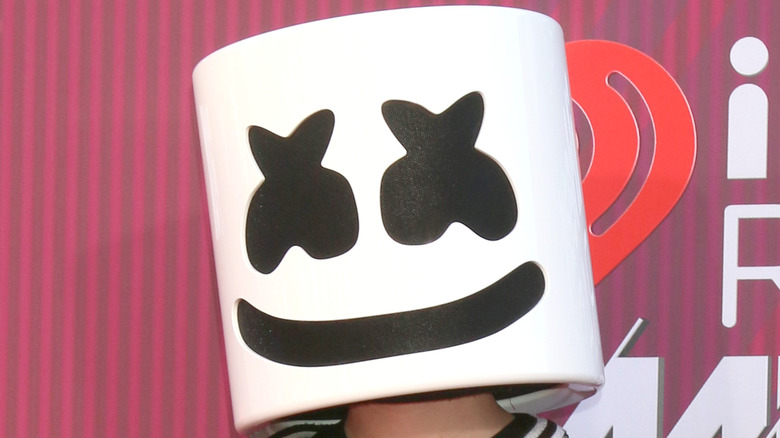 Shutterstock
Sure, you might know Marshmello. The American DJ has been one of the biggest names in electronic music for several years, earning $40 million in 2019 alone, and collaborating with huge names including Selena Gomez, Khalid, and Halsey (via Forbes). However, do you really know Marshmello?
The DJ deliberately keeps a low profile, sporting a mask that's meant to resemble a marshmallow, and of course using a stage name instead of his real name. Even when performing live, he continues to keep his mask on and has even roped in various celebrities to wear the mask in a bid to play jokes on his millions of fans. Of course, he's not the first to wear a mask. As noted by Vice, many DJs have remained masked through the years. Canadian DJ deadmau5, for example, is famous for his mask, and the French electronic duo Daft Punk wore helmets throughout their career, too, but their anonymity was never quite to important. 
So, just who is Marshmello, and what does he look like without his trademark mask? We dig deep to have a closer look. 
Other celebrities have borrowed Marshmello's mask
At EDC, one of the biggest electronic music events in the festival calendar, Marshmello was performing in 2016. For the fans watching, it would have felt like the time they'd finally find out the DJ's real identity, but it wasn't to be. Marshmello counted down with the crowd and removed the mask with the crowd going wild, but the real Marshmello was not underneath (via Billboard).
Instead, fellow DJ Tiësto appeared from under the mask. In a bit to continue to joke, Marshmello then uploaded a video of the incident to his YouTube account, calling it "Marshmello FINALLY reveals himself at EDC Las Vegas 2016." However, this wasn't the only time a different celebrity donned the famous mask. At the iHeartRadio Much Music Video Awards in 2018, Canadian singer Shawn Mendes revealed himself to be under the mask (via Teen Vogue). As noted by Gossip Cop, even Will Ferrell has joined in with the joke. 
Just who is Marshmello, anyway?
Did Forbes blow Marshmello's cover?
Okay, so neither Shawn Mendes nor Will Ferrell is Marshmello, but could one of Tiësto's DJ peers be the mysterious artist? There had been rumors as far back as 2016 that the man behind Marshmello was Chris Comstock, a DJ who also performed under the stage name Dotcom, but until a year later they'd remained unconfirmed.
Enter Skrillex. The brostep pioneer posted a video in which he and some friends were celebrating Marshmello's birthday (via Your EDM). As it turns out, Dotcom's — or Chris Comstock's — birthday is exactly the same date. Forbes went deeper, however, looking at some data on music royalty manager BMI that seemingly proved Comstock, Dotcom and Marshmello were all one and the same. 
While Marshmello's true identity was apparently something of an open secret in the industry, at least fans now know just who the DJ is. No matter who Marshmello is, however, he's undoubtedly one of the most successful names in the world of electronic music.