Who Is The Richest Housewife From Real Housewives Of Orange County?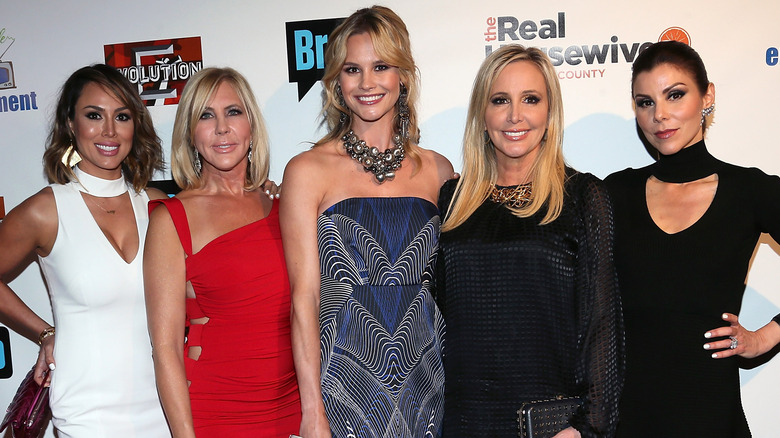 David Livingston/Getty Images
The Real Housewives are known for their wealth. In every franchise, a big part of the show is often witnessing the women flaunt their designer clothing, high-end furnishings, and mega mansions. According to Meaww, the Orange County franchise is often known as the pioneer franchise, paving the way for ladies in newer cities like Salt Lake City. And while money is at the forefront of every Real Housewives franchise, the ladies of Orange County always seem to take it a step further.
Before her departure from the series, Heather Dubrow held the top spot for richest Orange County housewife. Between her acting credits before the show and her marriage to her uber-successful plastic surgeon husband, Dubrow's net worth is said to be around $50 million. In comparison, other housewives like Tinsley Mortimor from "Real Housewives of New York City" is worth $35 million, Margaret Josephs from "Real Housewives of New Jersey" is worth $50 million, and Jill Zarin, also from New York City, is worth around $20 million (via Screen Rant). So if the Orange County ladies seem to hold a majority of the wealth, who is the richest housewife from "Real Housewives of Orange County"?
The richest Orange County Housewife may surprise you
There is a lot of wealth surrounding the Orange County Housewives. In fact, mostly all of them can rightfully call themselves millionaires (via Slice). But the richest OC Housewife is actually the newest addition to the franchise — Elizabeth Vargas. According to Monsters & Critics, Vargas is worth about $30 million, putting her ahead of the others by about $10 million.
Vargas, who had a tumultuous childhood, earned her wealth by marrying mega-millionaire Bernt Bodal, who according to Meaww, she met in college. The couple divorced in 2017, a storyline we see playing out in the previous season of "Real Housewives of Orange County." Bordal is the CEO of American Seafood and is said to be worth about $200 million. But Vargas also makes money on her own. The Housewife has her own online market company called Edge music and has recently created Vargas Vodka.
While the newcomer takes the top spot, OG Housewives don't fall too far behind. Shannon Beador is said to be worth about $20 million, Kelly Dodd's net worth is about $10 million, and Braunwyn Windam-Burke is worth about $3 million.