Emily Hampshire Reveals What She Learned From Her Schitt's Creek Co-Stars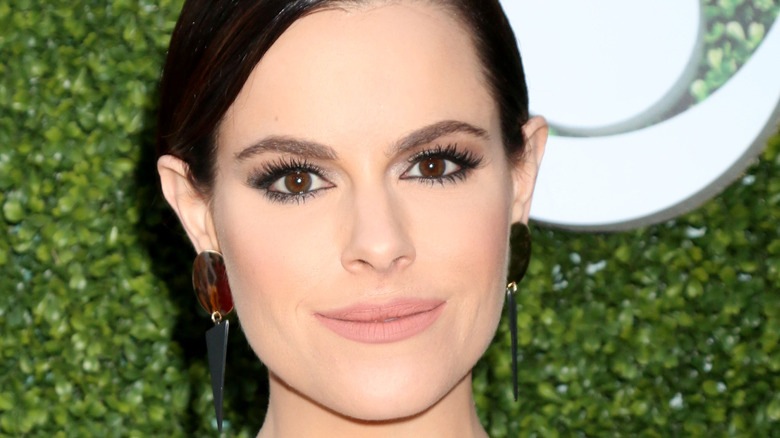 Shutterstock
Fans of "Schitt's Creek" know that the hilarious comedy also had a lot of heart behind it. Although the jokes were funny and the storylines could often get a bit wacky, the main characters on the series shared a genuine love for each other and it was obvious in the show's emotional scenes (via Screen Rant). Actress Emily Hampshire, who played Stevie Budd on the series, revealed back in April 2020 as the show was set to air its series finale, exactly what she loved about her on-screen alter ego.
"I find it remarkable with Stevie, as opposed to most characters who grow and evolve and change, I think Stevie is like one of those Russian [nesting] dolls — she opened up more like an onion," Hampshire stated, per NY Post. "She was this hard shell at the beginning and through the seasons she's peeled back these layers to reveal who she really is without all the walls up. I think she's grown inwardly to outwardly, if that makes sense. She got more vulnerable ... when Mr. Rose (Eugene Levy) came into her life as a father figure and started helping her run the motel," the actress added. While it's clear that Hampshire believes her character was influenced by Levy's character, she's now opening up about what the actor and his on-screen wife, actress Catherine O'Hara, taught her while on the set of the show.
Emily Hampshire gushes over her Schitt's Creek co-stars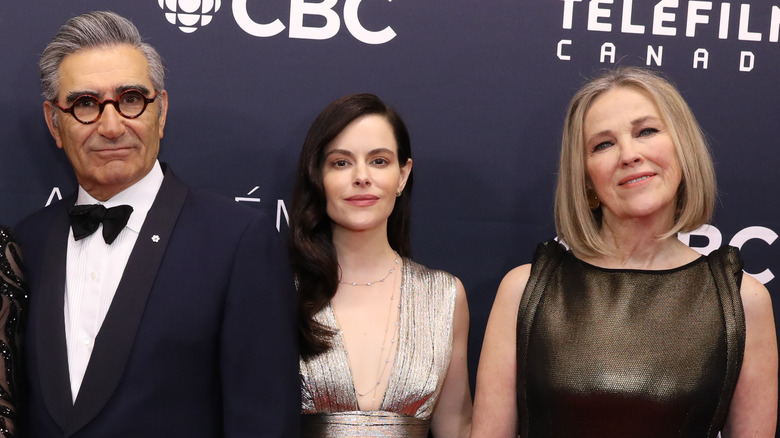 Shutterstock
According to Us Weekly, Emily Hampshire is gushing over her former "Schitt's Creek" co-stars Eugene Levy and Catherine O'Hara. The veteran actors appeared to leave quite a mark on the actress as she admits that she learned so much from working with them on the series for six seasons, such as the importance of being down to earth. "When we were on 'Schitt's Creek', Eugene and Catherine were the people who [would say] if you allowed someone to give you coffee, instead of bringing the entire crew coffee, you were a diva," she said. "They're good people. I have found that in my career that the best of the best are really, they're just good people. So, I kind of take that away because they were so generous with us, too."
Hampshire also revealed that they treated the entire cast as equals, despite their varying degree of acting experience. "It was Annie [Murphy's] first big show and they treated us all like equals. We all collaborated together on the same level. There was no hierarchy, which is rare on a show. They have every right to be the king of the castle. It was never like that. That's definitely what I take away, their work ethic," Hampshire added. Meanwhile, as talks of a possible "Schitt's Creek" movie have started to circulate, Hampshire says the things she misses most about the series is simply her fellow cast and crew. "We genuinely really like each other, like, a lot," she declared.