Did Queen Elizabeth's Dress Send A Message To Prince Harry And Meghan Markle?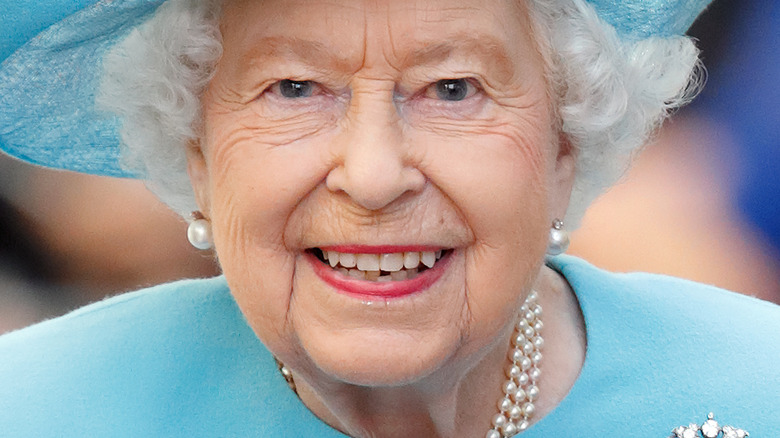 Max Mumby/indigo/Getty Images
For most of us, the only message our clothes convey is whether we recently did the laundry or indulged a little too much during the coronavirus lockdown. We don't always choose our shirt color based on current events (except maybe for red-white-and-blue on July 4 or rainbow prints during Pride month), and most people don't care if we wear the same outfit more than once. Queen Elizabeth, on the other hand, almost never chooses her clothing randomly. In fact, she has a royal wardrobe adviser, Angela Kelly, who's paid to help select her public wardrobe (via Town & County). 
For instance, she might don a brooch given to her by her beloved Prince Philip, a naval veteran, while attending a military event. She wore a pale gray ensemble at Trooping the Colour that she'd worn just a few weeks prior. Because Queen Elizabeth normally wears bright colors, it's widely believed that this was another way to show she's still in mourning. Even the queen's favorite accessory speaks volumes. When Her Majesty shifts her black handbag from her left arm to her right, that means she's finished with a conversation. Placing it on the floor means "get me out of here now!" (via Reader's Digest).
So when Her Majesty met with President Joe Biden over the weekend of June 12, you can be sure that her staff didn't just toss her into some rando garment from her huge wardrobe. In fact, one sharp-eyed royals expert noted that the dress she wore for her tea with America's first couple appeared to be a tribute to a new member of her family.
The queen's floral pattern may have been a tribute to Lilibet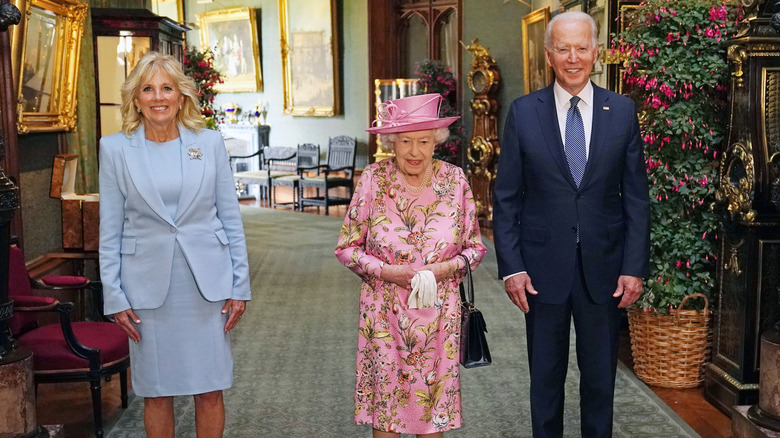 Wpa Pool/Getty Images
Queen Elizabeth has been wearing floral-patterned dresses to her public appearances all week long, which, in and of itself, is a departure from her usual dressing habits. Normally, the queen prefers a top-to-toe solid color scheme, usually in a bright hue so she can be spotted in a crowd. But on June 15, the day she met the Australian Prime Minister, she wore a yellow dress with blue flowers (via Twitter). On June 12, she wore a white dress patterned with pink flowers to the G7 summit leaders (via Instagram). The pink-patterned dress she wore on June 13th seems particularly significant. Royals watcher Kinsey Schofield, founder of the To Di For Daily website, told Insider that the dress Her Majesty wore to meet the American president was revealing because it included lilies. 
Yes, as others on Twitter have pointed out, the dress Queen Elizabeth wore to meet Biden featured other flowers in addition to lilies (via Twitter). But Schofield interprets the queen's wardrobe choice as Her Majesty's loving nod to her newest great-grandchild, Lilibet Diana, who will be commonly known as "Lili." The new daughter born to Prince Harry and Meghan Markle was given the queen's pet nickname as a legal first name. It makes sense, then, that the queen would acknowledge the California-born royal during a visit from America's most important couple. "Knowing that these photos would be splashed all over American media, the dress could most certainly be a wink to her great-grandchild," Schofield says. "What a thoughtful and creative gesture."
Could the queen's wardrobe choice be a peace offering?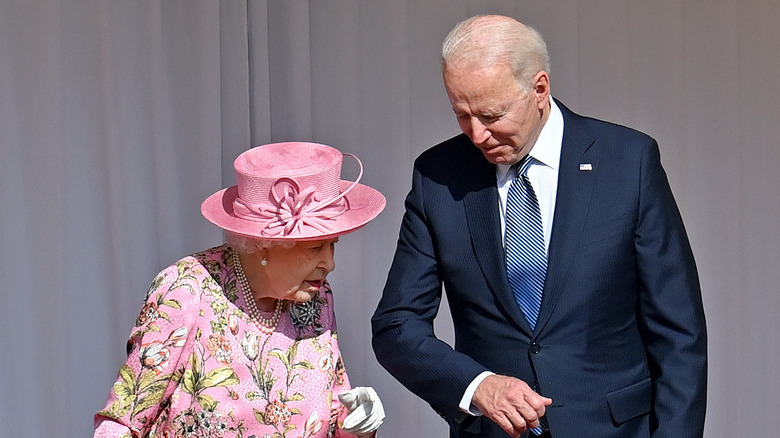 Pool/max Mumby/Getty Images
If the queen did purposefully wear lilies on her dress to meet the U.S. president, the message that she's sending could be significant, indeed. Could her subtle nod to her newly-born granddaughter also be a peace offering? Prince Harry is due to fly back to England in a couple of weeks to attend the unveiling of a memorial statue dedicated to his mother, Princess Diana. (The Mirror's latest inside info suggests that Harry's wife, Meghan, will not be joining him.) After the unveiling Harry has reportedly been invited to a private lunch with the queen (via Metro). Seeing his granny showing her love for Lilibet through her wardrobe could, plausibly, help start thaw the frosty relations between Harry and his palace relatives. 
The queen's flowered dress could also theoretically be Her Majesty's way of signaling her approval of Lilibet Diana's name. Not caught up on the drama? Here are the CliffNotes. Despite media reports to the contrary, The BBC recently claimed that Meghan and Harry had actually not asked the queen for permission to name their daughter "Lilibet." After, Harry and Meghan supposedly threatened legal action. Now, per what a source has allegedly told the Daily Mail, Queen Elizabeth shockingly broke with royal tradition to stipulate that, here on out, any misrepresentations of her private conversations with royals will be duly corrected. Was the queen's dress, perhaps, a way of clearing things up? Or was it simply a dress?