The Truth About Chloe And Halle's Skincare Routines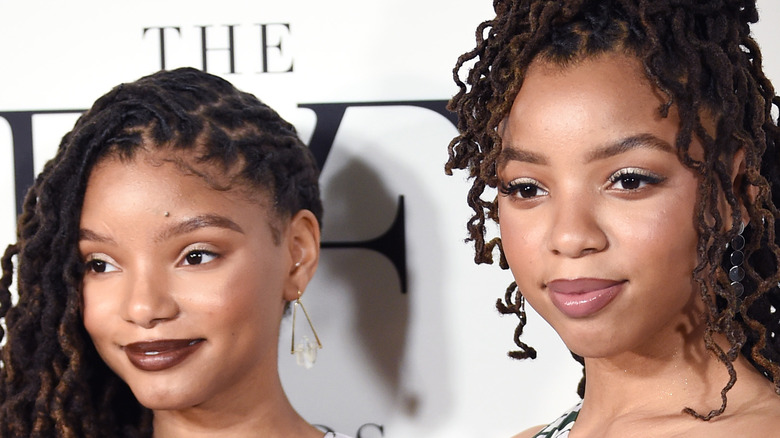 Dimitrios Kambouris/Getty Images
Atlanta born R&B duo Chloe and Halle Bailey have come leaps and bounds since signing with Beyoncé Knowles' label, Parkwood Entertainment, in 2015. The Bailey sisters first went viral on YouTube for their cover of "Pretty Hurts," and have since gone on to release two full-length albums, be nominated for multiple Grammy Awards, and co-star on Freeform's "Grown-ish" (via NPR).
While the Bailey sisters keep their schedules jam-packed, they also leapt at the opportunity to team-up with Neutrogena as the new faces of the skincare brand (via Byrdie). "It really felt like the right fit because we've always been big fans of Neutrogena – it's iconic," Chloe stated of the partnership. "And being Black women and seeing the active steps that Neutrogena is making to be inclusive to women of all types and of all colors truly means the world to us." Past Neutrogena brand ambassadors include Kerry Washington, Lana Condor, and Jenna Ortega, all women of color (via People). 
The angelic voiced sisters have taken the brand deal seriously, developing skincare routines to keep their complexions smooth and glowing. Now, they're sharing their beauty secrets with the world.
Chloe and Halle use sunscreen to battle hyperpigmentation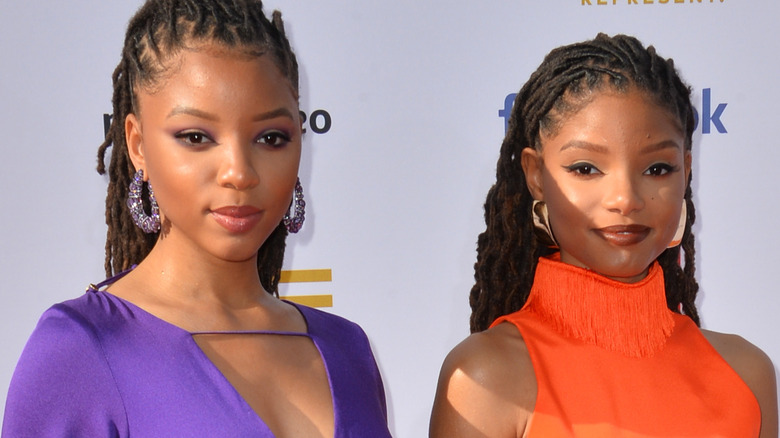 Shutterstock
In a 2021 interview with Byrdie, Halle Bailey revealed that she has oily, unpredictable skin. "I noticed it for sure when we started touring when I was around 13, maybe 15 years old — my skin was just not very happy when I didn't have a routine," Halle shared. To combat acne flare ups, Halle turned to Oil-Free Acne Wash from Neutrogena, followed by the skincare brand's Stubborn Acne Treatment. Halle isn't alone in her commitment to Neutrogena products. 
Board-certified dermatologist Rachel Nazarian has also been a vocal fan of the brand, stating Neutrogena "uses science-backed ingredients" to create "reliable products" (via Schweiger Dermatology Group). "The routine definitely helps me feel better," Halle said, "and makes me realize, 'You know what, you are doing your part, and the rest is just your hormones.'" A mature way to deal with blemishes that we'll definitely try to adopt!
As for older sister, Chloe Bailey, she struggles less with breakouts and more with sensitive skin. "I'm obsessed with Neutrogena's Hydro Boost collection because I really love something that just makes my skin glow-y and makes it feel really hydrated," Chloe revealed. When it comes to sun damage and hyperpigmentation, both sisters are queens of reapplying sunscreen to even their tones and keep their skin hydrated.
And their final tip on keeping breakouts and dry skin at bay? Stay happy. "Happiness helps your growth with everything — spirit, mind, hair, body, whatever." Words to live by.