Jennifer Aniston's Closest Friends In The Hollywood Industry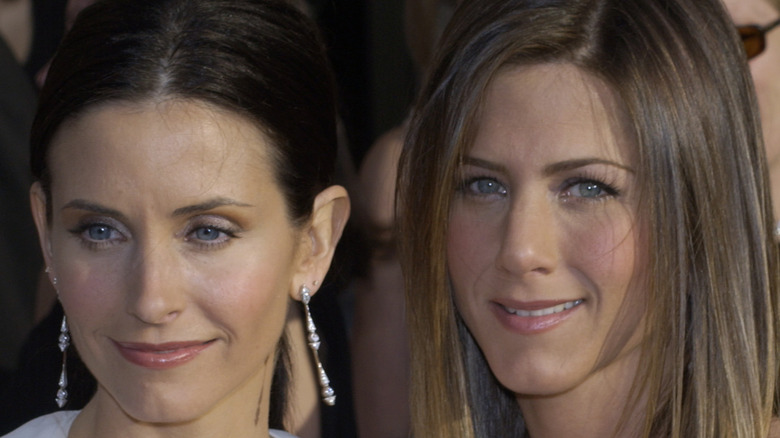 Shutterstock
Someone as fabulous as Jennifer Aniston is bound to have equally amazing friends — and a look at the actresses's circle of close pals includes plenty of fellow Hollywood stars, from onscreen bestie Courteney Cox to longtime fan Selena Gomez.
Aniston and Cox met on the set of "Friends" over 25 years ago and the rest is history. In real life, Aniston is godmother to Cox's daughter, Coco. Cox was also maid of honor at Aniston's 2015 wedding to Justin Theroux (via The Evening Standard).
"I've slept in her guest bedroom a lot," Aniston told More magazine in 2014, per The Evening Standard. "Without giving away too much of my private stuff, all I can say is she's been there for me through thick and thin."
Although she definitely shares the closest bond with Cox, Aniston is also close with the rest of the "Friends" cast, especially Lisa Kudrow. When Aniston joined Instagram in 2019, her first post was a selfie of the group — and the photo helped land her a spot in the Guinness Book of World Records for "fastest time to reach one million followers on Instagram."
Jennifer Aniston has known her best friend since she was 14
Aniston says her oldest friend is actress Andrea Bendewald, who she met at age 14 (via People). In fact, they even have matching "11 11" wrist tattoos. To celebrate Bendewald's birthday in March, Aniston shared a pic of their tattoos on her Instagram story and described the actress as her "forever sister from another mister."
On Aniston's birthday in 2018, Bendewald posted a throwback photo of the pair to Instagram, accompanied by the caption: "Happy Birthday to my best friend, twin from another mother, soul sister of the ages. Friends since we were 14 and still growing and learning together. You make the world a better place and life so much more enjoyable and a fun ride. Grateful for you everyday and in every way."
Aniston is also good friends with Chelsea Handler, Sandra Bullock, Reese Witherspoon, Rita Wilson, and Laura Dern (via The Evening Standard).
Per Elle, Aniston is also close with Selena Gomez — and Gomez recalled totally fangirling when she first met Aniston in the bathroom during a Vanity Fair event. "[M]y heart like, stopped. And I freaked out and I ran to my mom and I was like, 'oh my god, I just saw Jennifer Aniston.' I was like, 'oh my god,'" the former child star recalled.
Today, Aniston and Gomez love to have pizza dates at Aniston's house. (Can we get in on that?)