The Truth About Angelina Jolie's Romantic Relationship With Jenny Shimizu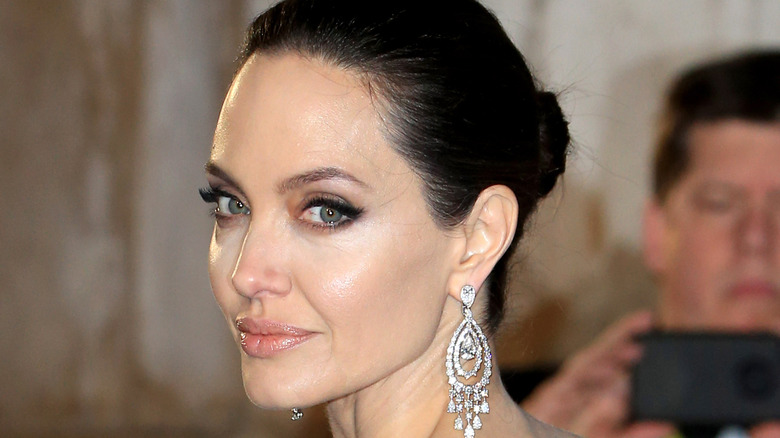 Shutterstock
Almost everyone knows about Angelina Jolie's past relationships with famous men like Brad Pitt, Billy Bob Thornton, and Jonny Lee Miller. But many don't know about Jolie's relationship with model and actress, Jenny Shimizu, throughout the 1990s. 
From 1996 to 2000, the pair were on and off around the same time Jolie was married to Jonny Lee Miller. Here's the thing, this wasn't just a fling, Jolie was head over heels for Shimizu (via Heavy). Shimizu is an out lesbian and while Jolie hasn't literally waved a rainbow flag, she has openly discussed her bisexuality throughout the years (via NY Daily News).
The pair met on the 1996 film, "Foxfire" and Jolie recounted the first time they met in a now archived 1997 interview with Girlfriends. "I probably would have married Jenny Shimizu if I hadn't married my husband," she confessed. "I fell in love with her the first second I saw her." She also went on to say that she was sure Shimizu snagged her leading role away from her. 
"Actually, I saw when she was being cast in 'Foxfire,' and I thought she had just read for my part," the star recalled. "I thought I was going to lose the job. I said to myself, 'Oh, my God, that's Legs.' She's great. We had a lot of fun."
Angelina didn't go to Jenny's wedding, despite being invited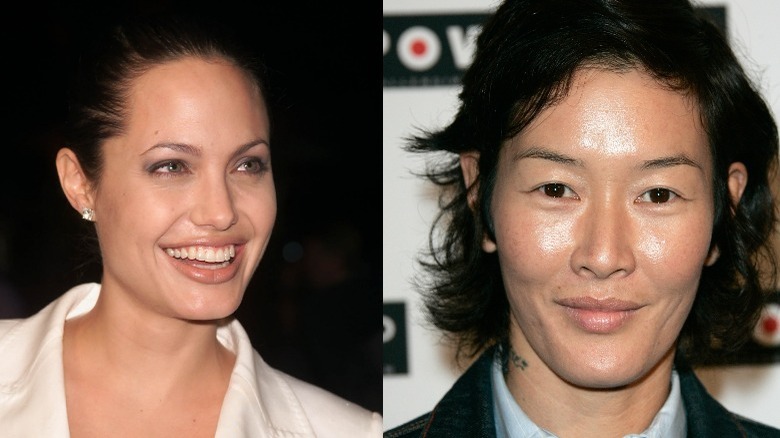 Evan Agostini & Valerie Macon/Getty
Throughout the 1990s, Jenny Shimizu would boast that she could "take care of Angelina's sexual needs," according to Radar Online. In a 2014 interview with Barbara Walters, Angelina Jolie talked about their encounter more, explaining, "[I was] surprised when I suddenly found myself having these feelings I always had for men, but for a woman... and wanting to kiss her and wanting to touch her." So it seems their relationship was quite hot and heavy as well. 
Fast forward to 2014 and Shimizu's wedding to fashion guru and socialite Michelle Harper was right around the corner. In an interview with US Magazine, Shimizu divulged into her inviting Jolie to the wedding. 
"Angie and I have so much history," Simzu explained. "And now that she and Brad are married, I figured it couldn't hurt to invite her even though I knew she was probably too busy with her own life to come." She later added, "It's not like I wanted her to walk me down the aisle or anything, but it would have been a really cool thing if she'd come." Jolie apparently didn't go, and that's seemingly where their story ends.