Are The Backstreet Boys And *NSYNC Becoming One Band?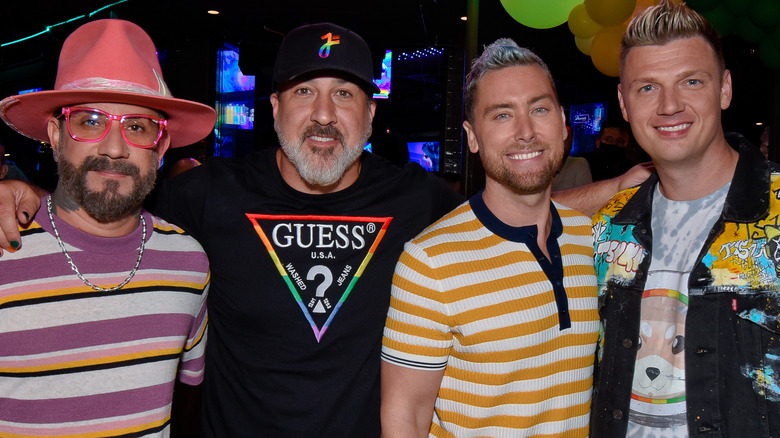 Vivien Killilea/Getty Images
Backstreet Boys and *NSYNC are two of the greatest boy bands of all time. The bands hit the scene in the late '90s, and by the early 2000s had millions of screaming fans attending their concerts and putting their posters up on their bedroom walls. While many were fans of both groups, there were often those who chose teams and pitted the bands against one another (via Billboard). However, there proved to be enough room for both of them in the pop music scene.
Backstreet Boys consisted of five members, Nick Carter, AJ McLean, Brian Littrell, Kevin Richardson, and Howie Dorough. The band topped the charts with hits such as "I Want It That Way" and "As Long As You Love Me." Meanwhile, *NSYNC included Justin Timberlake, JC Chasez, Chris Kirkpatrick, Joey Fatone, and Lance Bass. The group hit it big with songs such as "It's Gonna Be Me" and "Bye, Bye, Bye" during their rise to popularity.
Now, the two bands are doing something that has surprised many of their fans. Carter, McLean, Fatone, and Bass have come together to form a new group, which they're calling "Back-Sync" (via iHeartRadio). The quartet are performing a mixture of both Backstreet Boys and *NSYNC hits, and even sold out their first show at the Grove in Los Angeles over the weekend, per Variety. So, what's next for the new super group?
Backstreet Boys and *NSYNC merge to form Back-Sync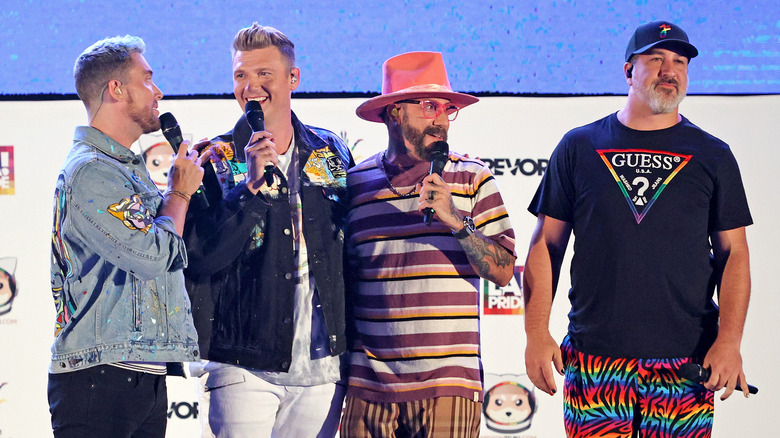 Kevin Winter/Getty Images
According to Variety, *NSYNC members Lance Bass and Joey Fatone have joined forces with Backstreet Boys singers Nick Carter and AJ McLean to create a mega-group called "Back-Sync." The group came together for a special performance on Friday night, which benefited the Trevor Project and L.A. Pride. However, the sky is the limit when it comes to the newly-merged boy band, and even reveal that there is "endless" possibilities for the newly merged group.
"This has been a long time coming. Everybody's wanted us to do something together and now we get to come together for an amazing cause," McLean told the outlet. "It just fits. Not that the five of us [Backstreet Boys] don't work because we obviously do, but it's a different feeling. It's like when you've been in the same relationship for a long time, take a break, meet somebody new and it's fresh and exciting!" he added.
McLean also revealed that he'd be happy to have breakout *NSYNC star Justin Timberlake join the group. "The more the merrier. Fans still want a Backstreet/*NSYNC tour, but it's got to be all 10 of us. It's the only way to make it work, so I think he'd be sleeping on it if he didn't do it, but he's a dad doing his thing and I completely respect that. This four is a dream team right now," the singer stated. While a BSB and *NSYNC tour would be a dream for many fans, it seems that for now the newly formed Back-Sync will have to suffice.