The Lighting Trend You Need To Try In Your Home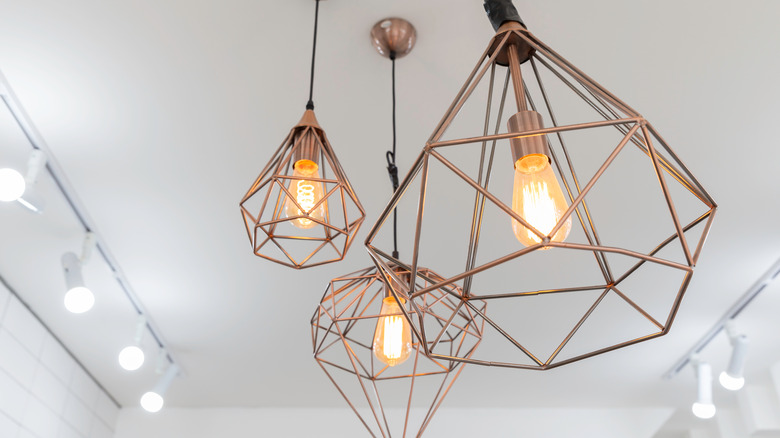 Shutterstock
Judging by the number of Netflix shows dedicated to home improvement and design, people's obsession with curating the perfect home atmosphere isn't going anywhere. When it comes to lighting and lighting fixtures, trends have come and gone. But, one in particular has a modern twist that will likely be here to stay for awhile.
As more home design enthusiasts add texture to their spaces, many have used their lighting fixtures to accentuate the appeal. From rattan furniture and picture frames to lighting, this trend has people planning entire rooms around their fixtures. Statement light fixtures in general have taken center stage, with rattan and woven accents bringing a natural vibe to any space. Indeed, interior designer, Andrea Goldman tells Good HouseKeeping that statement, textured light fixtures "are the perfect addition to a neutral space, because they offer plenty of natural, organic texture and visual interest while staying within a neutral palette. They offer a hint of coastal aesthetic — which many of our clients are asking for — without feeling overly nautical."
The coastal esthetic, which features taupe and white hues, has taken hold across the country. "People are also taking more interest in lights crafted from natural materials with longevity rather than cheaper, mass-produced lighting made of plastic. As we transition to a new normal, we should treat ourselves to beautiful pieces that improve our home environment, lift our spirits, and make every day enjoyable," Peter Bowles, Founder and Managing Director, Original BTC, tells My Domaine.
Opt for soft light bulbs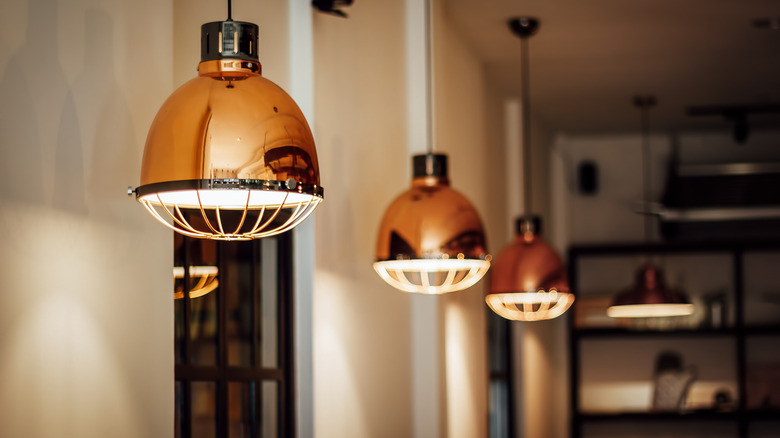 Shutterstock
In attempting to bring more of the natural world inside our spaces, our lighting fixtures have played a big role. That's why, My Domaine reports, consumers have moved towards light bulbs that tout "softer" lighting — making the inside feel cozier and less like an office building. "As has been the trend for a while, sources of light are continuing to move more towards LED. But now we are seeing a lot more 'warm dim' or 'warm glow' bulbs in the market," Kevin Dumais and Charlie Dumais, co-founders of Dumais Made tell the outlet.
"These are especially nice for two reasons: They mimic the color temperature curve of an incandescent bulb when dimmed, and help to transition the mood of space from bright and ambient to soft and romantic. The key is to select a table or floor lamp with a dimmer switch."
With a statement, textured lighting fixture and soft bulbs, the ambiance in your home can change with the flip of a switch. Complementing your other decor, these fixtures cultivate a curated appeal that's trendy but still homey. Of course, sustainability is a big factor for many brands as well. "Lighting accounts for nearly six percent of global CO2 emissions. A global switch to energy-efficient light-emitting diode (LED) technology could save over 1,400 million tons of CO2," Robert Sonneman, founder and chief creative officer of SONNEMAN notes.
2021 design trends balance trendy with functional — and the lighting is no exception.