Joan Collins Hints At What She Really Thinks Of Meghan And Harry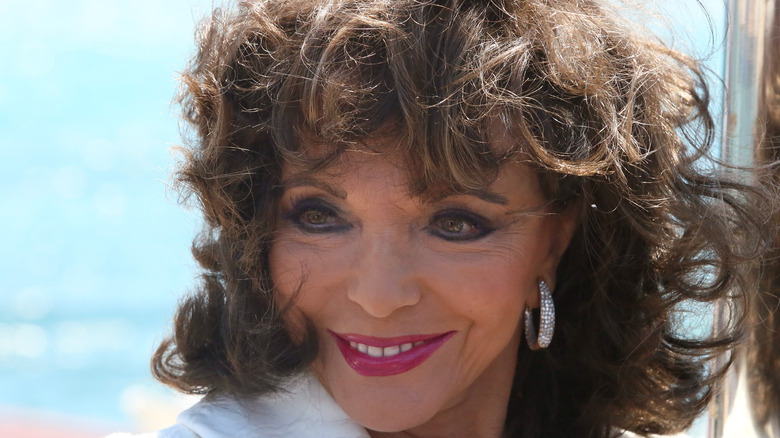 Shutterstock
Dame Joan Collins sat down for an interview with Piers Morgan on his ITV series, "Life Stories." As the title indicates, the focus of the show is meant to be the life story of the guest — but Morgan managed to squeeze in a question about Prince Harry and Meghan Markle because the couple lives rent-free in his head.
During the interview, Collins recounted a conversation she had with the late Princess Diana, Harry's mom, about handling media attention. "[Diana] said, 'Is this always going to happen?' and I said, 'You just have to try to get used to it,'" Collins said, via Insider. "She did try to avoid them, didn't she? Tragic life."
Morgan seized the opportunity to ask a question about Prince Harry and Meghan Markle, who he has repeatedly criticized. As you may recall, Morgan's statement that he believed Meghan was lying about her mental health and suicidal thoughts cost him his job on "Good Morning Britain." Per Metro, over 57,000 people filed complaints with Ofcom about Morgan's comments — a record for the regulator.
Joan Collins responded to Morgan's question about Meghan and Harry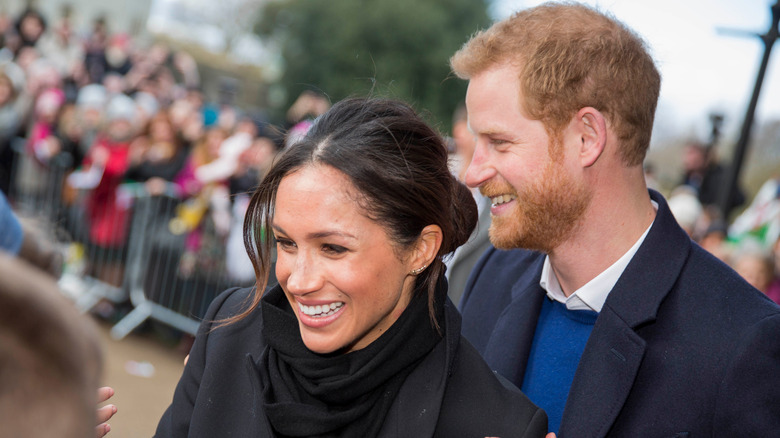 Shutterstock
After Joan Collins spoke of Princess Diana, Piers Morgan asked her about the royal family's current situation. "What do you make of what's going on with the British royal family now, with Meghan, Harry, the feud with William, Charles?" he said, per Insider.
But Collins is keeping mum on her thoughts about Meghan and Harry. "My lips are sealed on that subject," she responded. Then she threw in a joke about Morgan being ousted from his role on "Good Morning Britain," saying, "I just don't want to go on national TV and say what I think about Meghan and Harry because look what happened to you!" 
Morgan seemed satisfied with the response. "Well exactly, thank you!" he told Collins. He may no longer have a platform on the morning show, but Morgan has continued to use social media to criticize the couple, especially Meghan. Most recently he gave her the nickname "Princess Pinocchio" in a tweet.
Morgan has also found a new target — professional tennis player Naomi Osaka, who recently caused a stir when she withdrew from the French Open tournament citing her mental health. As reported by HuffPost, Morgan described Osaka as "[the] world sport's most petulant little madam," prompting social media users to remind him that he stormed off the set of his own show after being called out by co-host Alex Beresford. Others on Twitter noted Morgan's pattern of targeting women of color who speak out about mental health.
If you or someone you know is struggling with mental health, please contact the Crisis Text Line by texting HOME to 741741, call the National Alliance on Mental Illness helpline at 1-800-950-NAMI (6264), or visit the National Institute of Mental Health website.