The Hilarious Place Helen Mirren Did Her Tonight Show Interview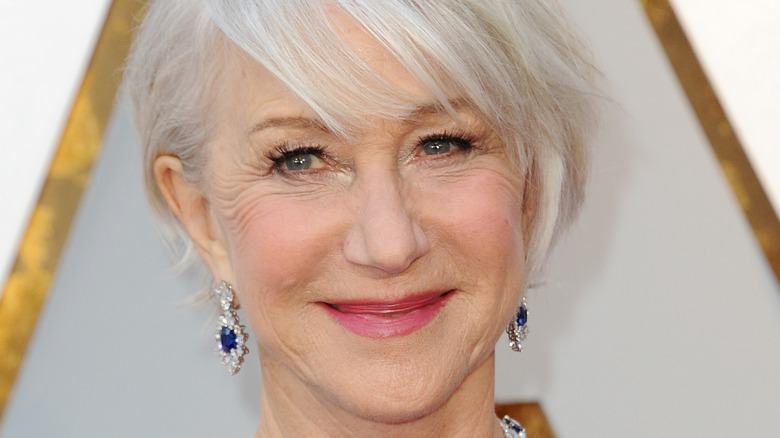 Shutterstock
The COVID-19 pandemic and subsequent quarantines and work from home situations have seen many people connecting via Zoom, and with far more casual attitudes. For instance, Jason Sudeikis appeared remotely on the Golden Globes wearing a tie-dye sweatshirt, which certainly raised a few eyebrows. And now, Helen Mirren has raised the bar on dressed-down Zoom sessions with a recent appearance on "The Tonight Show." As in, well, the actress didn't wear anything. But hold on — it may not be what you are thinking.
Jimmy Fallon actually interviewed Mirren from one of her favorite places in her home, as she confided during the show. "That's the brilliant thing about Zoom. I was thinking, you know, why not be in the place that you love to sit and chat to people?" she said (via Yahoo!).
So what is this place, where one wouldn't wear clothes? The bathtub! "I love having a chat to my husband while I'm sitting in the bath," Mirren explained to Fallon while viewers witnessed the star with suds up to her neck, and with the actress adding, "So, why not do it to the whole of America?"
Twitter loves Helen Mirren's bathtub interview
As Mirren soaked away in her suds, Fallon was over the moon about his guest being in the tub, with the host telling Mirren repeatedly that she was "the greatest," "he loved" her, and that she was probably the first ever "Tonight Show" guest who had been in the bathtub (via YouTube).
While Fallon giggled at her decision to do her interview from the unconventional spot, Mirren went on to joke, "I'm running out of bubbles." Fallon promised to do the interview fast. "Fast and furious," the award-winning actress then quipped, segueing into a discussion about her newest movie, "F9."
Of course, Twitter loved the bathtub appearance, with one fan tweeting, "Could this woman BE any more amazing???" "Just when I thought Helen Mirren couldn't possibly get any cooler... (PS: the bathtub is my favorite place in the world, too!)" someone else commented.