Why Jason Sudeikis's Golden Globes Appearance Is Raising Eyebrows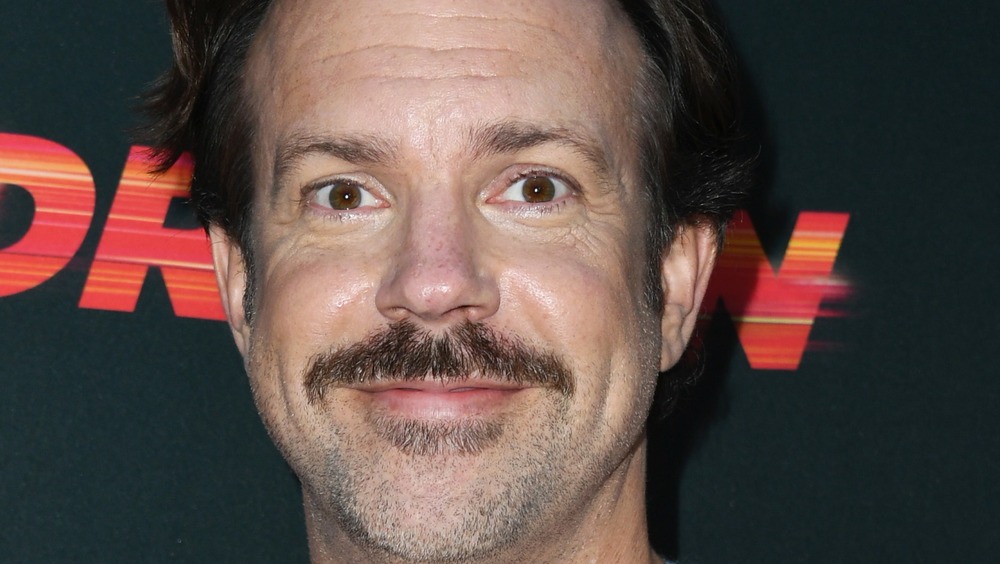 Jon Kopaloff/Getty Images
Jason Sudeikis's dedication to Ted Lasso may just have been life-changing. First, because after Olivia Wilde left him for Harry Styles, he's rumored to have rebounded with cast member Keeley Hazell. And, on a professional note, Sudeikis just took home his first Golden Globe for his very first nomination. The actor's work in Ted Lasso won him the award for Best Performance by an Actor in a Television Series, Musical or Comedy (per Variety). Sudeikis was widely praised for his portrayal of the titular American football coach who travels to the UK to give soccer coaching a shot. His work on the Apple TV Plus half-hour series wasn't what everyone was talking about as he accepted the honor, however.
The evening's virtual awards ceremony has already provided a lot of laughs, surprises, and even a few cringes. (Like, says Los Angeles Times, what was up with Catherine O'Hara's husband and the cellphone-soundtrack he tried to treat listeners to?) None of the award ceremony's awkward moments quite touched Sudeikis' off-guard acceptance speech. People couldn't help but notice that the actor wasn't as dressed for the occasion as others had chosen to be. In fact, he was totally relaxed in a tie-dye hoodie, of the muted blue, green, and yellow variety. Tie-dye may be "in," at least Hollywood Life claims that it's Gigi-Hadid and Taylor Swift endorsed. But is it your-first-ever Golden Globe worthy? Some fans even noticed that Sudeikis' eyes were looking a little bloodshot. It wasn't quite what you might think, though.
Jason's rambling acceptance was totally on-brand for the actor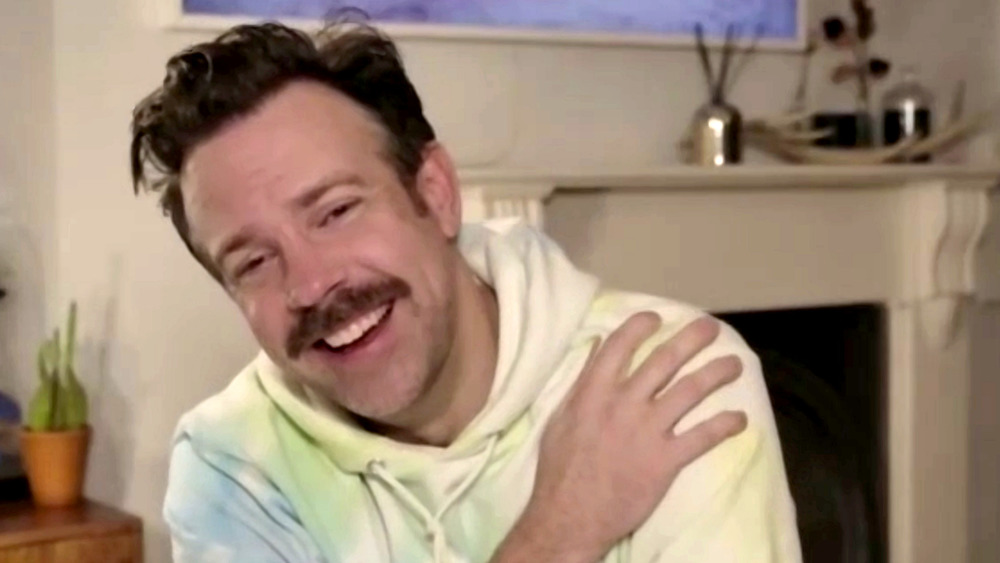 Handout/Getty Images
Sudeikis, who clearly hadn't prepared for his speech, reacted like anybody might. "That's nuts. This is, for me, the coolest thing that a group of — That's nuts. That's crazy. Wow," the actor began (via Decider). He then went on to explain how he didn't feel he was the best and that it was really those you work with as an actor who are the best. "I want to give a shoutout to all the people I get to act with because they're incredible," he said. Do they make me the best? No. But I know for a fact they make me better. Better than I am, better than I thought I could be and better than anything I could do."
As he rambled, fellow nominee Don Cheadle jokingly gestured for him to wrap it up and Sudeikis agreed. Twitter got a kick out of the relatable mess of a moment, courtesy of the relatable funnyman. "Jason Sudeikis looks like he only just now realized everybody else was gonna dress up for this," one Twitter user joked. Host Tina Fey even joked about NBC turning Sudeikis' hoodie into Golden Globes merch, and honestly at this point, who would be surprised?
But it turns out that a hoodie is high fashion for someone accepting an award at 2 a.m., as Jason Sudeikis did from London. Jodie Foster, also in England, accepted her Golden Globe in PJs in bed. At least her dog was wearing a necktie (via The Guardian).
The surprsing story behind Jason Sudeikis' Golden Globes hoodie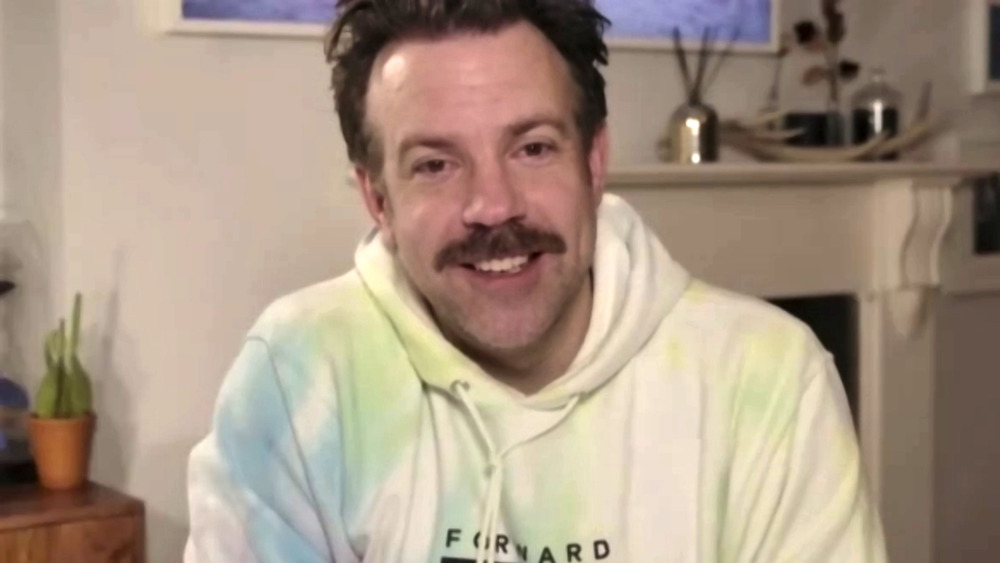 Handout/Getty Images
Jason Sudeikis' loveable wardrobe flop: a case of 2 a.m. lazies? Or something else entirely? Jason Sudeikis dawned the tie-dye fashion statement for his sister, Kristin Sudeikis, who made the hoodie. Or, at least, her New York City dance studio workout space did, says Variety. Kristin is not to be confused with the actor's other sister, the former nun, Lindsay, who runs a spiritual academy that Olivia Wilde once helped out with (via Page Six).
Lindsay may have dedicated her life to spiritual healing, but Kristin is really, very, into dance. The University of Kansas grad started dancing when she was three years old and hasn't stopped since. "Before you even have words, you dance; you move to music, to rhythm. If you watch a baby and they hear music, they start to move. It's instinctual," Sudeikis told Well and Good, "It's also part of our engagement with humanity; it's a way we relate in a lot of social situations."
Her brother, Jason, seems to be her biggest fan. "I believe in the product as much as the message," Sudeikis said. "I had a multitude of hoodies of a multitude of things I believe in and support. This one seems most appropriate," Sudeikis explained to reporters after his speech. His publicity paid off. The hoodie Sudeikis wore to accept his Golden Globe, which claims to be "eco-conscious" and made of 5 percent recycled bottles, is currently sold out on Forward Space's website.