The Drugstore Makeup Brushes That Celebrity Makeup Artists Swear By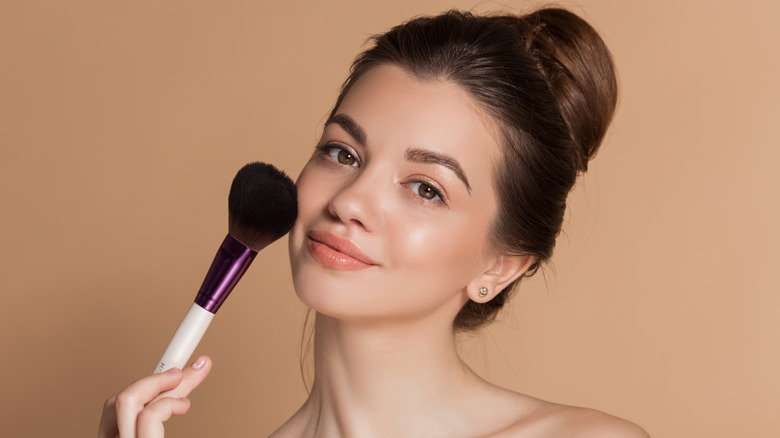 Shutterstock
If you wear makeup, chances are you have makeup brushes. If you find yourself needing to replace them or buy additional ones, sometimes it is difficult to know which ones work well. Brushes range in quality and price, according to Cosmopolitan. With so many options and price points, it's enough to make your head spin trying to figure out the best makeup brushes. Even if you usually apply your makeup with your fingers or use whatever comes with your makeup palettes, you could probably benefit from at least a few makeup brushes to get a great look when you apply your makeup. After all, you're going to all the trouble to put it on, so it's only natural to make sure you have the proper tools to do so.
Of course, some makeup brushes could break the bank. If you're not ready to take the plunge and spend big bucks on these tools, Byrdie reported what drugstore makeup brushes celebrity makeup artists swear by, and the good news is they're affordable enough for you to try out without having to take out a loan. The brand might surprise you, though, because it's one you may remember from your teenage years.
Here's why celebrity makeup artists love Wet n Wild brushes
According to Byrdie, celebrity makeup artists love using affordable brushes from Wet n Wild. Sure, you probably remember this brand from your youth, but believe it or not, the makeup brushes the line offers are solid and some are as cheap as $1.19. The drugstore brand offers an extensive line of different brushes in both a professional and essential line. They're perfect to use when applying your makeup, and they have soft yet firm bristles, which is vital when looking for tools that will work well. Another plus is the cute pink packaging Wet n Wild chose for their brushes. 
You could buy any number of brushes, but Cosmopolitan narrowed it down to 17 must-haves, which might seem like a lot, but trust us, the brushes are worth investing in. You probably need a brush to apply whatever type of foundation you use, powder, blush, concealer, eyes, and contour (if you do contouring). Wet n Wild sells its celebrity makeup artist-approved brushes in singles or in convenient sets, so you can decide which ones work best for you. Now just make sure that you clean your brushes periodically, and you'll be good to go.