How Chadwick Boseman's Brother Just Honored The Late Star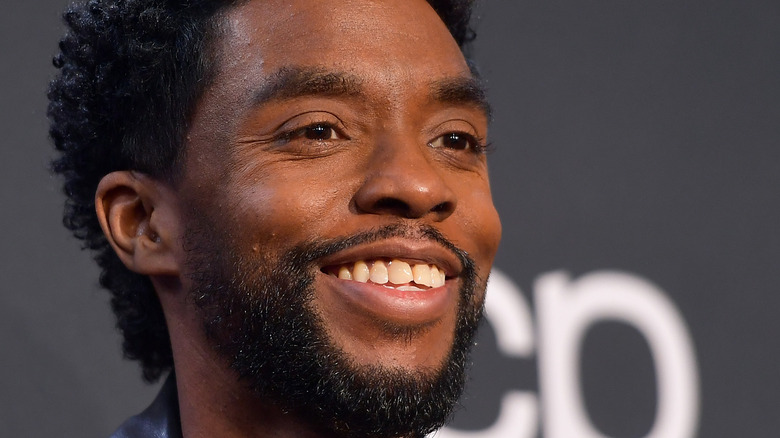 Matt Winkelmeyer/Getty Images
When beloved "Black Panther" star Chadwick Boseman passed away in August 2020 at the age of just 43, the world was left reeling. The devastating news was confirmed on social media, with a Twitter statement from the actor's loved ones revealing that Boseman had been fighting a secret battle with colon cancer since 2016. "A true fighter, Chadwick persevered through it all, and brought you many of the films you have come to love so much," the statement advised in part. 
As ET notes, the late Marvel star was honored at the 2021 MTV Movie & TV Awards, following his controversial loss at the Academy Awards, where Boseman was widely expected to win Best Actor (Anthony Hopkins won, for "The Father"). Yara Shahidi accepted on Boseman's behalf, gushing, "I know I speak for myself, his legion of fans, and the communities he so beautifully represented when I say we are honored to celebrate his art today and every day."
Shahidi added, "His impact is everlasting and we are eternally grateful for the way his presence and his art has changed the world." Now, Boseman's brother is honoring his memory in his own special way, too. 
Kevin Boseman paid tribute to his endlessly brave brother
According to PopSugar, Kevin Boseman, older brother of the dearly departed actor, made his long-awaited return to the dance stage after a seven year absence to headline the 2021 Dance Against Cancer Outside benefit, which took place at New York's Damrosch Park on June 21. The elder Boseman brother performed a piece entitled "A Tribute to Our Heroes," which was dedicated to everybody working to fight cancer, as well as those who have been lost to the illness along the way. Kevin himself has been in remission for over two years, as of October 2020. Aside from his own homecoming, the "Black Panther" star's brother viewed the performance as a way to honor his memory, noting, "He was a hero to me because he was courageously fearful."
As Kevin explained, "I know many people saw him as a hero. I certainly did, but not because of his work as an actor or his battle with cancer. Although anyone fighting cancer is a hero." As the talented dancer explained, "I can't recall a time when he didn't stand up to his fears and proclaim victory over them." It's been incredibly difficult for Kevin to celebrate his own clean bill of health while simultaneously mourning the loss of his beloved sibling. Still, Kevin hopes his performance inspired both those battling the devastating illness, and those supporting them, to keep fighting just as his little brother always did.