The Makeup Tool That Jessica Chastain's Makeup Artist Swears By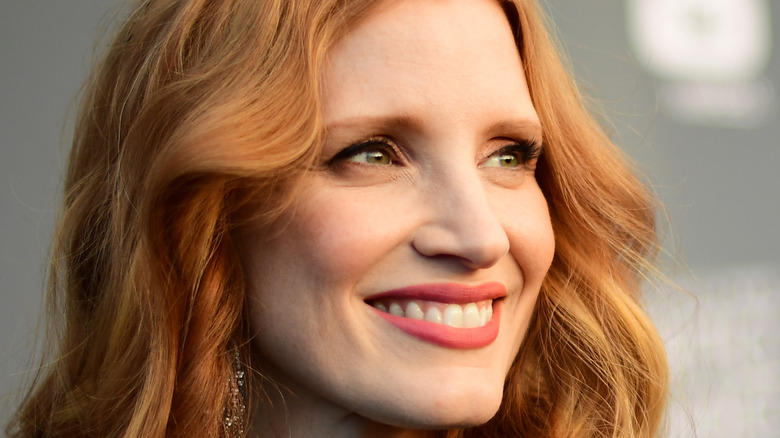 Matt Winkelmeyer/Getty Images
We may receive a commission on purchases made from links.
Jessica Chastain is the stunning, Oscar-nominated actress who made her mark on the likes of "The Help," "Zero Dark Thirty," and "Molly's Game" (via IMDb). She also frequently gets confused with fellow actress and bonafide beautiful person, Bryce Dallas Howard — even the latter's legendary director father, Ron Howard, has trouble telling the two women apart, according to ET. With her lovely alabaster skin and attention-grabbing auburn locks, Chastain is unique among the Hollywood elite, looks-wise too.
In an interview with Glamour magazine, the "Molly's Game" star admitted, "I don't like to wear a lot of makeup. A clean face and a bright red lip is my go-to." In fact, while working on a project with living legend Sissy Spacek, Chastain learned that wearing foundation each day isn't necessary and she could simply let her naturally stunning complexion shine through. Still, it takes a certain amount of upkeep to ensure she can go mostly makeup-free and Chastain's makeup artist has a go-to tool to help with that.
This low-priced beauty tool is a must-have for good brows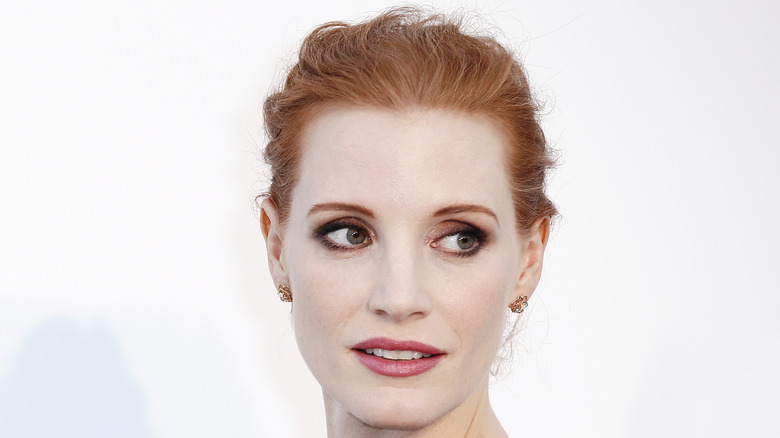 Shutterstock
According to Total Beauty, celebrity makeup artist Fiona Stiles, who counts the likes of Halle Berry and Jessica Chastain's twin Bryce Dallas Howard among her clients, alongside the lady herself, shared that a good pair of tweezers is an absolute must. In particular, Stiles shouted out Tweezerman Tweezers ($18.51 from Amazon), as the "Cadillac of tweezers." 
The makeup artist to the stars always keeps a spare pair on hand in fact, just in case Tweezerman, who sharpen their in-demand tools for free, are busy doing so at the time. Considering how often stray hairs tend to pop up only when we're busy putting a full face of makeup on, it makes sense to keep a good pair on hand at all times. 
In an interview with Harpers Bazaar, Chastain noted she always tells makeup artists, "I just want to look like me" before they begin working on her. Acknowledging her eyebrows are "really, really pale," the Oscar nominee revealed she gets them tinted, alongside her all-important eyelash extensions, at EyeLure Boutique in NYC. Otherwise, the actress keeps things relatively simple and low-key. Thankfully, her well-sculpted eyebrows negate the need to overdo things elsewhere.