Why Everyone Is Talking About Bethenny Frankel's Latest Selfie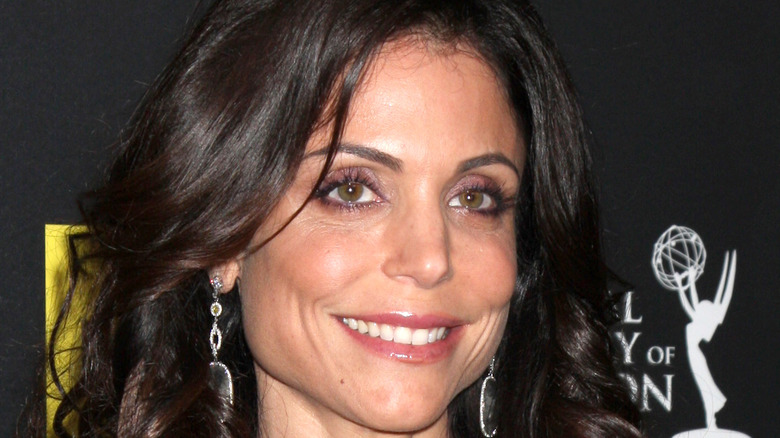 Shutterstock
Celebrities sharing makeup free selfies seems to always be appreciated by fans. After all, we are so used to seeing them post glam squad, it's nice to know that in reality, under all that foundation, lash extensions, and hairspray, stars like Bethenny Frankel are just like us!
Indeed, fans of the former "Real Housewives of New York" cast member are thanking Frankel for posting a barefaced selfie to her Instagram (via People). A caption on the no-filter pic of the mom of one reads, "It's time for a no glam, need roots done, selfie to remind our sons and daughters that natural is beautiful, and comes from within.... Xoxo."
As promised, Frankel is seen in broad daylight in what looks to be her car, wearing nary a swipe of mascara. And if you look close enough, yup, we spot a few gray hairs. No judgement! We have 'em too. And like Frankel's fans, we love that she posted such an honest selfie.
Instagram reacts positively to Bethenny Frankel's makeup-free selfie — for the most part
One of the Skinnygirl mogul's Instagram followers commented after Frankel shared her raw post, "have i mentioned GOALS! I battle with that every single day..must #loveyourself!"
Celebrity pals of the star, who recently launched her own wine line, also applauded the share, with Jennie Garth commenting, "Pretty." Meanwhile, plenty of the Frankel's fans jumped into the comments section to share their gratitude that she shared a makeup-free selfie. "Yes! Yes! Yes! And beautiful indeed!" one person said, while another noted, "Great message."
Of course, not everyone was on board with the New Yorker's share, with one snarking, "After ten face surgeries are easy to say." To be fair, the star has admitted to getting Botox and having had a breast lift, but told People, "Filler is scary." She also claimed she got Botox because she grinds her teeth, noting, "So it relaxes the muscle" (via Just Jared).
Meanwhile, on her podcast, Frankel previously went off about actresses and her co-stars from "RHONY" who have gotten too much plastic surgery, but won't admit it, saying, "So, I'm just thinking, people should just be honest cause that's really empowering to other women" (via Us Weekly).