Jade Roper Tolbert Has The Perfect Response To Critics Of Her Daughter Wearing Makeup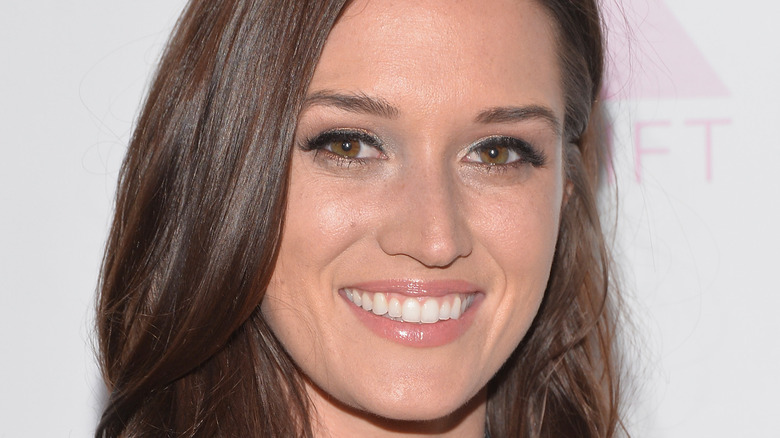 Michael Tullberg/Getty Images
"Bachelor in Paradise" alum Jade Roper Talbert is no stranger to criticism over her parenting. In 2019, the reality star shared posts about her daughter Emmy, only to be inundated with intrusive comments about the child's development (via USA Today). But the now mom of three hit back, writing, "You all, these are NOT okay messages to send to people. If you all mean well, it's still not ok to say she has Autism or needs speech therapy or to comment any sort of thing like that to anyone about their child. We are her parents, we have a great pediatrician, and we know her development. Comments like this really throw me for a loop."
Now, Roper Talbert is being criticized again, and again, it's about Emmy (via People). It seems the 3-½-year-old was experimenting with makeup, which the proud mama shared via her Instagram Stories. "She wanted to get ready with me," Roper Talbert, who met her husband Tanner in 2015 on "BIP," explained, sharing images of the tot applying eyeshadow and lipstick (via Bustle).
Although it was clear the post was shared all in good fun, not shockingly, at least one commenter wasn't buying it.
Jade Roper Talbert slams the critic in style
According to People, after chronicling Emmy's fun playing with makeup in a series of images, including one that noted the little one's approval of her own handiwork, Roper Talbert went on to screenshot a comment a critic left. It read in part that the seemingly-innocent moment "may subconsciously tell her that she needs [makeup] because she's not beautiful enough."
In typical Roper Talbert fashion, the star mom, who recently opened up about whether she wants to have more kids, had a perfect response to the troll, noting, "Maybe we all should just become robots with zero emotions and zero interest or curiosities and have zero fun."
This sure is one mom in the spotlight who has had plenty of practice defending her parenting choices, but thankfully, this has not kept her from sharing her motherhood journey, including opening up about having suffered postpartum depression (via Yahoo!).