Why Brad Paisley Fans Booed Jill Biden At A Recent Appearance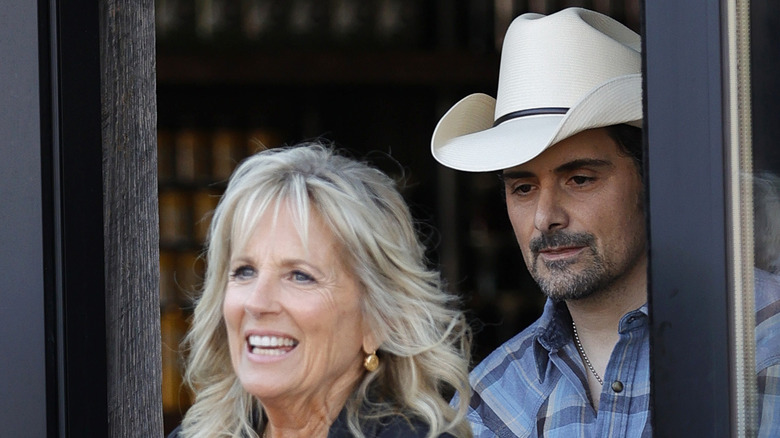 Jason Kempin/Getty Images
Jill Biden recently visited Nashville, Tennessee as a part of her tour through to the southern United States to encourage Americans to get vaccinated against COVID-19 (via the Daily Mail). Only 41% of people in Tennessee have received at least one dose of a vaccine, making it the sixth lowest state in the country. The first lady previously made a stop in Mississippi, which is trailing far behind its 49 counterparts with vaccination rates of only 29%, according to Becker Hospital Review. 
On June 22, 2021, Biden joined forces with country singer Brad Paisley and his wife, actress Kimberly Williams, to put on an event in which they provided a free pop-up vaccination clinic, followed by speeches and performances by the special guests. Although the event venue — Ole Smoky Distillery — remained packed throughout the duration of the event, Biden witnessed only 10 people take advantage of the clinic just outside in the beer garden, even though each person who got a jab also got a coupon for a free beer inside. When she later addresses the crowd, she let some of her vexations float to the surface.
Jill Biden attempted to persuade the dismissive crowd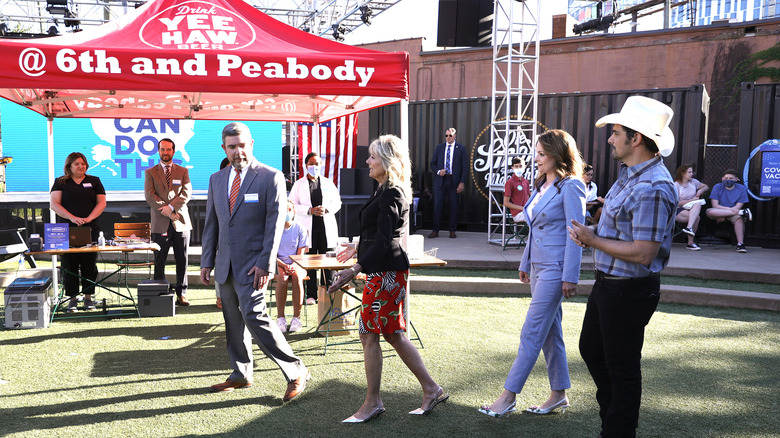 Jason Kempin/Getty Images
When Jill Biden finally had a mic in her hand at the vaccine event in Nashville, Tennessee, she told those gathered that their state "still has a little bit of a way to go. Only 3 in 10 Tennesseans are vaccinated," she said. According to the Daily Mail, the crowd responded by erupting in boos. "Well, you're booing yourselves!" the first lady quipped back. Apparently, people laughed in response. Then, she tried the art of persuasion. "The vaccines are the only way to get back to, you know, the open mics and the music festivals and concerts that have made this city so very special," she said. She also reminded the crowd that the vaccine is safe, free, and effective.
Despite 80% of vaccine appointments being available in most Tennessee counties, only 36% of the population are fully vaccinated. On Thursday, Biden — who's had a stunning transformation — will travel to Florida, where only 44% of constituents have offered up their arms. Time will tell if natives of the sunshine state will welcome her message or reject it.