Lizzo's New Hairstyle Has The Internet In Stitches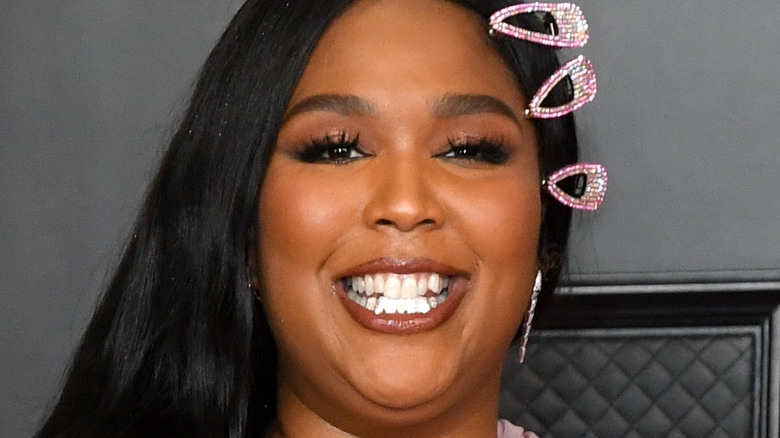 Kevin Mazur/Getty Images
Lizzo is a paragon of body positivity, but she may not be feeling so positive about her new hairdo. The 33-year-old "Juice" singer apparently cut her locks on Tuesday, June 22, according to Us Magazine, and she's reportedly been seen covering it up in some of her TikTok appearances ever since. For example, Us Magazine notes that one TikTok video features Lizzo in a kaftan and bonnet, which work to hide and distract from her hair. Ultimately, though, she did show her new hairdo on TikTok, and the reactions to it didn't necessarily align with the singer's own thoughts. 
But what hairstyle did Lizzo get that she hates this much? As it turns out, the singer-rapper opted for a chin-length layered bob (via PopSugar). This hairstyle is completely different for Lizzo, who often sports longer length hair, so it only makes sense that she's in shock and adjusting to such a short style. Still, we think it looks cute on her, and a lot of her fans and TikTok followers agree.
This is how fans are reacting to Lizzo's haircut
While some may not think so, anyone can pull off a bob hairdo, even if you just need time to adjust. This applies to Lizzo as well, who may end up loving this 'do in a week or two. Some of her fans and followers didn't need any time at all to adjust — immediately leaving supportive comments under her TikTok that revealed the haircut.
"I kind of dig that cut on you! You are always beautiful," one commenter said.
"Everyone's saying no but I think it looks good," said another.
"You're fabulous either way," commented another fan, referring to her shorter and longer hairstyles.
The comments section wasn't purely composed of support, though. One commenter wrote, "Girl what happened?" 
Another wrote, "I need a story time," referencing her caption that said people should comment if they want to know what led up to this hairdo. 
Others were concerned for the singer. For example, one commenter said, "Lizzo, sweetie, are you okay?"
It's clear that both sides just wanted to show their love for Lizzo, as even the commenters who didn't like her haircut were friendly with her rather than throwing insults. In either case, it's clear that the jury is still out on this one.