The Queen Just Gave A Clue About Her Feelings For Harry And Meghan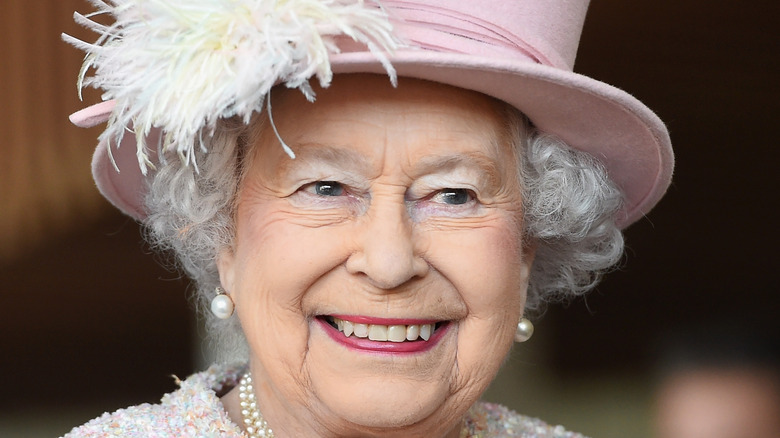 Stuart C. Wilson/Getty Images
Part of Queen Elizabeth's job description involves being discreet about family matters, even the ones that are making headlines on a daily basis. Her Majesty has taken care not to say much about the ongoing divide between her grandsons Prince Harry and Prince William, nor the claims Harry and Meghan Markle have made about feeling unsupported by the palace when the new Duchess of Sussex was being savaged by the British media. To their claims that an unnamed family member had made a racially insensitive remark about young Archie Mountbatten-Windsor, the queen said only that "some recollections may vary" in a statement she issued through the palace (via People). 
But the queen has always been known as a loving granny and great-grandmother to her expanding family. Recent images of the Audience Room in Buckingham Palace would certainly seem to show that she doesn't harbor any ill will toward her second grandson. During her first in-person meeting with British Prime Minister Boris Johnson on June 23, she had a collection of family photos arranged next to the fireplace in the formal room. Among them was a never-before-released photo of the Sussexes, taken to mark their engagement back in 2017 (via People).  
As the Daily Mail explains, it's not often that the palace releases photos of this particular site. The Audience Room is where the monarch meets dignitaries, and it's carefully decorated both with priceless artifacts and personal photos.
Reports are mixed on the meaning of the placement of the princes' photos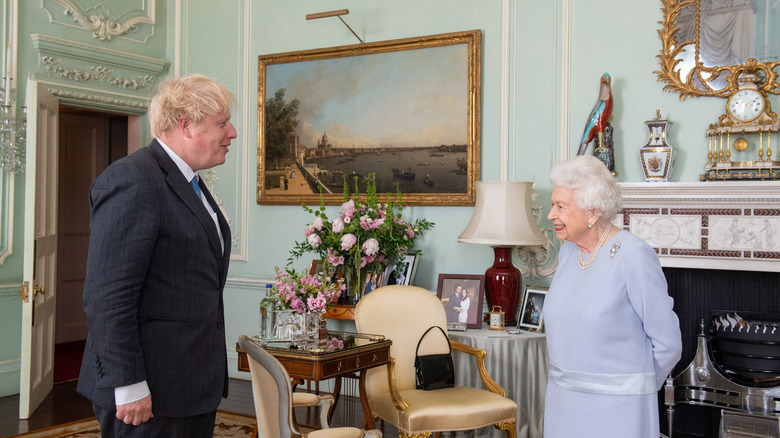 Wpa Pool/Getty Images
Royals watchers know that the queen almost never does anything by accident. Her choice of clothing and jewelry often symbolizes her sentiments or a special occasion — as when she wore the same somber-toned outfit twice in a month during official royal events to reflect her continued mourning over Prince Philip. Her choice of a lily-patterned dress to welcome President Biden to tea is widely seen as an affectionate nod to her newborn great-granddaughter, Lilibet Diana. So the fact that the queen displayed such a private photo of Harry and Meghan was seen by many as a sign that she still keeps the couple in her heart.
The Sun, however, snarked that there was a much larger portrait of Prince William and Katherine, Duchess of Cambridge, on the side table closest to the fireplace. The Sussexes' photo was on a separate table and appeared to be hidden behind a vase of flowers. The Sun took this to be a sign of favoritism on the queen's part, but that may be a bit of a stretch, since the table also held two other family pics. Still, this choice stood in contrast to the queen's choice of photos during her 2019 Christmas address. At that time, there was a bit of buzz over the lack of a Harry/Meghan photo on her desk. Far from being a snub, this was simply a matter of the queen displaying only photos of direct heirs to the throne, such as Prince Charles and Prince William (via Oprah Daily).