The Hair Treatment That Rosie Huntington-Whiteley Swears By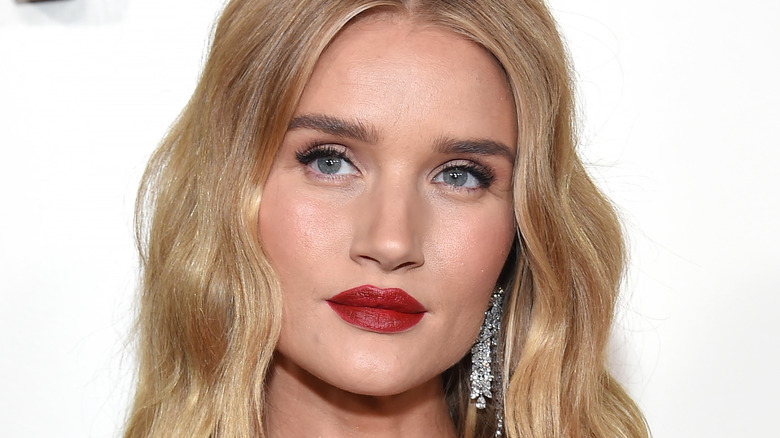 Shutterstock
With sleek and glossy strands, Rosie Huntingon-Whiteley is certainly in a position to offer advice when it comes to hair care. The model-turned-actress revealed her favorite hair treatment and routine for keeping her tresses in check.
First of all, she doesn't wash her hair every day. Rather than damaging the strands by over processing, Huntington-Whiteley keeps it simple by shampooing every other day, she told InStyle. But, you won't catch her with unwashed tresses. "I'm a big fan of dry shampoo," the 34-year old said. "I work out nearly every day, so obviously your hair gets kind of messy and sweaty from the gym. A really quick tip from me is that I always carry a little can of the Moroccanoil Dry Shampoo in my hand bag or in my car."
But, when it comes to keeping her mane healthy, a classic hair oil comes in handy. "I like to use a Moroccanoil Treatment Light in my hair, which is really beautiful for making it really manageable, really shiny, and healthy," she explained. "I will put a tiny drop of that at the ends of my wet hair. It makes it really easy to style and then I will blow dry my hair."
After you wash your hair, add a few drops of Moroccan oil to your tresses to detangle, smooth and protect. Especially if you're heat styling, you'll appreciate the extra layer of protectant this step provides.
Rosie Huntington-Whiteley keeps her beauty routine simple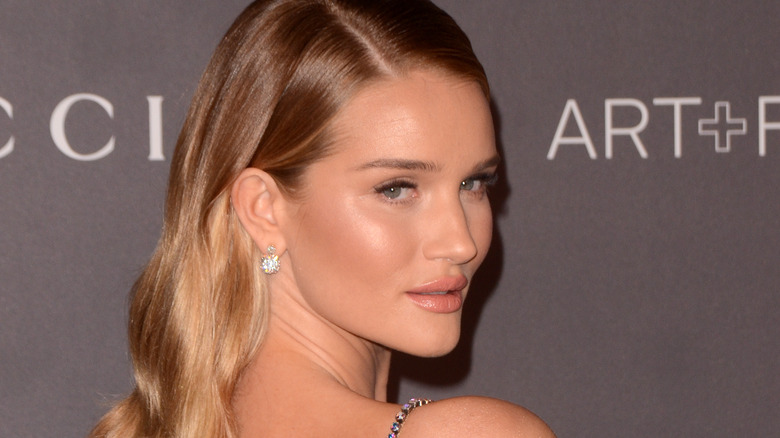 Shutterstock
Adding a moroccan oil treatment seems simple enough — and that's for a reason. The supermodel has picked up plenty of tips and tricks throughout her time in the spotlight, but that doesn't mean she overdoes it. A classic, simple styling tip she shares has to do with her hair drying routine. "One of my favorite tips I learned from a hairdresser and friend of mine is once you blow dry your hair and your hair is 80 percent dry, if you tip your head upside down and then with the hair dryer and the round brush, you kind of go through your hair. You can sort of give yourself a do-it-yourself blowout at home," she reveals to InStyle.
When it comes to skincare, the model adopts a similar attitude: less is more. When asked what her nighttime skincare routine is, she replied "Sleep!" with a laugh, Byrdie reports. After sharing her cleanser and other products, Huntington-Whiteley explains, "I like using a drying mask, as it's good for getting rid of any impurities. I keep my skincare regimen really simple. I don't like too many products in my cabinet. I don't want to confuse my skin too much. I keep it simple."
With simple ingredients and products, RWH's routine isn't too difficult to mimic for yourself. Pick up your favorite hair oil and steer clear of anything overly complex!