What Kellyanne Conway's Husband Really Thinks Of Her Political Views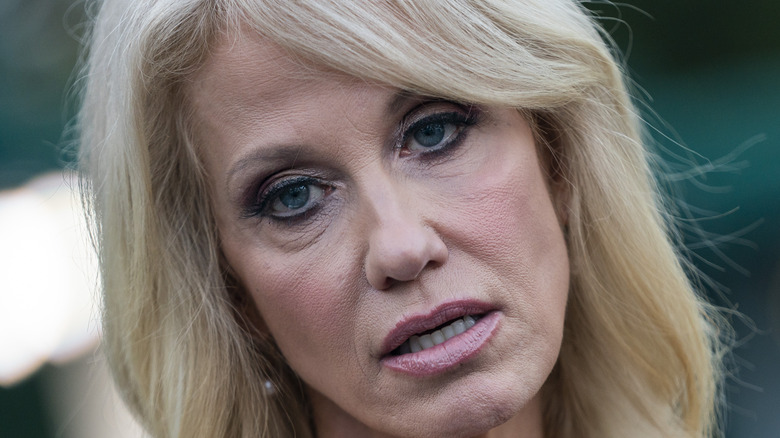 Bloomberg/Getty Images
Kellyanne Conway and George Conway seemed like the perfect Washington power couple. When they first met in 1999, he was a successful Washington, D.C. attorney and she was the owner of her own polling company in a field usually dominated by men, according to Vanity Fair. They married in 2001 and became the parents of four while forging ahead with their successful careers and amassing a multi-million dollar fortune.
It looked like smooth sailing for this couple until 2016, when Kellyanne took on the role of Donald Trump's campaign manager when the media didn't think he'd make yet another political comeback. Not only did he did make that comeback, but he won the presidency, quickly making Kellyanne one of his closest aids. She then became a household name as she tried to squash one scandal after another while her husband, George, became a vocal Twitter opponent of everything the president did (via Vanity Fair).
How did Kellyanne and George Conway come to be on opposite political ends?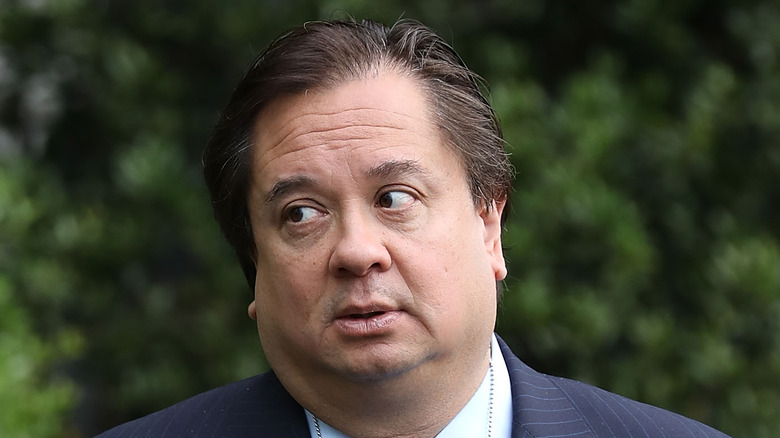 Chip Somodevilla/Getty Images
George Conway had always been a conservative Republican, as had his wife, Kellyanne Conway. However, George didn't consider Donald Trump a traditional conservative and spent most of the four years his wife worked for the former president speaking out against him. In fact, The New York Times reported that George used a variety of hostile terms to describe his wife's situation working for Trump, including "brainwashed by a cult, suffering from Stockholm syndrome, an overwhelmed mother protecting a destructive man-child."
George even helped co-found The Lincoln Project, a political action committee (PAC) formed to help defeat Trump in the 2020 presidential election, according to the group's website. His partner at The Lincoln Project, Rick Wilson, told The New York Times that the Conways' opposing views on Trump was not an act.
"Those who think this is a 14-dimensional chess game are mistaken," Wilson said. "[He] has taken unequivocal and irreversible actions that have established his bona fides as someone who opposes Donald Trump, and she's going to be for Donald Trump until the last dog dies."
Kellyanne Conway and George Conway are on unstable footing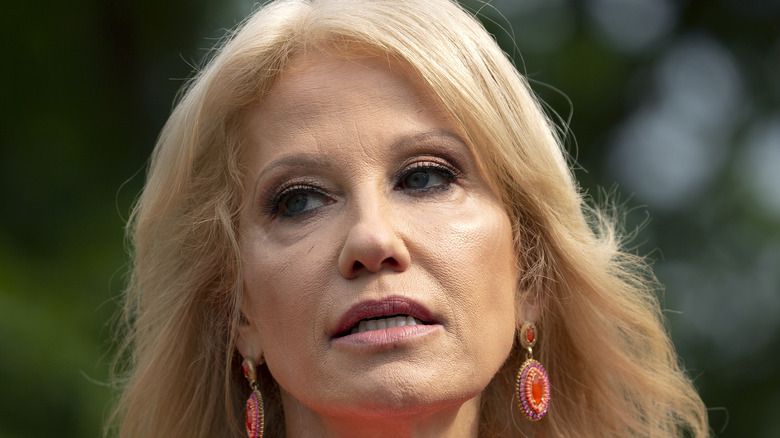 Bloomberg/Getty Images
The four years of opposing each other politically took a toll on Kellyanne and George Conway's family, and their daughter, Claudia Conway, took to social media with decidedly non-conservative views and claimed she was "devastated" when her mother chose to speak at the Republican National Convention (RNC) in 2020. She even tweeted that she wanted to be emancipated from her parents.
That led both Conways to resign from their respective positions just before the RNC commenced. "I'm leaving the White House, gratefully and humbly," Kellyanne tweeted.
That same night, George tweeted, "So I'm withdrawing from The Lincoln Project to devote more time to family matters. And I'll be taking a Twitter hiatus. Needless to say, I continue to support The Lincoln Project and its mission. Passionately."
Despite the rift caused by their differing politics, the Conways are still together as of this writing. However, as of February 2021, Vanity Fair reported that their marriage wasn't in a good state thanks to the time they spent being in two different political camps.